We're a little over a month away from the start of NFL training camps, with teams finishing up OTAs and mini-camps in the next week or so. Which means it's a good time to take a look at the glaring positional weakness for each team.
It's hard to find many on the good teams, but even the power teams, even the Super Bowl-champion New England Patriots, have issues.
That's what the salary cap and free agency do to teams in this era. It makes it challenging to continue to stock a roster with no problems.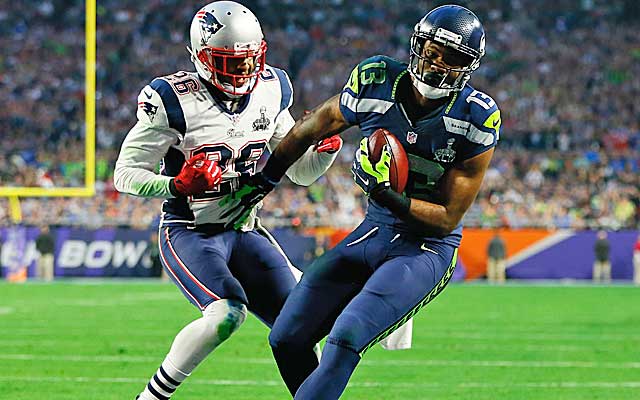 So here's a look at each of the major issues for all 32 teams as we ready for the end of June -- and most of the NFL prepares to shut down for a month before camps open.
Outside pass rusher: Alex Okafor is locked in as one starter on the left side. Okafor did some good things late last season, getting six sacks in the final eight games, and gives the Cardinals hope. But he is far from being considered a top pass rusher. The Cardinals signed veteran LaMarr Woodley, but what does he have left? They also have high hopes for draft pick Markus Golden and 2014 draft pick Kareem Martin, who is making the transition from down end to outside linebacker. Lorenzo Alexander is a veteran backup. This is a position of major importance, and one that badly needs youth to play a role in 2015.
Offensive line: The line was a disaster last season, and it might have just one new starter -- maybe two. That's not a good thing. They signed veteran guard Chris Chester as a free agent last week, but they still have major issues. The good news is tackle Jake Matthews won't be a rookie anymore, and he showed some signs last season of being a really good player in the league. That has to make Matt Ryan happy. But the other spots have major concerns.
Receiver: They have veteran Steve Smith, but he is far past his prime. They also drafted rookie Breshad Perriman, but how long will it take for him to adjust to the NFL level? They have some younger players like Marlon Brown and Kamar Aiken who might be ready for breakout seasons, but they have a lot of questions in this area of their team. Somebody has to step up quickly outside to help Smith.
Quarterback: How obvious does it get? Coach Rex Ryan, he of the boastful guarantees, thinks his team is good and has a real chance to be a playoff team. They do have talent, but that quarterback position isn't good right now. Whether it's EJ Manuel or Matt Cassel, the passing game will have issues. That's never a good thing the way the game is played -- even if Ryan loves to brag about the ground-and-pound attack.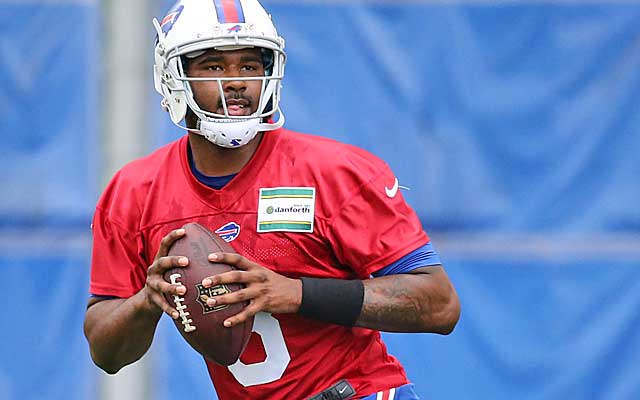 Offensive tackle: They signed Michael Oher to play left tackle, which is a huge risk. But he can't be much worse than Byron Bell was last season. Right tackle Mike Remmers has a chance to develop into a solid player. He did some good things last season, but he needs to be more consistent. He struggled in the playoff loss to the Seahawks. Cam Newton needs to be protected better.
Secondary: Second-year player Kyle Fuller will be a star someday on the corner, but there are questions at the other spots. Tim Jennings and Antrel Rolle are both getting up in the years, yet they will start at corner and strong safety. Brock Vereen is just OK at free safety and could get pushed by rookie Adrian Amos. The secondary has been a trouble spot the past couple of seasons, especially on the back end.
Linebacker: With Vontaze Burfict coming off micro-fracture surgery on his knee, they have issues. Rey Maualuga was re-signed as a free agent, and he is expected to start. Emmanuel Lamur is a speedy linebacker who will also start. But if Burfict is out for a while, or not the same player, the unit will be an issue. Rookie Paul Dawson and veteran A.J. Hawk will also compete for time. On a team with a lot of talent, this is an area of biggest concern.
Quarterback: I know a lot of people think Josh McCown is the answer, but he wasn't good last year for Tampa Bay as their starter. And that's being kind. Johnny Manziel has apparently re-dedicated himself to football, but he needs a lot of work to become a capable starter. So whoever it is, and it will likely be McCown, the Browns can't be thrilled -- no matter what they say publicly.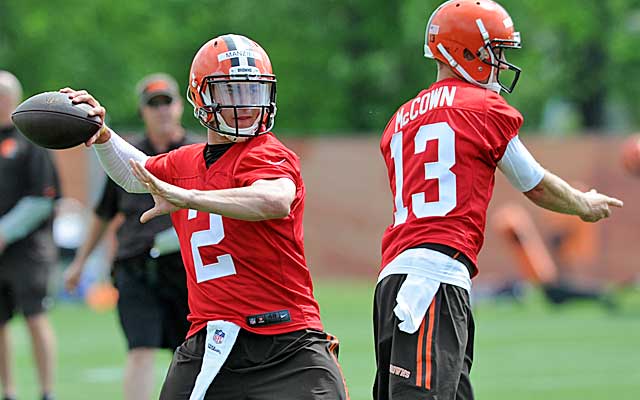 Defensive tackle: Tyrone Crawford was moved inside from end and did a nice job, but he would be better served outside. Terrell McClain will start on the nose and Nick Hayden will be in the rotation. They can move guys like Jeremy Mincey inside in passing situations, but it's the early run downs that are the concern.
Offensive line: Peyton Manning has done a great job of helping make so-so lines better with his nuances inside the pocket and his ability to get the ball out, and this season will be no different. The Broncos lost left tackle Ryan Clady for the season with a torn ACL a few weeks back, weakening an already-thin position. The only starter from last season who is a lock to start again is Louis Vasquez and he is moving from right tackle to right guard.
Defensive tackle: When you lose Ndamukong Suh, Nick Fairley and C.J. Mosley, the top three tackles from last season, this is bound to be an issue. Haloti Ngata, acquired from Baltimore, will lesson the sting, but he isn't as good as Suh. Tyrunn Walker, signed away from the Saints, will be the other starter. There is a major drop in talent inside on the defense with these moves.
Inside linebacker: I know Clay Matthews is going to play inside on early downs, but he will move outside some in passing situations. That means the inside is still an issue. The spot next to him will be contested between Sam Barrington and Carl Bradford. Rookie Jake Ryan will also be a factor.
Quarterback: Yes, it's obvious. The starter will come from a battle between Ryan Mallett and Brian Hoyer. The early word is that Hoyer has the edge, but that's because he's a veteran, and they are splitting reps with the first team. Hoyer can be decent for a run of games, but he doesn't have the talent to make it a season-long thing, which he showed in Cleveland in 2014. Mallett flashed last season before getting hurt. He has a big arm. Imagine if this team had Andrew Luck rather than the Colts?
Free safety: The Colts signed Dwight Lowery, and he is penciled in as the starter next to Mike Adams. Lowery has been decent at times, but is he really an upgrade to their back end? Some will say right tackle is the weak spot, but I think they can get by there if Jake Mewhort has to play there. I am not sure that's the case with Lowery.
Edge pass rushers: When they lost first-round pick Dante Fowler on the first day of rookie camp to a torn ACL, it ended any chance that they would be upgraded outside. The top pass rushers are Chris Clemons, who is 33, and Andre Branch, who is coming off an injury-shortened season. That isn't great. They have to hope young players like Chris Smith and Ryan Davis can continue to improve.
Offensive tackle: Eric Fisher hasn't lived up to expectations after being the first player taken in the 2013 draft, and he spent time with the second team in OTAs, although Andy Reid said it was to get right tackle Donald Stephenson work there. Stephenson is just OK at right tackle. They are lucky Alex Smith can move.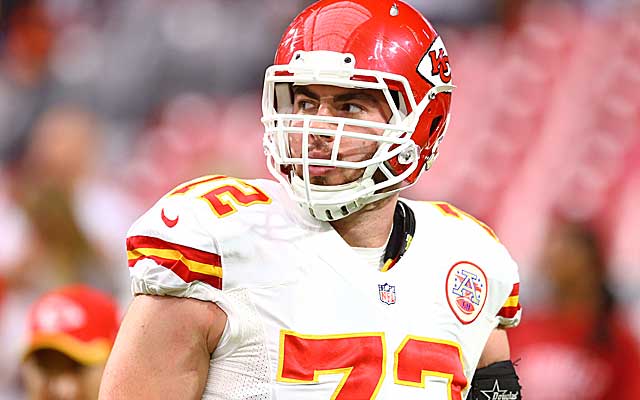 Guard: They are solid at three line spots, especially with left tackle Brandon Albert expected to be back from injury. But the two guard spots are a concern. Dallas Thomas and Billy Turner will get the first shots to start, but watch out for fourth-round pick Jamil Douglas. He could be an opening-day starter.
Offensive line: They are set at three spots -- right tackle (Phil Loadholt), center (John Sullivan) and left guard (Brandon Fusco) -- but Matt Kalil has struggled at left tackle and the right guard spot is up for grabs. I think the biggest issue is Kalil's play. He has to be better blocking for Teddy Bridgewater's backside.
New England Patriots
Corner: They lost both starting corners in Darrelle Revis and Brandon Browner in free agency. That's tough to take, especially considering Revis is one of the best cover players in the league. That leaves Logan Ryan, Super Bowl-hero Malcolm Butler and veterans Robert McLain and Bradley Fletcher as the top corners. That's a big drop from last year's starters and Butler isn't practicing in OTAS after being late for the first team OTA. Forget Deflategate. This is the biggest concern for the Patriots heading to 2015.
Outside pass rusher: With the reported torn pectoral muscle suffered by Junior Galette earlier this month, the Saints could be in big trouble at a position that was a concern even with Galette. Rob Ryan needs edge rushers to make his defense go. If Galette can't go, it would mean rookie Hau'oli Kikaha could be forced into a bigger role earlier than expected. Anthony Spencer and Parys Haralson are also in the mix. They play in a bad division to have pass-rush issues.
Linebacker: They paid Jacksonville linebacker J.T. Thomas, who was basically a backup until injuries hit, a lot of money in free agency and he will start on the weakside. Veteran Jon Beason will be in the middle if he can stay on the field with Devon Kennard on the other side. They have veterans who will compete in Jonathan Casillas, Jameel McClain and Mark Herzlich. There are bodies, but at they good enough?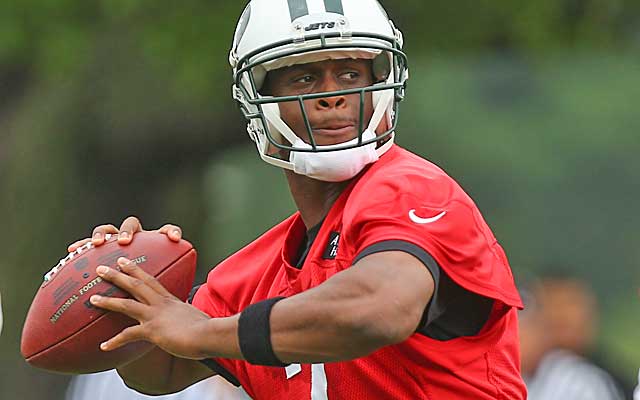 Quarterback: There is so much uncertainty about Geno Smith, even though I think he has a chance to be a solid starter, that quarterback has to be the position here. If Smith can't hold onto the job, it will go to veteran Ryan Fitzpatrick, who is more of a backup in my mind. Then there's rookie Bryce Petty. The Jets have talent, so if they can get quality play out of this position, which some might see as asking a lot, they can be a playoff team.
Running back: They like Latavius Murray, and he did some good things last season, but is he the long-term answer? That's what this season will decide. Trent Richardson is a backup, and he has been a bust so far in his career. Roy Helu will be the third-down back and maybe more. Murray had 429 yards on 82 carries last season, but it's a different story when you're getting 300 or so for the season. That's the big challenge for him.
Safety: Malcolm Jenkins is a nice player at one safety spot, but the other is a major concern. Earl Wolff was expected to be the starter, but he hasn't been back on the field after having knee surgery last season. That forced the move of corner Walter Thurmond inside. While he has the tools, it will be an adjustment. They did draft Eric Rowe from Utah, but he looks to be set at corner, even though he spent time at safety for the Utes.
Corner: The top two corners right now are William Gay and Cortez Allen, with the latter coming off a horrible season that saw him benched. The top reserves are Antwan Blake and rookies Senquez Golden and Doran Grant. For a team that has been known for defense, this isn't exactly a group to be excited about. They need the two young guys to grow up fast.
Offensive line: The Rams could have a starting line that features two rookies on the right side, as well as a second-year left tackle in Greg Robinson and a second-year center in Demetrius Rhaney, who didn't play a snap last season. Barrett Jones and Tim Barnes are also in the mix at center. The only spot with a certain veteran starter is left guard with Rodger Saffold. There is talent, but it's young and might need time to develop, especially rookie guard Jamon Brown and rookie tackle Rob Havenstein.
Outside pass rush: If Melvin Ingram can stay healthy, he would help alleviate this issue in a big way. But that hasn't been the case. He has just 12 starts in three seasons and San Diego had just 26 sacks last season as a team. They also need a young player to take a big step, whether it's third-year player Tourek Williams or second-year player Jerry Attaochu. Rookie fifth-round pick Kyle Emanuel could also be in the mix.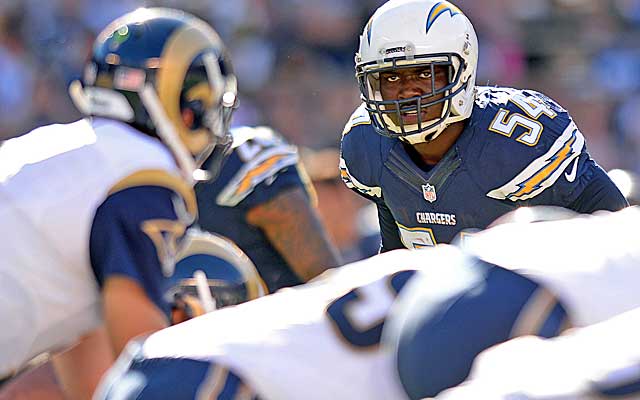 Cornerback: The 49ers have big issues outside. The projected starting corners are Tramaine Brock and Shareece Wright, who was signed from San Diego as a free agent. Second-year player Jimmie Ward will likely be the nickel corner. Veteran Chris Cook will also be in the mix outside and a couple of youngsters in Keith Reaser and Dontae Johnson could also factor. Brock is coming off an injury-shortened season, but he is expected back healthy again. Even so, this is a position where a young player needs to take a big step forward.
Interior of the offensive line: The Seahawks traded center Max Unger to the Saints in the Jimmy Graham deal and left guard James Carpenter signed with the Jets as a free agent. That leaves two holes in a line that had some issues last season. Patrick Lewis, who started four games when Unger was hurt last season, will be the starter at center. Alvin Bailey, who started five games last season, will likely be the left guard. Lewis struggled when he played last season, which could be a problem for a team that likes to run it.
Defensive end: The Bucs starters are Jacquies Smith and George Johnson, who they signed from Detroit. They had 12 1/2 sacks between them last season, with Smith getting 6 1/2. Johnson was a part-time player in Detroit, who flashed pass-rush potential as a sub player. Can he do it as a starter? The draft didn't bring much help, so those two have to come up big in a division with good passers.
Corner: They are solid on one side with Jason McCourty, but the other side was a mess last season. Bidi Wreh-Wilson didn't play that well, which is why Perish Cox was brought in from San Francisco. The third corner needs to be better as well. Cody Sensabaugh handled that role for much of last season.
Safety: Doesn't it seem like they've been trying to fix this spot for years? They traded to get Dashon Goldson from the Bucs and also signed Jeron Johnson from the Seahawks, a young kid with a lot of potential but limited playing time. Goldson has real problems against the pass, which is an area the Redskins badly need to upgrade. Duke Ihenacho and Phillip Thomas will also push for time.