It's training camp time in the NFL, which means in the next two weeks teams will convene and get back to work on trying to win a Super Bowl.
In the summer, optimism is everywhere. Bad teams think they have a playoff chance. Good ones know they do, but are they Super good?
All 32 teams have issues as they come back from summer vacation, issues that need addressing in training camp, some having more than others.
Here are the most pressing issues for each of the 32 teams heading into camp.
How healthy is Carson Palmer?
Palmer, the team's starting quarterback, looked good in the OTAs and mini-camp and appears to be back from his second torn ACL. But that's still a big hurdle to get past when things start for real. Palmer is a pro's pro, and he seems all the way back, but this camp will give the Cardinals a better indication of just where he is now.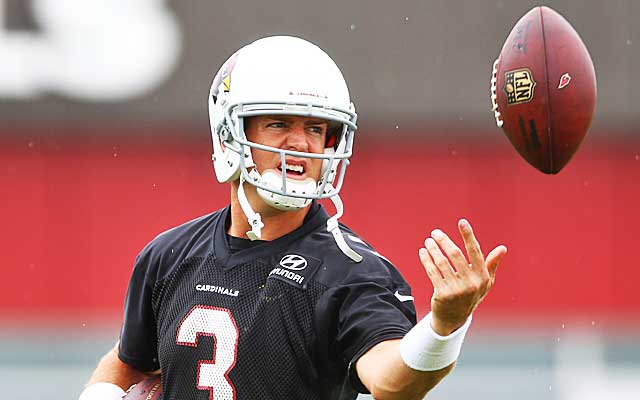 Will Dan Quinn bring about much change?
Owner Arthur Blank thought the team needed a change from Mike Smith after two bad seasons, so he fired him and hired Quinn from Seattle. Quinn will bring his enthusiastic way to the team, but is that enough for a roster that was far below average last year. Can he fix a defense that was horrible? Will he be able to help generate a pass rush?
How will new coordinator Marc Trestman's offense fit Joe Flacco?
Under Gary Kubiak last season, Flacco had one of his best seasons, throwing a career-high 27 touchdown passes. Without Torrey Smith, gone to the 49ers in free agency, how do the Ravens get production in Trestman's spread-out offense? Flacco would seem to be a fit, but do they have the receivers to make it work?
Who plays quarterback?
Maybe the answer doesn't really matter. The Bills have talent on both sides of the ball and new coach Rex Ryan will have a similar approach to what he had with the Jets, which is ground and pound. But to succeed, you have to get something from the quarterback. It will be a camp battle between Tyrod Taylor, Matt Cassel and EJ Manuel. Good luck with that.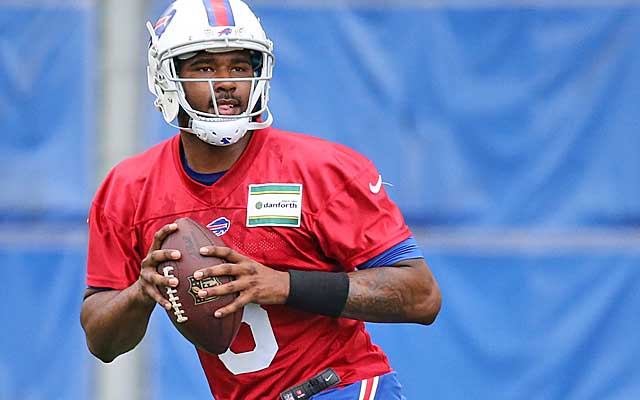 Can they fix the offensive line?
The line was a major issue last season, and Carolina hasn't done a lot to fix it, especially at left tackle. The Panthers are counting on Michael Oher to bounce back from a bad 2014 season with Tennessee to upgrade the left tackle spot. Oher had some injury issues that hurt him last season, but there are a lot of scouts who wonder if he can handle the left side. There are some rising younger players on the line, but Oher has to solidify the left side or there will be issues for Cam Newton.
Will Jay Cutler flourish or flounder in the new offense?
Cutler, who might have taken over from Tony Romo as the most picked on quarterback in the league, is coming off a season that saw him benched for Jimmy Clausen last season. Cutler threw 28 touchdown passes in a bad season that saw him play way too much from behind. New coordinator Adam Gase is a Mike Martz protégé, and Cutler had success playing in the Martz scheme in 2010-11. If Cutler can't make it work, he will certainly be done in Chicago, but Gase and Cutler should be a good match.
Is it a take-the-next-step-or-else approach as they open camp?
This is a team that has been to the playoffs each of the past four seasons, but hasn't won a playoff game. They lost at Indianapolis last year, and now the pressure is clearly on coach Marvin Lewis and quarterback Andy Dalton to get to the next step. The talent is there, so it's time for this team to do something more before heads roll.
What happens at quarterback?
Johnny Manziel is supposedly a new man, which should help his preparation and ability to read the field better. Is it enough? Or are they already settled on veteran Josh McCown, who was bad for Tampa Bay last year? If so, is that the right decision? Is he anything more than a stopgap player?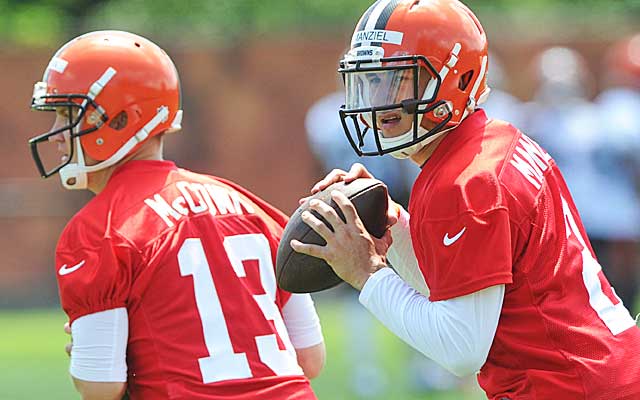 Who is the lead runner?
With DeMarco Murray gone to Philadelphia, the Cowboys need to decide on a feature back. Or do they? Can they just run by committee with Joseph Randle, Darren McFadden and others? They do have one of the best lines in the league. That will help soften the blow of losing Murray. They can get past it.
How will Peyton Manning fit into Gary Kubiak's offense?
Forget all the talk about Manning's age. The concern should be how he will fit into Kuibak's offense, which requires the quarterback to move more. That's an issue several coaches from around the league mentioned to me in the past couple of months. Manning has never been one to spend much time out of the pocket, so there will have to be some give and take here.
Will the Lions improve the running game?
The Lions ranked 28th last season in rushing and made improving that a focal point of their draft. They took running back Ameer Abdullah in the second round and guard Laken Tomlinson in the second. With Tomlinson and Larry Warford at the guards, the Lions have a powerful duo to key the run game. The Lions also traded to get center Manny Ramirez from Denver. This is clearly a team intent on improving the running game.
Will the offense be much different with Mike McCarthy handing off play-calling duties to assistant Tom Clements?
I doubt it. McCarthy wants to be more involved with other areas of the team, which is why he's giving up those duties. With Aaron Rodgers handling a lot of the offense at the line of scrimmage, it won't be that big a change. McCarthy has come under heat for being too pass-heavy at times, but isn't that the way it should be with Rodgers as the quarterback?
Who plays quarterback?
It looks like veteran Brian Hoyer has the inside track on the job, but Ryan Mallett is also in the mix. This is a talented team that needs to get better play under center to truly make a playoff run. Bill O'Brien did a heck of a job last season, but the quarterback spot will decide if they push the Colts in the division this season. I am not sure the answer is either one of these two, although I would lean toward Mallett.
Will the push to be more physical work?
They want to be a better running team to take the pressure off Andrew Luck to do so much, which is why they signed Frank Gore. They also added veterans on the offensive and defensive lines. The run defense, which was gashed in both losses to the Patriots last year, has to be better. They have to run it better and stop the run better to be a real Super Bowl team.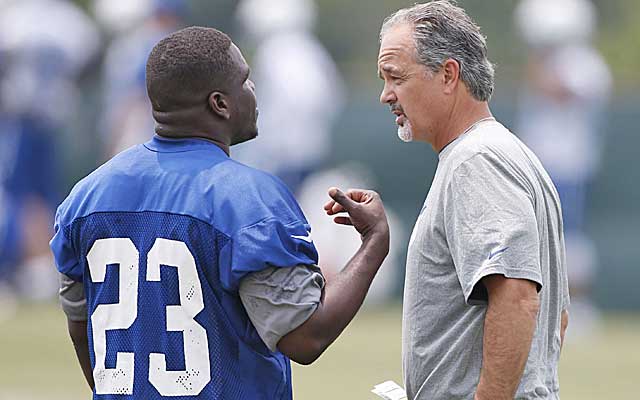 Is Blake Bortles ready to take the next step?
The second-year quarterback is learning a new offense for the second straight season, which can be tough, but at least he won't be playing with a bunch of rookies this time around. Bortles spent time this offseason working on his mechanics, and they looked better in OTAs. But what happens when the bullets fly for real? Does he revert to his old ways? He isn't a great practice player, but the team feels he's ready to be an even better game-day player. He better be.
Can the offensive line come together?
The unit struggled last season, and there will be three new starters inside this season. Left tackle Eric Fisher, one of the holdovers, has to play better. The former top overall pick has not taken his game to where it needs to go. They brought in guards Ben Grubbs and Paul Fanaika to help inside, but lost quality center Rodney Hudson in free agency. The line has to be improved if the Chiefs are to get better on offense.
Who starts at guard? The Dolphins are solid at both tackle spots -- if Brandon Albert is back healthy -- and at center with Mike Pouncey. But the guard spots will be contested in camp. Dallas Thomas and Billy Turner will likely get the first crack to run with the first team, but keep an eye on rookie Jamil Douglas, their fourth-round pick. Veterans Jeff Linkenbach and Jacques McClendon will also be in the mix.
What are they getting with Adrian Peterson back?
Before he was suspended for the year in Week Two last season, Peterson was considered the best back in football. But he's been away from the game, which could be a good thing or a bad thing. Sitting out could help heal the body, but he's also a year older and at 30 backs tend to start to slow down. Peterson indicated he didn't want to come back to Minnesota, but now that he's back he should again be a big part of the offense.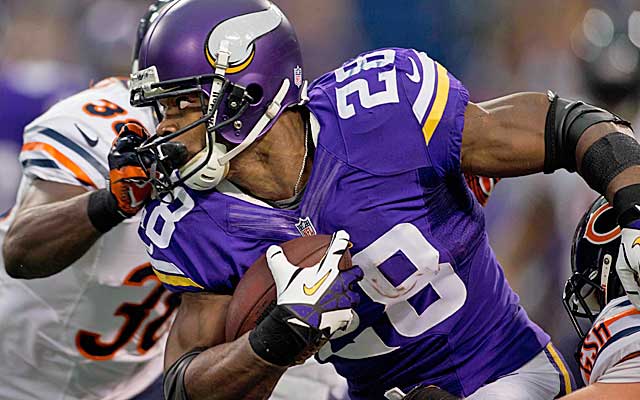 Will Deflategate and the pending issues for Tom Brady impact camp?
This is a team that has been through a lot -- much of it self-inflicted -- so they will get through whatever happens with Brady. The big issue in camp will be to get Jimmy Garoppolo ready in case Brady can't play at the start of the season. How will they split the first-team reps if that's indeed what needs to happen? Bill Belichick won't let this be a distraction, and he's good at erasing those for his team.
Can the defense be fixed?
The Saints finished 31st in total defense last season, putting a stain on Rob Ryan's resume. He has to turn it around this season, or he's probably gone. The problem is they don't have the right pieces of up front if Junior Galette is suspended for any length of time for his off-field issues. The secondary, which was a disaster last season, has to be better as well. This is a big year for Ryan and the defense.
Where does the pass rush come from if Jason Pierre-Paul has to sit out for any length of time?
The rush was going to be an issue even with Pierre-Paul. If he misses any significant time, the Giants have to find ways to get home without him. Coordinator Steve Spagnuolo, back for his second stint with the team, is an aggressive coach who isn't afraid to blitz. They might be forced to do a lot more of it if Pierre-Paul misses any length of time.
Can Geno Smith show he's the guy?
Smith has to prove to a new staff -- and a legion of doubting fans -- that he should be the quarterback. He did some good things late last season to give hope, but he's no sure thing. He has to continue to grow or veteran Ryan Fitzpatrick could take his job early in the season.
How long will it take Jack Del Rio to put his stamp on this team?
Del Rio is known as a coach who will put together a big, powerful defense and try and run the ball on offense. In his first head coaching job with the Jaguars, he did just that and got them to the playoffs twice. This Raiders team has some good, young talent to build around. It just might take time for Del Rio to get it the way he wants.
Will Chip Kelly's moves pay off, or is he just mad scientist of a coach trying to prove his way is the only way?
This is a huge year for Kelly, who still hasn't won a playoff game. Kelly made a ton of changes in his first season of making all the personnel decisions. He traded LeSean McCoy, and then replaced him with DeMarco Murray and Ryan Mathews. He got rid of Nick Foles for Sam Bradford, who is coming off another ACL tear. This is clearly a team in flux, but it could be a good thing. If not, the heat will come Kelly's way and quickly since we know Eagles fans have little in terms of patience.
Who are the corners?
The Steelers have a new defensive coordinator with Dick LeBeau gone to Tennessee and Keith Butler taking over. He is faced with a tough challenge to try and improve the secondary, especially outside. Cortez Allen, who was benched last season, needs a bounce-back year at one spot. Second-round pick Senquez Golson and fourth-round pick Doran Grant will get good looks in camp to see if they can play right away. They need them to be ready as quickly as possible.
Can the offense finally help the defense?
The Rams return all 11 starters to a defense that should be one of the NFL's better units, but there are a lot of questions on offense. Nick Foles takes over at quarterback, and he will play behind an inexperienced line without a great outside threat in the passing game. The Rams were 21st in scoring offense last season. If they can get that into the low teens, they could be a playoff team.
Will the offensive line be fixed?
They wisely re-signed left tackle King Dunlap and then gave guard Orlando Franklin a big deal to come over from Denver to play next to him. That side will be fine. But they will have a new center in Chris Watt and the right side has to be improved. D.J. Fluker has to be better in pass protection at right tackle Running back Melvin Gordon, their first-round pick, should help take some of that pressure off the line and Philip Rivers.
Have all the losses and retirements left little on the bone for the 49ers?
New coach Jim Tomsula takes over for Jim Harbaugh, and some 49ers might be thrilled that's the case. Harbuagh is the type of coach who has a short shelf life, so change might be good. The problem is Tomsula has lost a lot from his defense with the retirements of linebackers Patrick Willis and Chris Borland and defensive end Justin Smith. But this was a season about Colin Kaepernick anyway. If he takes the next step, which the 49ers need to happen, San Francisco will compete in the division, even with the losses on defense. If he does not, it could be a bad first season for Tomsula.
If Russell Wilson doesn't get a new deal, will it be a distraction?
I doubt the two sides will agree on a deal before the season, which means Wilson would either become a free agent next spring or get the franchise tag. I would bet on the latter. It's clear there is a big gap between what Wilson wants and what the Seahawks want to pay him. As for the distraction, the answer is a big, fat no. Wilson won't let that interfere with his preparations, and his teammates will stay out of the fray. So not having a new contract won't impact this season. At least, I don't think so.
How quickly can Jameis Winston develop as a rookie?
When I was there in June, Winston was impressive. He is clearly the starter -- even if they didn't say so then -- and this is his team. The players I talked to loved the guy. He works at it. The one thing the team is concerned about is his want to make hero throws all the time. He can't make the same type of mistakes he made in college and still get away with them. Can he get out of that habit with a camp and preseason?
What are the expectations for Marcus Mariota?
The Titans picked him second and they've done nothing but rave about him since, especially about his accuracy. But it's one thing to do it in practice and another in games. Mariota was viewed as a project by some coming into the draft, but his offseason work has helped to temper that thinking. Now comes the tough part: Doing it in games.
Is Robert Griffin III fixable?
After bursting onto the scene as a rookie, and showing off some impressive skills in the tailored-to-him scheme, RG3 has been a failure since. Injuries forced him to change the way he plays, which meant more focus on the pocket and less on moving. Now he has to show that he can stand in the pocket in Jay Gruden's offense and make the throws. If not, he will be gone in 2016.