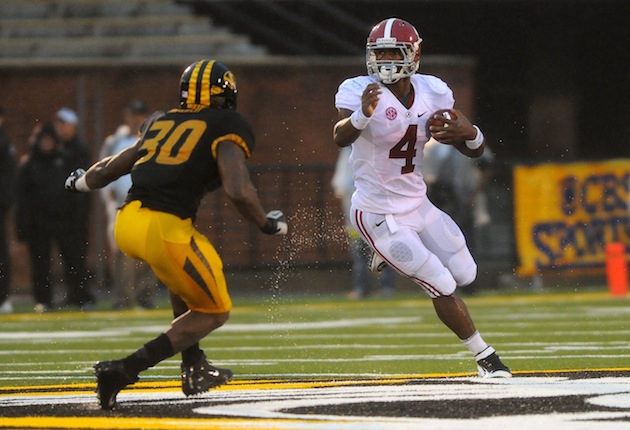 Alabama is No. 1 in the polls and looking like a sure bet to play in Miami for the BCS title. (US Presswire)
We've reached the halfway point in the season and we're taking the time to look at all of college football here at CBSSports.com. Here's a look at each major BCS conference team (and plenty of others) to figure out what we knew in the past (preseason), what we know now and what the future holds.





Boston College (1-5)

Past: The Eagles missed their first bowl since 1998 last season and there was hope that the program would get much luckier with 17 starters back.  

Present: It has been a rough start to the year with the only win coming over Maine and plenty of blowout losses littered on the schedule so far. The schedule hasn't been easy but losing to teams like Army -- who lost at home to Stony Brook the week before -- and allowing 516 yards rushing isn't the mark a bad team, it's the mark of one of the worst BCS teams in the country.

Future: A new athletic director has already started and it's only a matter of time before Boston College is introducing a new head coach after firing Frank Spaziani.

Clemson (5-1)

Past: The beginning of the season was supposed to be about moving on from the horrors of the Orange Bowl and it looked like the team got over things quickly by beating Auburn to start the season despite not having Sammy Watkins available.

Present: Dabo Swinney's team essentially had a one-game playoff for the division (given how weak the conference is) at Florida State and lost, putting them in position to hope someone else can spring the upset on the Seminoles once again. The offense has been solid, as expected, but the defense is simply atrocious and gotten the team into some bad spots in a number of their games. This team has talent but hasn't put everything together yet.

Future: There's still a chance at a 10 (or more) win season if they can take care of business against Virginia Tech at home and then keep momentum going into the rivalry game against South Carolina. It's likely this team ends up where they started the season, back in Atlanta for a bowl with Chick-fil-A branding.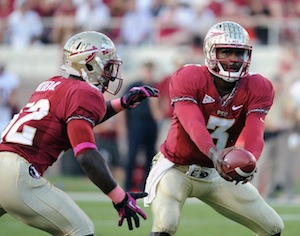 Florida State's national title hopes are likely gone after an upset loss once again. (US Presswire)
Florida State (5-1)

Past: A trendy national championship pick with the softest schedule among the major contenders, this was supposed to be the year we could all proclaim the Seminoles back. The offensive line was a concern but a good quarterback in EJ Manuel and top notch defense would lead FSU back to college football's elite.

Present: Florida State is back (to being Florida State of the past couple of years)! Yet again a tricky ACC game on the road tripped up the Seminoles and with such a weak schedule (they're in the top 25 in just one BCS computer) it looks like the only BCS game they'll be going to is the Orange Bowl. This team has plenty of talent but can they gel together by the time they host Florida?

Future: At this point, only a tricky game at Virginia Tech in early November looks tough before they host Florida in a what could be a BCS title-spoiling game. A one-loss season will be progress in Tallahassee but as we've seen before, winning out is far from assured with this team.

Maryland (4-2)

Past: A disastrous season a year ago had many calling for Randy Edsall's head. Combined with losing quarterback C.J. Brown to an ACL tear and legions of fans were ready for the basketball team to start practice in August.

Present: Well, well, look who's undefeated in ACC conference play. It hasn't been pretty (such as a one point win over William & Mary in the opener) but quietly the Terps have doubled their win total from a season ago. Freshman Stefon Diggs has been as advertised and gives this team a spark that it hasn't had in quite some time.

Future: The schedule was severely backloaded for Maryland and though they may be able to scratch their way to six wins and bowl eligibility, it's going to be an uphill battle if there's not more consistency all around when they start playing good teams.

N.C. State (4-2)

Past: The Wolfpack were an intriguing team to start the season because they looked pretty solid on paper and had a strong-armed quarterback in Mike Glennon who was shooting up draft boards. Cornerback David Amerson was an All-American candidate once again and primed to be a first-round pick.

Present: Turnovers doomed them in the opener against Tennessee and they lost right at the end to Miami but redeemed themselves with a huge upset at home against Florida State for their only quality victory of the year. While Glennon has been just OK, nobody's stock has taken a hit like Amerson, who has looked terrible so far this year.

Future: The team could still wind up in a solid bowl game but have several tough games on the road, including a trip to Clemson near the end of the season.

Wake Forest (3-3)

Past: Picked to finish last in the Atlantic Division, the Demon Deacons lost a ton from last year's squad on offense and figured to have a tough time replacing them. The defense was expected to be solid but there were plenty of question marks about this team.

Present: A narrow win over North Carolina buoyed some hope that this season would be better than expected and while the Deacs are losing close, they're probably better than many thought. Neither the offense or defense is anything to hang their hats on but it's not the end of the world with this team.

Future: The schedule doesn't do the team any favors but there's a slim shot of getting to a bowl once again if they can beat Virginia, Boston College and then pull off an upset.

Duke (5-2)

Past: David Cutcliffe said this could be the best team he's had since taking over the program but that didn't mean expectations were any higher than being competitive. Sean Renfree, Conner Vernon and a number of returnees on defense figured to help keep things closer than expected against a tough slate.

Present: One of the biggest surprises of the college football season, the Blue Devils are knocking on the door of going to a bowl for the first time since 1994. They nearly got there with a huge 1st quarter against Virginia Tech but reverted to form after that. This team is doing a bit of everything in scrapping to five wins but still need to show progress.

Future: The backloaded schedule may make the magical run in Durham a short one with games against at Georgia Tech and vs. Miami looking like the only chances of getting to that illustrious postseason.

Georgia Tech (2-4)

Past: A good offensive line and the always tricky to prepare for option offense figured to give plenty of teams fits even if they were likely not going to have a great defense.

Present: One of the most disappointing teams in the conference, the defense is so bad that Paul Johnson had to let go of his defensive coordinator. The team got pummeled at home by Middle Tennessee and are not close to playing good football right now.

Future: The schedule has plenty of road blocks on it and getting to a bowl game looks like a long shot at this point.

Miami (4-3)

Past: Picked fifth in the division, the Hurricanes were expected to be bad enough that the school would prematurely "sacrifice" a bowl game to appease the NCAA before everybody eventually found out just how bat that situation was. The offense was expected to be solid with a good recruiting class and Stephen Morris under center.

Present: Miami's offense looks pretty good and saw an offensive explosion behind the arm of Morris and the highlight plays of Duke Johnson. The defense has been the issue though, holding one on FBS team to fewer than 32 points.

Future: A rivalry game against Florida State will be interesting but there's clearly two more wins left on the schedule is Morris can get healthy and the defense improves. At that point, what will the AD-less athletic department do with regards to the forthcoming news from the NCAA.

North Carolina (5-2)

Past: The offense figured to be the strong point of this team under new head coach Larry Fedora but could the defense be effective enough to help win games? Gio Bernard and one of the best offensive lines in football probably will help control some clock so their counterparts won't be on the field too much.

Present: A furious comeback against Louisville early in the year fell short but ignited a nice run of four straight. The team hasn't put together a complete game in conference play but they're looking better than many thought.

Future: At this point the Tar Heels are just trying to get down Fedora's schemes and build for the future while folks around Chapel Hill await word from the NCAA about the growing academic scandal that is the focus of many.

Virginia (2-5)

Past: After a big year that got them to the Chick-fil-A Bowl and solid recruiting job, the Cavaliers were a few folks' dark horse in the Coastal Division. The quarterback battle between Alabama transfer Phillip Sims and Michael Rocco grabbed a lot of attention but the coaching staff's concerns were on defense with seven starters to replace.

Present: Outside of holding on against Penn State early in the season, there's been little to write home about for this disappointing team. The defense is bad and the offensive players are just as inconsistent.

Future: A bowl is out of the picture for the most part so it's about getting guys seasoned for next year and hope they can hang on to some of their top recruits given the bad record.

Virginia Tech (4-3)

Past: Bud Foster's defense (nine returnees) and trendy NFL draft prospect Logan Thomas were going to power the Hokies to yet another appearance in the championship game and possible upsets against Clemson and Florida State might be in the cards.

Present: Maybe the final three quarters against Duke will serve as a turning point in the season but it's been a rough start so far for Frank Beamer's crew. They got blasted by a bad (at the time) Pitt team and lost their last two before turning things around against the Blue Devils. Thomas hasn't come close to expectations and the defense has been hemorrhaging points.

Future: This team could still wind up in the championship game (even with five losses, amazingly enough) if all goes well but it's hard to see them be anything but disappointed after reaching a BCS game last year.





Baylor (3-2)

Past: RGWho? The Heisman Trophy winner had moved on to the NFL and now it was time for veteran Nick Florence to take over a top notch offense. Could the defense come along enough to be a pesky threat in the Big 12 this season though?

Present: The Bears have two losses despite racking up 540+ yards of offense four times this year and could get a win with 63 points on their side of the scoreboard.

Future: The schedule does them no favors with plenty of big time programs ahead. The defense needs to get enough stops for the offense to outlast their opponents but that is looking tougher by the weak.

Iowa State (4-2)

Past: Though they won't contend for the conference crown, the Cyclones figured to have a hand in who wins thanks to their penchant for upsets. With linebackers like A.J. Klein and Jake Knott the defense appeared to be ok but where points would come from remained a question mark.

Present: Iowa State almost pulled off a big time upset against Kansas State after playing Texas Tech close and edging TCU on the road. Receiver Josh Lenz has been solid but there are plenty of what-ifs on this team.

Future: The final five games are as tough as they come in this round robin league with only an improved but still bottom-feeding Kansas in the mix once the calendar flips to November. A bowl isn't out of the question but they probably will only favored once the rest of the way.

Kansas (1-5)

Past: Schematic advantage has made his way to Lawrence and with Notre Dame transfer Dayne Crist, the Jayhawks figured to be less inept as they have been the past few years.

Present: It's still bad, as Kansas is the only BCS team to lose to Rice and have only an FCS win to their credit. The team is bad but not terrible, as close losses have shown, but nowhere near being good.

Future: Although they may be improved from last year that doesn't mean a lot in this year's Big 12. It's easy to forecast a one-win season looking at what's ahead.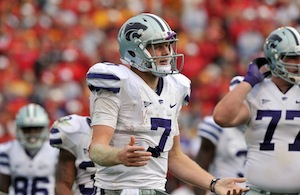 Collin Klien and Kansas State are thinking why not us in the Big 12 race? (US Presswire)
Kansas State (6-0)

Past: Well there's no way the Wildcats can keep up their nail-biting run from a year ago. Five wins of four points or less doesn't bode well for 2012 even if they do have Heisman dark horse Collin Klein.

Present: Undefeated and sitting in the top five, Bill Snyder is using his black magic once again. The roster is full of Jucos, transfers and diamonds in the high school recruiting rough but they certainly believe in what they're doing. Both the offense and defense look better than last season and the team did the impossible by winning in Norman.

Future: We'll find out if another Big 12 title is in store for the Little Apple as KSU heads to West Virginia in their second major hurdle. Beat the Mountaineers and, with three of their final five at home, there's a chance that a BCS game isn't what everybody's talking about but a certain end of season contest in Miami.

Oklahoma (4-1)

Past: The tentative pick to win the league by man, the Sooners looked like a different team late in the season on offense as they spiraled downward. Mike Stoops was back to fix the defense but could Landry Jones get better with a young receiving corps remained the primary concern to most.

Present: After narrowly losing to Kansas State, Oklahoma has turned into the team many thought of when picking them to get to a BCS game. They throttled Texas Tech and Texas in back-to-back weeks and the defense looks tough enough to win in a league full of offense.

Future: Notre Dame comes to Norman for what will be a game with huge national title implications. Win that one and Oklahoma could be in the hunt as a top one-loss team. The final three weeks look tough however, with two of the three on the road sandwiching a rivalry game.

Oklahoma State (3-2)

Past: Two 1st round draft picks were gone and in steps ... a true freshman quarterback? Well, it should at least be an interesting season for the Cowboys.

Present: With Lunt out and the team yet to put forth a solid all-around game, we're really not sure how good or bad Okie State is. The offense can pile up yards and points but the defense, so turnover-happy a year ago, is a work in progress.

Future: Mike Gundy is a good coach with solid talent all-around but there's plenty of things we don't know about this squad as the schedule gets turned up a few notches.

TCU (5-1)

Past: A defending conference champ, the week-in and week-out grind of playing in the Big 12 figured to catch up with a very young team on both sides of the ball. An offseason drug bust hurt depth and while the shiny new stadium was nice to show off, how good this team could become was anybody's guess in a crazy conference.

Present: Down numerous running backs and with quarterback Casey Pachall taking the year off following a DUI, we still don't have an answer as to how good the Horned Frogs are at the midpoint. They won with defense and timely plays but with one of the youngest teams in the Big 12, it's still a work in progress for Gary Patterson.

Future: The schedule is very much backloaded for this group and a big test awaits right away with Texas Tech coming into town. This team will give everybody a fight but can they wind up with enough points to win games is a shaky proposition.

Texas (4-2)

Past: Ok, last year's rebuilding effort bodes well for a team that still is among the youngest in the Big 12. The schedule is manageable and the defense figures to be the best in the conference with guys like Alex Okafor and Jackson Jeffcoat being terrors off the edge. If the Longhorns can get decent play out of their quarterback -- whoever it might be between David Ash and Case McCoy -- they might just wind up winning the league.

Present: Sitting right where they were a year ago, Texas is reeling from back-to-back…um, back-breakers. The defense has looked terrible and been gashed on the ground while the offense that won them the game at Oklahoma State has regressed each week since.

Future: With calls for Mack Brown to finally be fired, it's an interesting time in Austin. Two of their toughest games are out of the way so it's possible the team could rebound but with injuries mounting and not much to go on, it looks like things will be more burnt than burnt orange going forward.

Texas Tech (5-1)

Past: The Red Raiders will still put up points like the rest of the conference but their season's success will probably come down to whether new coordinator Art Kaufman can turnaround a unit that was abused all year long.

Present: Ranked after pulling off the impressive upset of West Virginia, the defense has turned from laughing stock to a unit that is, statistically, among the best in the country. The schedule was super weak to start the year but there's plenty of fight in Tommy Tuberville's team and this looks like a tough out no matter who they play.

Future: The next three weeks will show whether Tech is a pretender or contender but it's clear progress is being made in Lubbock after it looked like Tuberville may have been on the hot seat.

West Virginia (5-1)

Past: How will Dana Holgorsen fare in a league he knows plenty about? The offense will be among the best in the nation but there's tons of defensive question marks and both lines will need help if the team is to compete for a championship.

Present: A shocking loss to Tech notwithstanding, Geno Smith is still the Heisman favorite and the road to a Big 12 title still runs through Morgantown. The defense is atrocious but got stoops when they needed them in past games but it's going to be hard to see many positives in their performance so far this year.

Future: With Kansas State and Oklahoma coming to West Virginia, this team is still setup well to win the Big 12 in their first year. Performances like the one against Tech can't happen however and something has to get fixed on defense or it will be a long year full of shootouts.





Iowa (4-2)

Past: Two new coordinators have upset life for the normally stable Hawkeyes. The boys in the trenches, missing six starters between the two lines, figured to be the greatest cause for concern for a team that will likely be good but not great.

Present: The team lost to a terrible Central Michigan team thanks to a crazy ending and couldn't beat Iowa State despite holding them to just nine points. The offense was once again struck by AIRBHG and down to a walk-on fullback in Mark Weisman but the biggest concern might be the shaky play of quarterback James Vandenberg.

Future: A win over Michigan State on the road was big and in a league where just about anybody can win it, Iowa is still alive. But this still has a 7-5/6-6 type season written all over it.

Michigan (4-2)

Past: Ranked in the top 10, the Wolverines figured to be sacrificial lambs for a reloading Alabama team to open the season. Denard Robinson would overcome a lot of deficiencies but the concerns at the interior of both lines might hold this team back.

Present: Outside of the opener, the defense has stepped up and looked better by the week. Robinson hasn't improved as a passer but he's still among the best playmakers in the country with the ball in his hands so Michigan is doing just fine as they slide back into the top 25.

Future: The team can probably seal up the division with wins in the next two weeks but they're not even close to be back to a "good" football team until they do so.

Michigan State (4-3)

Past: With one of the best defenses in the country, the Spartans were a trendy Big Ten champion pick despite breaking in a new quarterback. It helps to have a running back like Le'Veon Bell though  and with a good coaching staff, it could be a sleeper team to keep an eye out for.

Present: There's still not a threat in the passing game so teams are loading up to stop Bell, who is doing his best to keep the offense afloat. The defense has been good but not great like they were expected to be.

Future: It's make or break for MSU in the next three weeks as we figure out if this team can make it to Pasadena or will find itself getting bludgeoned by another SEC team come bowl season.

Minnesota (4-2)

Past: Depth is a huge concern for a team that likely is out of the running for a bowl game but does have a solid option at quarterback in MarQueis Gray.

Present: Perhaps a surprise in terms of record, the Gophers are playing harder and coming closer to opponents than last season. The offense is a mess without any consistency from the starters but somehow, someway the team is two wins away from their first bowl since 2009.

Future: It's not out of the question that this team could sneak up and surprise teams down the road but it's hard to say Minnesota is anything but mediocre at best in a mediocre league.

Nebraska (4-2)

Past: 16 starters should balance out a tough schedule and put the Cornhuskers right there with the best of them in the Legends division. If Taylor Martinez improves as a passer, a strong running game should take pressure of a defense that will likely not be given the blackshirt label any time soon.

Present: A blowout to Ohio State combined with a road loss to UCLA and nobody is really sure how good this team is right now. Ameer Abdullah has emerged as a solid option at tailback and Martinez has improved as a passer but the defense hasn't come along with them.

Future: It's a make or break next few weeks for the team, which could wind up in the Rose Bowl or at .500 on the year.

Northwestern (6-1)

Past: The way the schedule set up, the case could be made for the Wildcats to start 7-0 before hosting Nebraska. The defense was bad last year but the offense might just be good enough to carry the team to a nice year.

Present: Giving up the lead late to Penn State won't make Pat Fitzgerald happy but the team is bowl eligible before a ton of others and are a team others will have to take seriously. Venric Mark and Kain Colter are two fun players to watch and the defense hasn't been too terrible.

Future: We'll see if the Wildcats are for real or not with four straight weeks of tough games that will determine their place in the Big Ten. Had they been in the other division there would have been a chance to reach Indianapolis but that doesn't seem too likely given what they're up against.

Illinois (2-5)

Past: A new staff led by Tim Beckman had some talent leftover from Ron Zook to work with but not a ton. Installing new schemes mean the team is probably behind the curve to begin but there's enough players on the roster to surprise a team or two.

Present: Oof. This isn't what Beckman wanted to start off his tenure as the quarterback spot has been open due to injures and the offense has struggled to score points. Even worse, the defense leaks worse than an old faucet and hasn't held a BCS school under 31 points all season.

Future: There might be some wins left on the schedule with three of five at home against some of the conference's weaker teams but improvement must be made on both sides of the ball. A bowl looks to be out of the question.

Indiana (2-4)

Past: 15 starters return for the Hoosiers but that doesn't mean much for a school that is much more focused on the top-ranked basketball team to care about what happens in the fall with the football team.

Present: It's basketball season! But the football team is at least making things interesting despite that loss to Ball State earlier in the year. They nearly pulled off back-to-back upsets against some of the better teams in the Big Ten to inspire hope for the rest of the season.

Future: The record is not great but with Cameron Coffman at quarterback, it's not out of the question that Indiana could make it interesting down the stretch against some of their fellow B1G bottom feeders.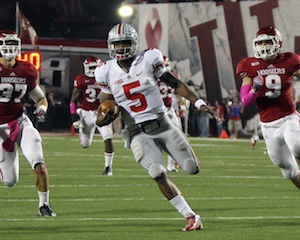 Braxton Miller has helped ease Urban Meyer's transition at Ohio State and have the Buckeyes looking to go undefeated. (US Presswire)
Ohio State (7-0)

Past: No bowl? No problem for the Buckeyes, who will have a year with nothing at stake to learn under Urban Meyer and get ready for a Big Ten and possibly a national title run in 2013.

Present: Undefeated and looking foolish for not taking a bowl ban during last year's lost season. Braxton Miller is a legitimate Heisman Trophy candidate but the defense is so bad that even pizza delivery boys are cracking jokes.

Future: Ohio State will be favored the rest of the way but that doesn't mean they're a shoe-in for an undefeated year. There are still plenty of flaws with this squad that the play of Miller has been able to mask but that may catch up to the team sooner rather than later.

Penn State (4-2)

Past: NCAA sanctions and transfers have made the Nittany Lions a team with serious depth issues and a first time head coach dealing with tons of things on his plate. The defense might be ok but who knows where the points will come from on offense.

Present: Matt McGloin might be the most improved player in college football and Bill O'Brien is CBSSports.com's Coach of the Year at the halfway point after the team turned it around from two early losses to wind up right into the thick of things.

Future: How long can they keep it up? The schedule will only get harder from here on out and while it's a great story at some point things will catch up to a team that is using smoke and mirrors to win games.

Purdue (3-3)

Past: A possible dark horse in the Leaders division, the number of returning starters (15) is giving reason for hope to a squad with some talent on it if all works out. The quarterback position has to get settled but there's a chance the Boilermakers wind up better than expected.

Present: The quarterback spot isn't set yet but on the flip side they scored on Notre Dame early in the year. Two blowouts in a row cast doubt on the team but the upset potential is still there.

Future: Four of their final six are on the road and the defense has gotten worse each week. They could sneak into a bowl at 6-6 yet again but it's still going to be tough.

Wisconsin (5-2)

Past: With postseason bans to two teams in the division, the Badgers figure to be a shoe-in for a trip to Indianapolis. Breaking in a new quarterback and several new coaches would be a concern but Montee Ball is back to alleviate concerns.

Present: A terrible start to the season had many questioning if the Badgers would even make a bowl game the way they were trending. The offensive line has gelled recently and Bell has picked things up as conference play has started. Joel Stave is in for Danny O'Brien but the offense still isn't where it should be.

Future: This is still the team to beat in the division, remarkably. They should ice the division with a road win at Indiana.





California (2-4)

Past: The new Memorial Stadium is finished and Jeff Tedford comes in with a ton of pressure to open it with a good season. Zach Maynard should improve and the offense is filled with plenty of (young) weapons to make up for holes on defense.

Present: Losing the first home game does nothing to cool the hot seat for Tedford, who has seen his season go as Maynard does under center. The defense has looked better in recent weeks but it's still puzzling why tailback Brendan Bigelow isn't getting more carries.

Future: With both Oregon schools still on the upcoming schedule and an always tough rivalry game against Stanford, finding the wins to get to a bowl game look like a stretch. Will it be enough to save Tedford? Who knows given his huge buyout.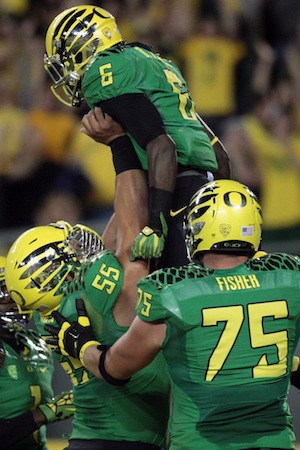 The Ducks are thinking of holding up a trophy at the end of the year in Miami. (US Presswire)
Oregon (6-0)

Past: They could win the conference once again if they can beat USC twice but how will new starter Marcus Mariotta do in getting the ball out to playmakers like De'Anthony Thomas and Kenjon Barner remains the biggest question for a loaded team thinking national title.

Present: They control their own destiny for the national title game and are looking even better than most thought. The offense is sharp and Mariotta is proving to be a young passer with plenty of touch in addition to being able to take off with the ball. Perhaps more impressive is the defense, which has tightened up in the red zone and has perhaps the best 1st team in the league.

Future: It's all about November for the Ducks, as they make the trip to Los Angeles for the game against USC. Things look a tad tougher though with Oregon State looking like a strong challenger.

Oregon State (5-0)

Past: After a 3-9 season, the Beavers might be improved but still wind up bottom-dwellers in the North division given how deep the league is. The defense will surprise people though and Sean Mannion is one of the more underrated signal-callers in the country.

Present: One of the biggest Cinderella stories in all of college football, Mike Riley's squad is the toast of the West Coast as they win and head to In-N-Out every time. Thanks to guys like Jordan Poyer, the defense is helping power the team into the top 10.

Future: Can they keep this up? Who knows, as it's a tough month of November that includes a road trip to Stanford and the annual Civil War.

Stanford (4-2)

Past: So long Andrew Luck, hello new era on the Farm. There's enough talent on both sides of the ball to remain competitive in the Pac-12 but can new quarterback Josh Nunes do enough keep the Cardinal in the mix?

Present: Still a top 25 team, the offense needs work as the passing game is virtually non-existent outside of a shootout against Arizona. Stepfan Taylor is great but can only do so much.

Future: The schedule looks like eight or nine wins but progress has to be made at the quarterback position if Stanford wants any hope of staying in the top 25 the rest of the year.

Washington (3-2)

Past: Wanted: a defense. Have: a pretty solid offense but no offensive line.

Present: They pulled off the Thursday night shocker against Stanford but haven't done much outside of that. Justin Wilcox has his defensive unit looking ok but the team hasn't put everything together yet.

Future: The gauntlet of the schedule is over for the most part but Arizona and Oregon State aren't give me's. Another bowl game looks to be on the horizon but this isn't where Steve Sarkisian wants the program at this point.

Washington State (2-5)

Past: Mike Leach! Swing your sword! Air Raid! Plenty of returnees on offense!

Present: They had to fight tooth and nail for both their wins and the defense is simply a mess. There's nobody stepping up on offense and even pre-season All-American Marquess Wilson is looking average on many plays.

Future: Outside of a trip to Utah, there might not be another win left on the schedule.

Arizona (3-3)

Past: Rich Rodriguez doesn't have the greatest group of players but he's got a quarterback that fits his system in Matt Scott and some pretty solid options on offense outside of him as well. The defense won't be great as they transition to the 4-2-5.

Present: Close losses the past two weeks have masked that this is still a pretty good football team that is better than its record.

Future: The team could give USC fits with this spread offense and outside of that game, figure to be in the mix to win just about every one left on the calendar.

Arizona State (5-1)
 
Past: Dream job was muttered way too often around Tempe but it's clear it could be a tough turnaround for the Sun Devils under Todd Graham.

Present: The schedule hasn't been anything to write home about but the team is clearly improved by cutting down on the penalties and tightening up the defense.

Future: Oregon at home should be interesting given the series history but it's easy to see ASU in some sort of bowl given how well the team is playing right now.

Colorado (1-5)

Past: The Buffs are going to be better on the field but thanks to a rough schedule will probably be worse record-wise than expected.

Present: They're even worse than many thought they would be and while there's still some fight left in the team, losing to Sacramento State and getting routed by Fresno State is not a sign of progress.

Future: Road trips to USC and Oregon back-to-back are the nail in the coffin for this team.

UCLA (5-2)

Past: How will Jim Mora handle college football? We'll see. Quarterback Brett Hundley should give an injection of life into the offense while the defense figures to be better with added depth and a solid secondary.

Present: Still one of the surprises in the Pac-12 this year, things have gone well as the Bruins are likely to match or exceed their win total from a season ago. Who knows how good the squad really is but they're more focused and prepared than they were under the previous regime.

Future: The back-loaded schedule isn't going to do UCLA any favors but progress should be expected from a team that has hit an inconsistent funk.

USC (5-1)

Past: A popular pick to upset the SEC's dominance and return to glory by winning the national title as they come off a postseason ban, the Trojans figure to have one of the best offenses of all time and a solid defense to lean on at times.

Present: Stanford has the team's number and they couldn't get over the hump but while the offense hasn't taken off like many expected, the defense has carried the team in recent weeks.

Future: With Oregon (likely twice) and Notre Dame still on the schedule, it's possible USC could still play for the national title. However that seems unlikely unless the begin a 2nd half run like they did a year ago.

Utah (2-4)

Past: A possible challenge in the Pac-12 South, the Utes have just enough defense and offense to give everybody in the conference fits.

Present: This is not a good team on either side of the ball and with no production out of the quarterback spot, a Utah team that is searching for its identity.

Future: A bowl seems out of the picture but on the bright side that could allow the coaching staff to go all-in on grooming quarterback Travis Wilson.





Florida (6-0)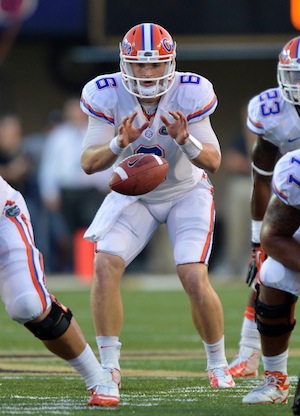 Jeff Driskel is one reason why Florida is looking good to win the SEC East. (US Presswire)
Past: The defense should be one of the better units in the country with guys like Sharrif Floyd, Dominique Easley and others. The offense however… one of the two quarterbacks need to step up and play efficiently if the Gators are to contend in the East.

Present: At No. 2 in the BCS standings, Florida is one of the surprises in the SEC this season. Jeff Driskel has emerged to run Brent Pease's offense and Mike Gillislie has surprised just about everybody as the tough runner WIll Muschamp has been looking for.

Future: The next few weeks will determine if this is a serious threat to Alabama in Atlanta at the end of the year or if they're looking at another route to the postseason.

Georgia (5-1)

Past: Is this the year Georgia finally puts it all together? The Bulldogs have the most talent in the division and a veteran quarterback returning. Running figures to be something they'll have to sort out as they go with two freshman stepping in but with no Alabama, Arkansas or LSU on the schedule, things setup nicely for Mark Richt.

Present: The Dawgs looked sharp and a true top five team up until running into a buzz saw of South Carolina. "Gurshall" has emerged at running back and the defense has lived up to the hype behind Jarvis Jones and company for the most part.

Future: It's a one game season at this point, with a win against Florida in the Cocktail Party giving them an inside track in the division and a clear path to face the West winner at the dome.

Kentucky (1-6)

Past: Maxwell Smith should be better at quarterback but outside of some talented offensive linemen, there's not much to write about the talent on the Wildcats. But hey, basketball season is right around the corner in Lexington.

Present: There's not many positives as the Joker Phillips era winds down. The quarterback position has been a revolving door and the defense can't stop anybody.

Future: The schedule gets a little easier in the back half but it's hard to see Kentucky snagging a win if they keep playing like they have.

Missouri (3-4)

Past: Well, can the Tigers handle the grind of the SEC season? Nobody knows, but they should be better off than their fellow newcomers Texas A&M with a solid offense led by James Franklin.

Present: After getting a rude welcome to the league by Georgia, things haven't improved much in conference play. The absence of Franklin has led to an inconsistent offense and while the defense has done OK, it's still giving up points.

Future: The good news is, outside of a trip to The Swamp, the schedule looks a little better and there might be enough wins for a bowl game. That's no certainty though.

South Carolina (6-1)

Past: The Gamecocks might have the talent to win the East but everybody wondered if they could put it together under the head ball coach. The defense has to replace a few guys but has a terror in Jadeveon Clowney and should get a healthy Marcus Lattimore to power the offense.

Present: After throttling Georgia, SC still controls their fate in the division even after dropping a game on the road at LSU. Connor Shaw has turned into an guy who just makes plays and moves the chains while Clowney may be one of the best defenders in the country with his growth this year.

Future: Beat Florida on Saturday and anxious fans can start booking tickets for Atlanta. This is a group that should matchup well against Alabama (or LSU, again) and could cause problems in the national championship race.

Tennessee (3-3)

Past: This could be the best offense in the SEC with Tyler Bray healthy and throwing to Da'Rick Rogers, Justin Hunter and Cordarrelle Patterson. The defense needs to step up if there's any thought of contending in the league but new coordinator Sal Sunseri has been around the SEC enough to get them ready.

Present: The Vols and Derek Dooley still can't beat a ranked team, the defense is a mess and while the offense can pile up some yards, Bray and company have too many turnovers when it counts.

Future: With likely throttlings coming from the two division leaders the next two weeks, Tennessee fans are already thinking of who the next coach will be.

Vanderbilt (2-4)

Past: One of the bigger surprises in the country last year, James Franklin returns with the talent to cause trouble in the league. Jordan Rodgers is a nice option at quarterback and tailback Zac Stacy can pick up some hard-nosed yards when needed. Getting to another bowl game with this team should be possible.

Present: Are there cracks in the Franklin armor? Things haven't gone great so far this season and while the team showed some fight against Florida, it still ended up losing big. Rodgers has not been the quarterback you'd expect with another year of experience.

Future: Four more wins is still possible given the schedule but the Commodores will have to play better on both sides of the ball if they can get to the elusive mark.

Alabama (6-0)


Past: Six starters from a great defense is a lot to replace but the offense, with AJ McCarron and one of the best offensive lines in football, should be able to pick up the slack as new starters get acclimated. Beat Michigan in the opener and all eyes turn toward the showdown in Death Valley to start November.

Present: It's possible the Crimson Tide could be better than last year as a team overall given the progress on offense. McCarron has been a model of efficiency and freshman T.J. Yeldon has emerged to provide depth at running back. The defense has been as nasty as one would expect under Nick Saban.

Future: The way LSU has struggled on offense, Alabama fans likely have already booked tickets to Miami -- and based on the way the team is playing, it's hard to doubt them.

Arkansas (3-4)

Past: The Bobby Petrino saga means there are plenty of question marks about a team that has the talent to make a run at the SEC West title and host both Alabama and LSU.

Present: One of the bigger train wreaks in the country, John L. Smith has been beaten up for the way the Hogs have slipped back to mediocrity. A loss to Louisiana-Monroe set the tone early in the year and the defense has been gashed.

Future: A bowl game is still possible but there's plenty of Razorbacks fans already speculating who the new head coach will be come December.

Auburn (1-5)

Past: The overhaul of this team would be one to watch as both sides of the ball should be improved to the point where they can cause problems for a number of teams in the SEC. Kiehl Frazier should make progress at quarterback and this could wind up a surprise team when all is said and done.

Present: Just a few years after winning the BCS title, Gene Chizik is firmly on the hot seat after the Tigers have turned into a dumpster fire in 2012. A narrow victory against a Sun Belt team is the only thing on the resume and after getting blown out at Ole Miss.

Future: TBD on the Plains as Gene Chizik is hanging on by a thread.

LSU (6-1)

Past: No Honey Badger but there is plenty of talent on both sides of the ball to still contend against Alabama. Zach Mettenberger takes over under center and should give Les Miles the best quarterback play he had in a while.

Present: Mettenberger hasn't taken the strides expected and is turning the ball over way to much. The defense has been solid but not great and though they were able to beat South Carolina, it's still a long season ahead.

Future: Texas A&M is not going to be easy and right after that there's the big test everybody's been looking forward to in Alabama. At this point, the Tigers could still wind up in the national title game if they beat Alabama but that's easier said than done right now.

Ole Miss (4-3)

Past: Good luck Hugh Freeze, who inherits a team with little talent and numerous issues on both sides of the ball.

Present: Good job Hugh Freeze, who has gotten his players to believe and worked a little X's and O's magic to get the team to show noticeable improvement with one of the better offensive units in the league and a solid enough defense.

Future: It may be too much to ask for a bowl game but Rebel fans have to be encouraged by the way the team is playing this year.

Mississippi State (6-0)

Past: OK, Dan Mullen, this has to be the year you finally beat an SEC West team other than your rival. Tyler Russell is a great option to have at quarterback and there's enough players on defense to hang with just about every team in the league.

Present: Against a weak schedule, the Bulldogs are undefeated and playing well. Russell has been making some incredible throws and LaDarius Perkins has emerged to carry the ball.

Future: With a rough stretch of games that includes a trip to Alabama next week, things are about to get a lot harder for Mullen's team.

Texas A&M (5-1)

Past: The Aggies would struggle in the SEC after failing to close the door in the second half last year and adjusting to new offensive and defensive schemes.

Present: Johnny Manziel has established himself as one of the most trilling players in the country and broken the SEC total yardage record twice in as many weeks. The defense has been ok but the Aggies are doing just fine in the SEC so far.

Future: After the shootout in Shreveport, things should get tougher with LSU coming to College Station followed by three straight road games. It's make or break time for A&M coming up.
Others
Cincinnati (5-0)
Past: Munchie Legaux will be solid at quarterback but won't have much of a running game to rely on as the defense will carry this team as far as they want to go against a solid schedule.
Present: One of three undefeated teams in the Big East, the Bearcats are perhaps the most surprising squad without a loss on their resume. They've done it thanks to the offense putting pressure on opponents but haven't really faced a big test yet.
Future: Things get interesting with a Friday night trip to Louisville in a race with BCS and Big East implications. Win that and they'll host Rutgers later in the year.
Louisville (6-0)
Past: 11 true freshman played last season which means that while it's a young team, it's a team with experience under its belt. Teddy Bridgewater anchors a solid offense that should be paired with a front seven that will be able to help the Cardinals capture the Big East title.
Present: The team has had some close calls but are undefeated and looking better after putting up 45 points at Pitt last week. Everybody isn't on the same page but they're getting there as Louisville looks better by the week.
Future: The first big test is Cincinnati at home on Friday night and if they can move on from that, the season-ending showdown with Rutgers could be for an undefeated season and conference title.
Rutgers (6-0)
Past: This should be a very good defense led by linebacker Khaseem Greene and a host of talented freshman likely seeing playing time to add depth. The question mark comes in new head coach Kyle Flood, who knows the program well but hasn't seen pressure like this after Greg Schiano headed to the NFL.
Present: The offense isn't where Flood wants but with a defense this good, that might not matter. The win over Arkansas doesn't look great given how their season has gone but it's still a positive step for a team that very well could go undefeated. Gary Nova and Jawan Jamison have been pleasant surprises with their play.
Future: The final three games figure to be the season for the Scarlet Knights and the difference between a great bowl game and a mediocre one.

Notre Dame (6-0)
Past: The schedule is brutal and with Aaron Lynch gone from the defense and a secondary that's one of the most inexperienced in the country, the Irish might struggle this year.
Present: Notre Dame has burst onto the scene as the biggest surprise at the top of the polls thanks to a front seven that is as good as anybody in the country. Manti Te'o is a Heisman candidate ad while the offense isn't great, it's good enough to be undefeated.
Future: A BCS game looks all but certain if the Irish can avoid a crazy upset the rest of the year and get to 10 or more wins. Games at Oklahoma and USC will show if this team is for real or not.

Boise State (5-1)
Past: The Broncos have to replace a ton of starters on both sides of the ball, most notably quarterback Kellen Moore.
Present: Thanks to an easy schedule, Boise State has rebounded from a season-opening loss to look like the only legitimate BCS buster threat.
Future: It looks like a season-ending game at Nevada -- a house of horrors for this team in the past -- will be a huge game with far-reaching implications.

Stat of the week

Great research here, since the birth of the BCS, 12 national champions preceding Auburn from 1998-2009 compiled a 249-60 record, winning 80.6 percent of all games in their two ensuing seasons following a title. In 18 games after reaching the title game: LSU is 13-5, Ohio State 14-4, Florida 17-1, Oklahoma 13-5, Alabama 15-3 and Oregon 16-2. Texas/Auburn went 9-9.

Tweet of the week


There is a certain irony that Notre Dame has to use a quarterback named "T. Rees" to beat Stanford.

— sir broosk (@celebrityhottub) October 13, 2012

Fisch's Finest

1. Alabama
2. Oregon
3. Notre Dame
4. Florida
5. Kansas State
6. LSU
7. South Carolina
8. Oklahoma
9. Oregon State
10. Florida State

Where we'll be this week

Bruce Feldman will get the early jump on everybody by heading to Tempe for Arizona State's game against Oregon on Thursday. Dennis Dodd heads back to Gainesville for Florida-South Carolina while Gregg Doyel snags a trip to Morgantown for the Big 12 battle between West Virginia and Kansas State. Finally, Jeremy Fowler makes his first trip to the CBSSports.com office and swings by Florida State-Miami afterward.

Leaning this way

Oregon at Arizona State

The Sun Devils are one of the big surprises in college football under Todd Graham but face their first legitimate test of the season when the Ducks roll into town. While the defense is improved and quarterback Taylor Kelly is an efficient option under center, ASU hasn't faced anything like what they'll see from Oregon on both sides of the ball. This has been an entertaining series for the most part the past few years and while it could be close at halftime, expect the No. 2 team in the country to look like it late.

Pick: Oregon

South Carolina at Florida

The Head Ball Coach has perhaps the toughest two game stretch in the country by playing at LSU and then turning around to go to Florida. As physically bruising as these two contests are, can the Gamecocks find enough in the tank to win at their coach's former place of business? While this will be the best defense Jeff Driskel and Mike Gillislee have faced, if LSU can find some success offensively I wouldn't put it past the Gators to as well. Should be another close game regardless of who comes out on top.

Pick: Florida

Kansas State at West Virginia

While West Virginia fell last week, overlooked was Kansas State's escape at Iowa State so it's not like both teams are entering this one hitting on all cylinders. The Wildcats are not an offensive team that can come back from being down by much but should find success against a Mountaineers defense that is leaking unlike any other in the country (well, except Baylor). That said, one team is angry after a loss, playing at home and has one of the best offenses in the country.

Pick: West Virginia