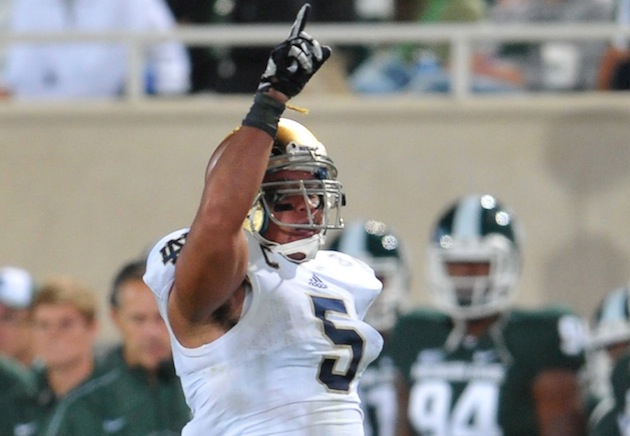 Manti Te'o had a big performance against Michigan State and might be one of the few defenders in the Heisman conversation. (US Presswire)
Week 3 is over, so it's time to fire up the Tuesday Tweetbag and tackle the burning topics that are being talked about in the college football-sphere. I'm here to answer questions tweeted to me, so make sure you follow me on Twitter at @BryanDFischer. Without further ado, let the smorgasbord of questions commence.
"Is there a defensive player this year that is putting himself in Heisman contention?" - Chuck Cushman (@cushman_24)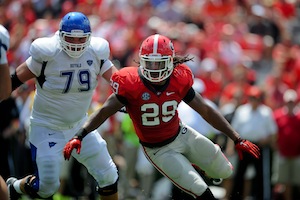 Georgia's Jarvis Jones has been dominant. (US Presswire)
I'm not sure there's anybody on the level of Ndamukong Suh a few years ago or Tyrann Mathieu last season in terms of making a run at the Heisman. But after three weeks, a pair of linebackers have emerged as possible candidates in Georgia's Jarvis Jones and Manti Te'o of Notre Dame. All-Americans both, each has had breakout performances on national television to help their team to a big win on the road -- Jones against Missouri (two sacks, two forced fumbles, an interception, nine tackles) and Te'o against Michigan State (one fumble recovery, two pass breakups, seven tackles). The stat lines for both are impressive, with Te'o looking even more impressive when you watched the game and understood he was playing as well as he was despite the deaths of his girlfriend and his grandmother during the week. He was gritty and turned in an emotional performance to help keep the Spartans out of the red zone all night.
Those two are definitely in consideration for appearing on my ballot, but they're not on the recent top three that I submitted in our CBSSports.com poll.
All that being said, and as good as each player is, they're both longshots to even wind up in New York. When voters pick the most outstanding player in college football, it has overwhelmingly been the person scoring touchdowns, not the player stopping them. Heisman Pundit and CBSSports.com writer Chris Huston has said time after time the winner must be a quarterback, running back or multithreat athlete; neither linebacker qualifies based on that narrow but accurate criteria. There was a reason Mathieu was mentioned by numerous folks on their ballots last year, and that was because he not only changed the game on defense but on his resume he listed electrifying return man. Neither Jones nor Te'o will be taking back kicks, though that would be an interesting sight. So while they're great players, they probably won't get more than cursory mention on ballots.
"If UF beats UK by a large margin do you think the voters would move UF into the top ten? How do you rank SEC QB's?" - Kelly Morgan (@InstiGatorUF)
I mentioned this in the Poll Attacks about the lack of love the Gators are getting for their two road SEC wins. You wonder if another throttling of Kentucky (whom Florida has won 25 straight against) combined with a few other losses will help the team float into the top 10. It will be difficult, sitting at No. 14 in both polls this week, for them to move much higher than ninth but there's still a chance the team is right around there come Sunday. The loser of Clemson-Florida State should drop below Florida, and there's a chance that Notre Dame loses to Michigan. South Carolina  has its hands full with Missouri. Oklahoma is really good at home, but No. 15 Kansas State  isn't a slouch coming into Norman. USC plays Cal, and Texas is off so it's likely the Gators could leapfrog over one or both of those teams. I would guess they'll wind up No. 11 with a big win, but the scenario is there for them to become a top-10 team.
As for the second part of the question (and taking out the NFL factor for this answer to focus on their play), I'll say it now goes AJ McCarron, Aaron Murray, Jeff Driskel, James Franklin, Tyler Bray, Johnny Manziel, Zach Mettenberger, Tyler Russell, Bo Wallace, Maxwell Smith and Kiehl Frazier among the regulars.
"Which Louisville is the real Louisville? First half vs UNC or second half vs UNC?" - Cliff Elliott (@cliffysmalls)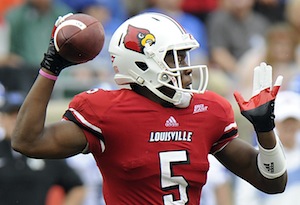 Teddy Bridgewater has been efficient in leading Louisville to the top 25. (US Presswire)
I was wondering that myself Saturday after moving onto other games once the Cardinals had run out to a 36-7 lead. I managed to catch a good chunk of the fourth quarter as the Tar Heels mounted their comeback, and it seemed mistakes by a good but young team started to play a big part in that second-half collapse. Every time Louisville touched the ball before halftime, the Cardinals managed a long gain on the ground or through the air. You could kind of feel the team tighten up as the offense started going sideways while the defense relaxed to allow UNC to take off and make it a game. It took a goalline stand on fourth down to seal the victory, but Louisville coach Charlie Strong probably will allow for a slight smile in knowing the squad is 3-0 before hitting the road.
I mostly think the "real" Louisville is the one that we saw before halftime with Jeremy Wright and Senorise Perry running strong and Teddy Bridgewater being one of the most efficient quarterbacks in the country. This is a young team -- only 11 seniors -- that should only get better as it grows and learns as the season progresses. Is Louisville a national title contender? No, it looks like they'll slip up at some point. But this is no doubt the toast of the Big East at the moment and probably the favorite for the conference's BCS bid. The defense is solid with a very good coach in Strong, who knows what he's doing on that side of the ball. They might look like world-beaters this week against Florida International to calm fears, but it's clear that this is a very good but not great Louisville team right now.
"If Stanford continues to play the way they did on defense would it shutdown Oregon's offense?" - Cam Peverley (@CamPeverley)
We'll find out for sure in the middle November. But based on what they've shown so far, it's a question that grows more plausible by the week. The Cardinal are now third in the country in rush defense and did a masterful job of shutting down USC's high-powered attack by forcing it to be one-dimensional and limiting the Trojans to only 26 rushing yards. They've no doubt looked good, but can they be great and beat an Oregon team that has lost only four games since Chip Kelly arrived in Eugene?
Last year, there was a sense that they had a team to beat the Ducks thanks in large part to Andrew Luck. Having been up in Palo Alto at the game, it seemed clear to me that Luck wasn't as sharp (two interceptions) as he needed to be and the defense didn't quite have enough speed to bottle up guys like LaMichael James (146 yards, three touchdowns). This year might be a little different as Stanford clearly has the best front seven in the Pac-12 with guys like Trent Murphy, Shayne Skov and Henry Anderson helping form a deep and talented unit. In addition to being one of the biggest fronts that the Ducks will see all year, there are guys with rare combinations of speed and size like James Vaughters who can make plays in space that maybe weren't made that past couple of years. We're not sure how good either team really is this early into the season, but I wouldn't be shocked if the Stanford defense can contain Oregon's offense better than they have in the past. Will that result in a win? I'm not ready to go that far with guys like De'Anthony Thomas and Kenjon Barner getting carry after carry, but the Cardinal might just have a good enough game plan against the conference heavyweight to make a run them.
"Oregon State has played one game vs Wisconsin. Now travel to UCLA, can they slow down the Mora Machine?" - Chad Dinkins (@dinkdumpdish)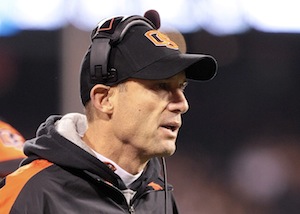 Mike Riley will try to slow down a fast-paced UCLA offense on Saturday. (US Presswire)
Mike Riley is one of college football's best coaches given what he has to work with, and it was tough to see Oregon State suffer injury after injury last season as it fell to 3-9. The issues in Corvallis did provide opportunities, however, as the Beavers ended up as one of the youngest teams in the country. That's one reason why they were able to pull off the upset against Wisconsin to provide a big boost to the Pac-12's reputation. There are some playmakers on this team that not a ton of folks know about, like receiver Markus Wheaton, quarterback Sean Mannion and a solid pair of defenders in Scott Crichton and Jordan Poyer.
UCLA managed to score a big win over Nebraska but the Pac-12 opener might provide a bit more of a test than many think. First, Riley has seen Bruins offensive coordinator Noel Mazzone quite a bit over the years and probably won't be surprised at the majority of plays that he runs. With five freshmen at key spots on offense, issues like last Saturday's five-turnover performance against Houston will pop up. And this is a much more talented defense they'll face after the Beavers caused all sorts of issues in their upset of Wisconsin. I would expect this to be a very close game late into the fourth quarter. It wouldn't shock me to see OSU pull the upset down in Los Angeles. With Johnathan Franklin and Brett Hundley making plays in the backfield, however, I'll pick UCLA to win it narrowly.
"What's wrong with Wisky? Close home wins vs Northern Iowa/Utah State and a road loss to Oregon St. Do they really miss Russell Wilson that much?" - Bryce Strand (@huskyraven)
Most point to the Seattle Seahawks' new starting quarterback as one reason why Wisconsin has been struggling to move the ball in the first three weeks of the season, but I think they miss Kevin Zeitler, Peter Konz and Josh Oglesby much, much more. The trio formed the right side of the Badgers' offensive line and, though it has been a deep unit, the current starting five has struggled to the point that their position coach was fired after the loss to Oregon State. A Heisman finalist a year ago, Montee Ball hasn't been close to his form from a year ago and rushed for only 3.8 yards a carry against Utah State last weekend and was actually the only positive on offense given the overall performance of the team.
Wisconsin is 116th in total offense and 113th in scoring offense with two wins by seven points. That spells trouble facing tougher teams later in the season if issues up front aren't corrected. Maybe the lack of a passing game with few receivers that can create separation and a quarterback that has been shaky (and might be replaced) are a contributing cause. But the bottom line for this team is it starts and ends in the trenches, and the Badgers aren't setting the tone we're used to seeing there.
"Florida State or Clemson?" - Richard Miller (@MillerOnSports)
I've got my pick in this week's Surveying the Field column.