Presenting the CBSSports.com Eye on College Football Preseason All-SEC team, as selected by SEC blogger Jerry Hinnen:
Offense
QUARTERBACK
Tyler Wilson, Sr., Arkansas. Yes, believe it or not, we're going with the SEC's 2011 leader in passing yards, touchdowns, completions and yards-per-attempt. Given that no other SEC contender relies on its quarterback's arm half as much as the Razorbacks do, and that Paul Petrino should keep the offense humming even in his brother Bobby's absence, only an injury should keep Wilson from repeating as the first-team All-SEC signal-caller.
Also watch for: Either Aaron Murray of Georgia or A.J. McCarron of Alabama, either of which could lead the league in passing efficiency if they and their respective offenses perform as expected.
RUNNING BACK
Marcus Lattimore, Jr., South Carolina. Given his tremendous pace through the first 21 games of his pre-ACL tear career, even a Lattimore not quite what he was before the injury is still one of the best running backs in the country. And if he is what he was before the injury, he's a Heisman candidate.
Knile Davis, Jr., Arkansas. Speaking of injury returns, the last time we saw a pre-ankle injury Davis, he was busy leading the SEC in rushing in 2010 and averaging an eye-popping 6.5 yards per-carry. By all accounts, Davis -- a bona fide workout freak -- is in even better shape now than he was then.
Also watch for: Vanderbilt home-run hitter Zac Stacy and either Eddie Lacy or five-star freshman T.J. Yeldon of Alabama; whichever Tide tailback earns the right to run behind that line will put up massive numbers, but who that'll be is TBD.
WIDE RECEIVER
Cobi Hamilton, Sr., Arkansas. Last year, Jarius Wright and Joe Adams combined for 120 receptions and 1,769 yards. Guess where most of those catches are going now that both (and Greg Childs) are gone?
Ryan Swope, Sr., Texas A&M. In 2011, Swope racked up 89 receptions and 1,207 yards playing opposite Jeff Fuller for Mike Sherman. Now there's no Fuller and Kevin Sumlin's calling plays--lots and lots of pass plays, most likely. If anyone in the SEC catches more balls, we'll be stunned.
Also watch for: Justin Hunter and Da'Rick Rogers of Tennessee, both of which easily have All-SEC talent. (Rogers was first team in 2011.) But splitting catches might keep each's numbers below the names above.
TIGHT END
Phillip Lutzenkirchen, Sr. Auburn. Tight ends truly deserving of first-team honors in the SEC are hard-to-find -- we passed on naming one to our own 2011 All-SEC team -- but Lutzenkirchen should play a sizable enough role in Auburn's offense as both pass receiver (especially in the red zone) and run blocker to earn the honor.
Also watch for: Jordan Reed of Florida, who has the talent to shine if the new offensive regime gives him the opportunity to.
OFFENSIVE LINE
Barrett Jones, Sr. C, Alabama. We think the defending Outland Trophy winner and consensus first-team All-American will do all right at center. Maybe.
Alex Hurst, Sr. OT, LSU. Like Jones, Hurst is a returning member of the 2011 All-SEC first team, and like Jones, it's hard to see a crunching run-blocker like him missing out in 2012 for any reason other than injury.
Luke Joeckel, Jr. OT, Texas A&M. Of course, the first SEC lineman expected to go off the board in next April's NFL Draft isn't Jones or Hurst--it's the 6'6", 310-pound Joeckel, a prototype left tackle who's started every game for the Aggies since arriving in the summer of 2010.
Chance Warmack, Sr. OG, Alabama. Ho-hum, just another jumbo-sized Tide road-grader with 26 starts to his name and an outside shot at the Outland.
Alvin Bailey, Jr. OG, Arkansas. With Davis sidelined, the Hog ground game underachieved a bit in 2011 (80th in rush offense), but it wasn't Bailey's fault; the freshman All-American was named second-team all-conference by both the coaches and media. Big numbers for Davis in 2012 could get him a first-team promotion.
Also watch for: any lineman you'd like from LSU or Alabama, maybe Tiger tackle Chris Faulk and Tide tackle D.J. Fluker most notably. Texas A&M's right tackle, Jake Matthews, is projected to join Joeckel in the first round if they both declare.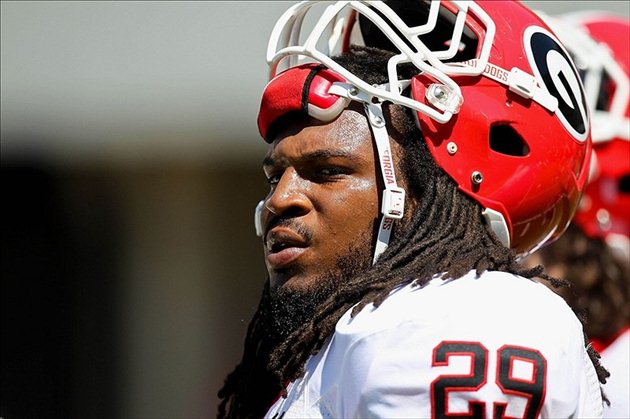 Jarvis Jones is back for another potential All-American season. (US Presswire)
Defense
DEFENSIVE LINE
Barkevious Mingo, Jr. DE, LSU. Fellow Tiger terror at end Sam Montgomery has been the better run defender and overall player to date, but we're betting this is the year Mingo puts the full range of his startling athletic gifts to use and becomes entirely unblockable. 
Jesse Williams, Sr. DT, Alabama. There may be no more important cog in the Tide's defensive death machine than its nose tackle, and though Williams may not have Terrence Cody's or Josh Chapman's girth, he'll be a better penetrator and disruptor than either.
Bennie Logan, Jr. DT, LSU. What kind of motor does Logan have? He finished 2011 with 57 tackles--only four fewer than starting middle linebacker Kevin Minter.  
Corey Lemonier, Jr., DE, Auburn. The Tigers have a long history of lethal pass-rushers off the edge, and Lemonier -- the league's leading returning sack artist among defensive lineman -- shapes up as the latest.
Also watch for: pretty much everyone, since there's no less than 15-to-20 candidates with legitimate hope of being named first-team All-SEC at one of the conference's deepest four positions; sorry we didn't mention your team's. We'll save our one shout-out for South Carolina end Jadeveon Clowney, arguably the league's most amazing athletic marvel.
LINEBACKER
Jarvis Jones, Sr., Georgia. After leading the SEC in both sacks and tackles-for-loss a year ago, Jones frankly has bigger, Butkus Award-shaped fish to fry than All-SEC honors.
C.J. Mosley, Jr., Alabama. Assuming he's fully recovered from his uglier-than-it-really-was hip injury in the BCS title game, Mosley is ready to assume the Rolando McClain/Dont'a Hightower mantle as the Tide's resident tackling machine.
Jelani Jenkins, Jr., Florida. As adept at getting behind the line-of-scrimmage as he is plugging holes along it, Jenkins should thrive in his second year under will Muschamp's tutelage--and on a Gator defense that shapes up as one of the league's best.
Also watch for: Texas A&M outside force Sean Porter, who collected 17 tackles-for-loss in 2011; Mississippi State linchpin Cameron Lawrence; and potential Courtney Upshaw clone Adrian Hubbard at Alabama.
SECONDARY
Tyrann Mathieu, Jr. CB, LSU. Mathieu's one-on-one cover skills took a backseat to teammate's Morris Claiborne's last year, but his ballhawking skills took a backseat's to no one. If the Honey Badger's better in man-to-man in 2012, there won't be a better defensive back in the nation.
Robert Lester, Sr. S, Alabama. It was just two seasons ago Lester was one interception away from the national lead and a second-team All-American. So it's odd he's gotten so little credit for the Tide's historic defensive showing in 2011; the SEC's coaches haven't even named him to their preseason all-conference first team.
Eric Reid, Jr. S, LSU. Reid made arguably the most memorable play of LSU's championship season when he wrested the ball away from Alabama's Michael Williams for a goal line interception, one that proved the turning point in the Tigers' 9-6 win. Expect more of the same this season.
Johnthan Banks, Sr. CB, Mississippi State. In nearly any other conference in the country, a lockdown corner of Banks's caliber would have been an easy first-team all-conference choice. Since Banks shared a conference last year with Claiborne, Mathieu, and Dre Kirkpatrick, it didn't happen, but that should change in 2012.
Also watch for: Georgia All-American candidate Bacarri Rambo could easily make first team at safety if his incoming suspension is closer to zero games than four; Dee Milliner is on his way to being the Tide's next star corner; and Missouri's E.J Gaines might be his team's best defender.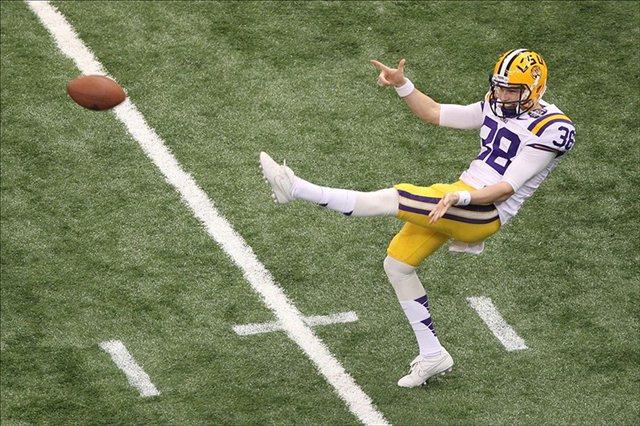 Brad Wing might be the Ray Guy favorite after his snub in 2011. (US Presswire)
Special Teams
Caleb Sturgis, Sr. K, Florida. Hitting 22-of-26 with a long of 55 and going a whole season with missing an extra point -- as Sturgis did in 2011 -- isn't too shabby.
Brad Wing, Soph. P, LSU. It's simple: no player in the SEC has a bigger immediate impact on field position. Will the Ray Guy Award snub him twice?
Dennis Johnson, Sr. KR, Arkansas. At 5-9 and 213 pounds, Johnson looks a good deal ... stouter than most kick returners, but that's never bothered him: he has a pair of career returns for touchdowns and has averaged better than 25.7 yards per attempt.
Tyrann Mathieu, Jr. PR, LSU. Well duh.
Also watch for: Texas A&M punt returner Dustin Harris, who only led the nation in average return yardage in 2011; Auburn kicker Cody Parkey, who led the FBS in touchback percentage on kickoffs last year and might not allow a return all season with the new rules; and Auburn kick returner Tre Mason, who could be even better as a sophomore than as an impressive freshman.