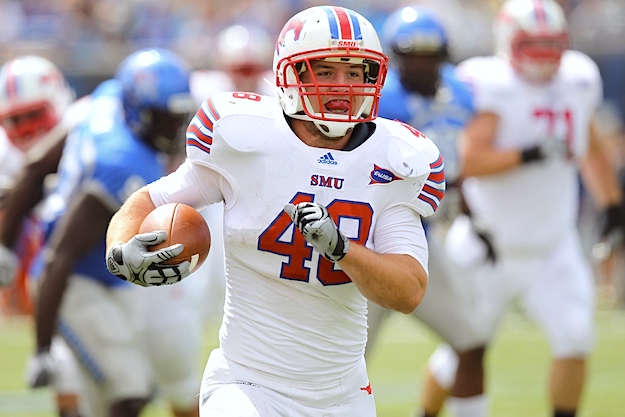 QUARTERBACK
Cody Green, Jr., Tulsa. Alert readers may recognize Green from his two-year stint at Nebraska, where he started five games and saw the field in a dozen more before conceding the top of the depth chart to former classmate Taylor Martinez. Now, his NCAA-mandated redshirt season behind him, Green is the clear successor to one of the most quietly prolific roles in the nation: Tulsa's last three starting quarterbacks, Paul Smith, David Johnson and G.J. Kinne, combined to go over 3,000 yards of total offense with at least 20 touchdowns in seven consecutive seasons, under five different offensive coordinators.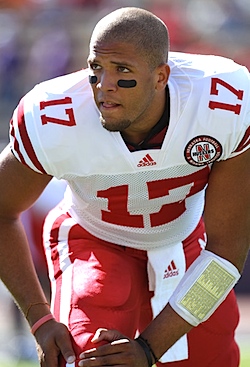 A former four-star recruit now checking in at 6-foot-4, 245 pounds, Green is more gifted than any of his predecessors, and a perfect fit in a system that calls on its quarterback to carry a significant share of the running game.
- - -
Also considered: Green is one of four projected C-USA starters who began his career in the Big 12, along with former Texas starter Garrett Gilbert at SMU, Texas Tech transfer Jacob Karam at Memphis and Central Florida's Tyler Gabbert, a transfer from Missouri. But the most quarterback-friendly system in the league remains the "Air Raid" at Houston, where junior David Piland is taking over full-time carpet-bombing responsibilities from the most prolific passer in NCAA history, Case Keenum.
RUNNING BACKS
Zach Line, Sr., SMU. Coming out of high school in Oxford, Mich., Line had exactly one FBS scholarship offer, to play linebacker for a school that was located more than 800 miles away and hadn't played in a bowl game in his lifetime. Four years later, SMU has been to three consecutive bowls and Line has yet to play a down of defense. Instead, he's supplied the run in coach June Jones' "Run and Shoot" scheme, churning out back-to-back 1,000-yard seasons and a pair of first-team all-conference nods to go with them. As a senior, Line has gained 10 poundson the heels of a toe injury that sidelined him for the last three games in 2011 and spring practice, but is also well within striking distance (1,544 yards) of Eric Dickerson's school rushing record.
Charles Sims, Jr., Houston. Nobody pays any attention to the running back in Houston's space-age offense, including opposing defenses, which were far too distracted by Keenum's arm to stop Sims from picking up 821 yards on less than nine carries per game – a healthy average, to say the least, of 7.5 yards per carry. With 51 catches to his name, as well, Sims finished second in C-USA in yards from scrimmage, trailing only teammate Patrick Edwards, whose exit – along with Keenum and the rest of the Cougars' starting wide receivers – should leave Sims with a slightly larger slice of the pie.
- - -
Also considered: Tulsa's Trey Watts and Ja'Terian Douglas combined for more than 2,500 total yards as sophomores. … Storm Johnson, once the most appropriately named Miami Hurricane of all-time, is now the top tailback at UCF. … And productive as he is on the field, Tulane's Orleans Darkwa deserves to be a household name strictly for his name.
WIDE RECEIVERS
Willie Carter, Sr., Tulsa. Technically, Carter is listed as an H-back, and at 6-foot-2, 230 pounds, he's also built like one. In Tulsa's system, though, he's a bona fide downfield threat: Twelve of his team-best 61 catches last year went for at least 25 yards, including a 69-yarder against Oklahoma. When he lines up in the slot, his rare size/speed combo makes him a matchup nightmare against linebackers and safeties.
Aaron Dobson, Sr., Marshall. Dobson is known mainly for two extraordinary plays: One, the ball he improbably dropped just before crossing the goal line on a 96-yard catch-and-run against West Virginia in 2010 (the touchdown wasn't challenged), and two, the ball he improbably caught on a one-armed backhand last year against East Carolina:
Obviously, Dobson has the size and skill for the next level, and the jaw-dropping grab against ECU was only the most impressive moment in an impressive run of eight touchdown catches in Marshall's last six games. If he can put that together over an entire season – especially with his quarterback, Rakeem Cato, emerging from bewildered freshman mode – his stock will soar.
Darius Johnson, Sr., SMU. Johnson was the most productive receiver in the conference last year who didn't play for Houston, accumulating six 100-yard games, a first-team All-C-USA nod and his second consecutive bowl MVP award in the BBVA Compass Bowl. So sure, coach June Jones felt it necessary to get Johnson's attention by suspending him for the start of spring practice along with All-C-USA linebacker Taylor Reed. Never mind all that: Both were reinstated a week later after spending "some quality time" with the Mustangs' strength coach, and there are no plans to relieve Johnson of his featured role in the offense.
- - -
Also considered: East Carolina's Justin Hardy was the Pirates' most reliable target as a redshirt freshman. … Senior Bryan Burnham is yet another proven weapon for Tulsa. … And although most of the offseason hype in Houston was hijacked by incoming freshman Deontay Greenberry, a longtime Notre Dame commit who sent recruitniks into apoplexy by signing with the Cougars at the last second, the most likely to succeed in the sudden vacuum of receivers there is junior Dewayne Peace, a transfer from Arizona.
TIGHT END
Luke Willson, Sr., Rice. Willson is a foreigner in Conference USA, literally (he's originally from Canada) and figuratively: Where most of the league seems intent on reducing the role of the tight end in favor of four and five-receiver sets, if not phasing the position out altogether, Willson has remained a reliable target for the Owls, bringing in 62 catches with six touchdowns over the last two years. At 6-foot-5, 250 pounds, in an offense notably lacking in playmakers, he's the one player in C-USA at this position who is in no danger of being downsized.
OFFENSIVE LINE
Jacolby Ashworth, Sr., Houston. Ashworth spent part of the spring working at guard, but has spent the last two years at left tackle, in blind-side defense of one of the most valuable arms in college football. With Keenum and five other starters from last year's pinball attack on their way out, Ashworth is the elder statesman: Wherever he lines up in the fall, he'll boasts more than twice as many career starts (29) as any other member of the offense except Charles Sims, and could very well be the only senior starter.
Joe Duhon, Sr., Southern Miss. Duhon has started 19 consecutive games at left guard, all of them with veteran Austin Davis running the show from the shotgun. None of the candidates to succeed Davis have attempted a meaningful college pass. But as critical as the burgeoning youth movement at quarterback will be to the Eagles' chances of clinging to the East Division crown, the transition can only go as smoothly as Duhon and fellow seniors Austin Quattrochi, Darius Barnes and Jason Weaver make it.
Trent Dupy, Sr., Tulsa. Depending on the status of guard Stetson Burnett's injured knee, Dupy and his gritty haircould be the only full-time starters back on the Tulsa front. After 23 consecutive starts at center, the fate of the new guys – and therefore of the entire offense – will hinge largely on Dupy getting them into the correct assignments at the line.
Theo Goins, Sr., Central Florida. The biggest news on the UCF line this summer is the arrival of Phil Smith, a two-year starter at Georgia Tech and one of three relatively high-profile transfers (along with the aforementioned Tyler Gabbert and Storm Johnson) expected to make immediate inroads on the Knight depth chart. But the anchor up front remains Goins, who has 22 starts under his belt over the last three years and a potential pro future to aim for.
Chris Hubbard, Sr., UAB. Last year, the only bright spot in an otherwise dismal year for UAB was senior left tackle Matt McCants, the Blazers' sole representative on the All-C-USA first team. This year, the spotlight falls on the other end of the line, on right tackle Chris Hubbard, who will remain on the right side to give the group some semblance of consistency: No other lineman on the roster has started a college game.
- - -
Also considered: East Carolina guard Will Simmons was the best of four sophomore (now junior) starters up front for the Pirates. ... Tulane center Zach Morgan has started 27 games at every position on the interior line. ... And Houston's O-line shuffle will move junior Kevin Forsch, a two-year starter at guard, to center. But the Cougars are leaving freshman All-American Rowdy Harper right where he is at right tackle.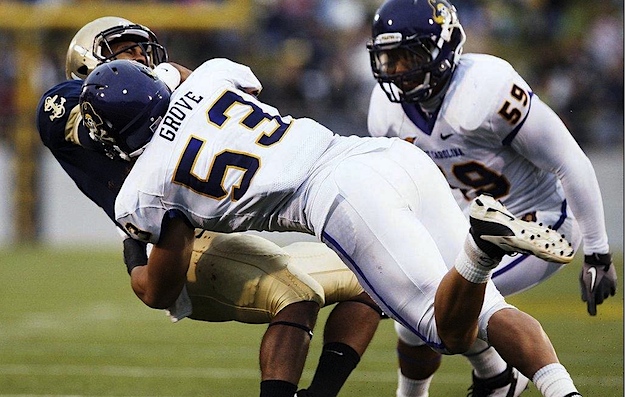 DEFENSIVE LINE
Jamie Collins, Sr., Southern Miss. Collins was the most notable snub on last year's All-C-USA team, relegated to mere "Honorable Mention" status despite leading the conference champs in solo tackles (19 of them for loss) from the "Bandit" position, Southern Miss' version of a hybrid defensive end/outside linebacker. The new coaching staff will keep him there, but if the rest of the league still fails to fully appreciate Collins' production, rest assured that the NFL will not.
Victor Gray, Jr., Central Florida. Gray has packed on a few pounds since arriving at UCF as an undersized defensive end, and even at 267 pounds, he's no one's idea of an immovable object. One way or another, though, he has managed to entrench himself in the middle of the best defense in the league, starting 23 games over the last two season (including all 12 last year) for a unit that led C-USA in rushing yards, total yards and points allowed in both seasons. If most of the offseason buzz about UCF returning to the top of the East Division seems to focus on the flux at quarterback, it's only because Gray and fellow front-seven vets <span data-shortcode= Davis" data-canon="Troy Davis" data-type="SPORTS_OBJECT_PLAYER" id="shortcode0"> and Jonathan Davis allow the forecasts to take the defense for granted.
Margus Hunt, Sr., SMU. Besides being named "Margus," Hunt stands out here by virtue of his age (25) and background: A former discus champion from Estonia, he originally enrolled in SMU in 2007 to work with women's track coach/renowned throwing expert Dave Wollman, who was attempting to revive the school's defunct men's team. When that effort fell through, Wollman pointed Hunt in the direction of June Jones, who took one look at the 6-foot-7, 280-pound hulk in a tryout and put him on scholarship before he'd played a single snap of organized football.
Four years later, Hunt is still considered something of a project, and spent most of last season coming off the bench after starting every game in 2010. Still, pro scouts have seen more than enough of the same raw size, strength and athleticism that wowed his current coach to tab Hunt as a potential first-round pick.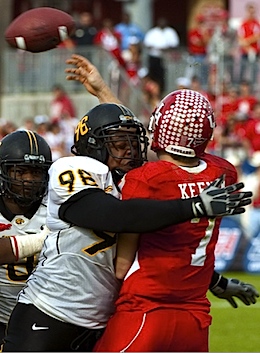 Khyri Thornton, Jr., Southern Miss. As a borderline four-star recruit out of high school, Thornton had interest from bigger programs, but didn't have the grades: He was forced to take a one-year detour through prep school to get his transcript up to NCAA standards, then was unexpectedly denied admission to South Florida after signing with the Bulls in early 2009. Southern Miss pounced, and began to reap the benefits last year with a strong finish that put Thornton firmly on the NFL's radar. (Oh, and he made the honor roll last semester, too.)
- - -
Also considered: All of last year's top pass rushers graduated, leaving the mantle to be picked up by Tulsa's Cory Dorris. … Inside, the Golden Hurricane got a strong effort in 2011 from first-year starter Derrick Jackson, now a senior. … And East Carolina's resident run-stuffer, Michael Brooks, earned a preseason nod from league coaches.
LINEBACKER
Jeremy Grove, Soph., East Carolina. Even by East Carolina standards, Grove was a relatively obscure recruit, but turns out it's super easy to learn someone's name when it's being called over the P.A. on every other play. That's about how often it seemed like Grove was in on a stop last year, his first as a starter, in which he led all freshmen nationally with 122 total tackles and was voted C-USA Freshman of the Year despite a persistent shoulder injury that required offseason surgery. One possible red flag: A suspiciously high percentage of Grove's tackles were recorded as assists rather than solo stops. In his defense, just look at that mustache.
Trent Mackey, Sr. Tulane. As usual, the 2011 Green Wave were awful, dropping their final ten games after sending yet another head coach packing at midseason. As a whole, the defense was even worse, yielding a league-worst 37.5 points per game. So the fact that Mackey and his 145 total tackles shone brightly enough through the fog of despair to earn his second consecutive All-C-USA nod should tell you just about all you need to know. The fact that league coaches just voted Mackey as the best defensive player in the league should serve as the exclamation point.
Ja'Gared Davis, Sr. SMU and Taylor Reed, Sr., SMU. Is it cheating to wedge two guys from the same team into one spot? Probably. But it would be even more unfair to choose Davis or Reed over the other when their careers have been so closely aligned. Both started immediately as true freshmen, both have proven to be consistent, durable tackle machines and both have shelves straining under the weight of All-C-USA honors. (Davis was a first-team all-conference pick in 2010 and a second-team pick last year; Reed picked up an all-freshman nod in 2009, an honorable mention in 2010 and a second-team nod in 2011.) If SMU earns its fourth consecutive bowl bid, they'll go out together as heads of the class that permanently vanquished 20 years of post-death penalty futility.
- - -
Also considered: Rice's Cameron Nwosu, Houston's Derrick Matthews and Tulsa's Shawn Jackson all racked up more than 100 total tackles in 2011, and UAB's Marvin Burdettewas right on their heels.
CORNERBACKS
D.J. Hayden, Sr., Houston. With two years behind him at Navarro (Texas) Junior College and only two years of eligibility ahead in Division I, Hayden decided to pass on offers from SEC schools for the opportunity to play immediately in his hometown. In retrospect, he probably wouldn't have had to wait long at Arkansas or Ole Miss: In his first season, Hayden started 12 of Houston's 14 games, led the team in passes broken up, forced five fumbles in the final five games, returned an interception for a touchdown against UAB and was voted the conference's Defensive Newcomer of the Year. He begins his second season as the most respected corner in the league, by far.
Bryce Callahan, Soph., Rice. Well, maybe not that far: In his first year on the field (following a redshirt in 2010), Callahan tied for the C-USA lead with six interceptions and found his way onto a couple of Freshman All-America teams, no trifling feat from the obscurity of Rice. League coaches apparently couldn't bring themselves to vote a freshman to the all-conference team over veterans – Callahan was an "honorable mention" choice – but familiarity shouldn't be a problem over the next three years.
- - -
Also considered: UCF senior A.J. Bouye and his circus interception skills are ahead of schedule to return from a major knee injury. … Southern Miss' Deron Wilson tied for the C-USA lead in passes broken up. … And Ryan Travis is heading into his fourth year as a starter at Tulane.
SAFETIES
Kemal Ishmael, Sr., Central Florida.Ishmael moved into the starting lineup almost immediately as a true freshman, picked up first-team all-conference honors as a sophomore and led the Knights in tackles as a junior for the second season in a row. (Why coaches dropped him from first-team status in 2010 to "honorable mention" in 2011, it is the mystery.) At any rate, his ongoing presence as the quarterback of the league's best defense is as good a reason as any to jump on the UCF bandwagon.
Dexter McCoil, Sr. Tulsa. McCoil's super-sized, 6-foot-4, 222-pound presence suggests a headhunter whose main duties are in run support, but McCoil shared the league lead last year with six interceptions and was among the top ten in passes broken up. With that combination of size and range, he may be well on his way to fulfilling every big safety's dream of getting fined by Roger Goodell.
- - -
Also considered: McCoil's teammate, Marco Nelson, has started 25 consecutive games for the Golden Hurricane in his first two years. … Southern Miss' Jacorious Cotton started every game with 98 tackles as a sophomore. … And East Carolina junior Damon Magazu is on hand to clean up stray particles that manage to escape the gravitational pull of Jeremy Grove.
KICKER
Ty Long, Soph., UAB. Long was 16-of-19 on field goals as a true freshman, the most accurate rate among C-USA kickers, with a long of 49 against Tulsa. More importantly, he buried game-clinching kicks in two of the Blazers' three conference wins: a) A 40-yarder with 21 seconds on the clock to put away Central Florida in October, and b) A 38-yarder with a little over three minutes to play that supply the winning points in a November upset of Southern Miss. On the down side, he also missed a fourth quarter tryagainst Troy, a game UAB eventually lost by one point.
PUNTER
Ian Campbell, Sr., UTEP. UTEP! You didn't think we forgot about you? The Miners are finally represented… albeit by their punter, who frankly does not appear on the field as often as non-UTEP fans might guess. (Campbell's 48 punts in 2011 were among the fewest of any regular punter in the conference.) But he made good on his chances, finishing with a 46.3-yard average, just shy of the national lead. More than a third of Campbell's attempts traveled at least 50 yards.
KICK RETURNER
Rannell Hall, Soph., Central Florida. Hall didn't start returning kickoffs until the sixth game, at which point UCF's return game ranked among the limpest in the country. By the end of the year, Hall had lifted the Knights' average into the top five nationally thanks to the best individual averagein the conference, forcing coaches to make him the lone freshman on the All-C-USA team. All that's left for an encore is to actually take one to the house.
ALL-PURPOSE
Tracy Lampley, Sr., Southern Miss. Imagine any conceivable way for a player to touch the ball in a game, and Lampley has probably done it. Last year, he was deployed in equal measures as a running back and receiver on offense, to the tune of 1,037 yards from scrimmage, and doubled as the conference's leading punt returner. He also returned kickoffs on a regular basis and registered a couple tackles in a pinch. If the new coaching staff allows him to throw a pass, maybe it will unlock some kind of hidden level in which the Eagles finally get to follow the last of their original conference rivals to a more lucrative league.