Most of the attention is focused on the Super Bowl teams after Sunday's conference title games, but what's next for the runners-up? Here's a preview of things to come for the Green Bay Packers and Indianapolis Colts.
Green Bay Packers
The Packers face a long and frustrating off-season after a stunning 28-22 loss to the Seattle Seahawks in the NFC Championship Game. A place in Super Bowl XLIX seemed like a foregone conclusion when safety Morgan Burnett intercepted a Russell Wilson pass with 5:13 left in the game and with Green Bay leading by 12 points. 
Salary cap: Only the top 51 salary cap numbers count in the off-season. The Packers have slightly less than $123.5 million in 2015 cap commitments with 47 players under contract while $7.79 million of unused cap room can be carried over from the 2014 league year. After accounting for tenders for restricted free agents and exclusive rights players with expiring contracts, and futures contracts for practice squad players, Green Bay should have approximately $23.122 million of 2015 cap space, assuming the new salary cap is $142 million.
Retirement could be an option for 35-year old Julius Peppers. He received a three-year, $26 million deal (worth up to $30 million through salary escalators) as the Packers made an uncharacteristic signing during the first wave of free agency. Peppers played well enough in 2014 to justify his $9.5 million salary for 2015 if he wants to continue playing despite having a $12 million cap number. Green Bay would pick up $7 million of cap room if he is released or retires.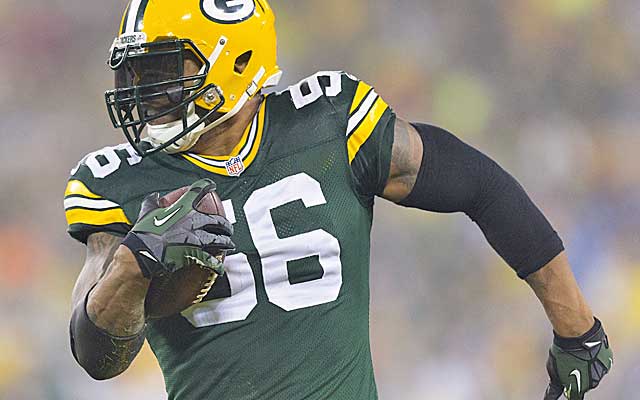 Green Bay could have different opening day starters at inside linebacker for 2015. Brad Jones never regained his starting job after suffering a hamstring injury in a poor outing during the season opener against the Seahawks. A.J. Hawk's playing time steadily decreased once Clay Matthews was moved inside. $3.75 million of cap space could be gained by releasing Jones, who has a $4.75 million 2015 cap number. In 2013, Hawk took a drastic pay cut to his 2013 through 2015 contract years to remain with the team. He may not be given that option before his $500,000 roster bonus is payable on the third day of the league year (March 12). Releasing Hawk ($5.1 million cap number) would free up $3.5 million of cap room.
Free agency/team needs: As usual, Green Bay's primary focus will be on trying to retain key contributors among their 11 impending unrestricted free agents before free agency starts on March 10. Wide receiver Randall Cobb, who hopes to re-sign with the Packers, should be the top priority. The 2011 second round pick had a career year in 2014 with 91 receptions, 1,287 receiving yards and 12 touchdown catches. The four-year, $39.05 million extension Jordy Nelson signed during the initial days of training camp will likely serve as a ceiling for Cobb with the Packers. Green Bay must decide whether they want to invest heavily in two wide receivers since Cobb will be one of the top wide receivers available in free agency with Demaryius Thomas and Dez Bryant expected to receive franchise tags -- if they haven't already signed new contracts. The Washington Redskins and New York Jets are the only NFL teams that have two wide receivers with deals averaging more than $7 million per year.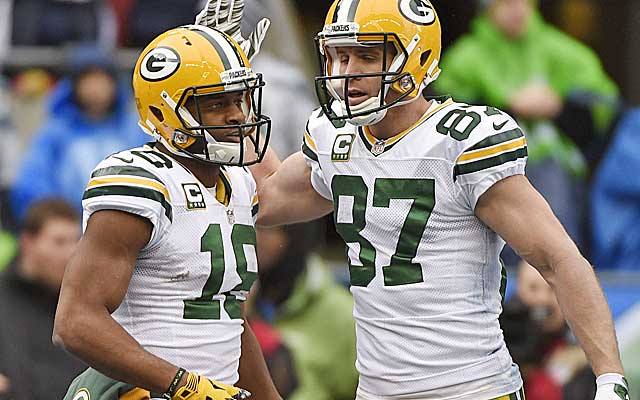 Cobb must overcome being viewed as strictly a slot wide receiver because they are paid less than outside wide receivers. This may be a difficult task because 87.6 percent of the routes (1,055 of 1,205) Cobb has run since 2012 have been from the slot according to Pro Football Focus. Removing Percy Harvin's outlier deal with a $12,843,500 per year new money average from the equation, Victor Cruz is the NFL's highest-paid slot wide receiver. He signed a six-year, $45.879 million deal with the New York Giants in 2013 as a restricted free agent. Cobb could look at the $8.6 million per year average of the five unrestricted free agent years Cruz gave up as a target price.
Becoming the third team with two wide receivers making more than $7 million per year is easier for Green Bay since the team no longer has a high-priced tight end. Jermichael Finley's two-year, $14 million deal expired after the 2013 season.
Re-signing right tackle Bryan Bulaga, who bounced back nicely after missing the 2013 season with a torn ACL in his left knee, should also be a priority. Bulaga has some leverage because it isn't a strong right tackle free agent class and Green Bay doesn't have his replacement waiting in the wings. Don Barclay filled in for Bulaga in 2013 but tore the ACL in his right knee during training camp. He may not receive a restricted free agent tender because of the injury. The going rate for a good right tackle is in the $6 million-per-year neighborhood. Packers All-Pro guard Josh Sitton's five-year contract extension that he signed in 2011 could factor into negotiations for Bulaga's return. Sitton's extension averages $6.75 million per year and includes an additional $1.25 million in salary escalators for Pro Bowls.
It could be an either-or proposition with cornerbacks Tramon Williams and Davon House. Williams, who turns 32 years old in March, will likely need to take a big pay cut from his expiring contract averaging $8.25 million per year to stay in Green Bay.
A decision needs to be made on where to play Clay Matthews in 2015. Moving him to inside linebacker helped stabilize Green Bay's defense but also decreased his opportunities to rush the passer in which he excels. Regardless of where Matthews plays in 2015, inside linebacker needs to be addressed in free agency or the NFL Draft.
Letroy Guion was a capable replacement for defensive tackle B.J. Raji after he tore his right biceps in a preseason game against the Oakland Raiders. Keeping either Raji or Guion shouldn't be a costly endeavor. Raji should be much cheaper than the one-year deal worth $4 million he took to remain with the Packers in 2014 after spending this season on injured reserve.
Outlook: Green Bay should be Super Bowl contenders again during the 2015 season as long as 2014 MVP favorite Aaron Rodgers stays healthy. The Packers shouldn't need any motivation for next season after their NFC Championship Game collapse.
Indianapolis Colts
The Colts have advanced farther in the playoffs in each of the past three seasons but still don't have the feel of a legitimate Super Bowl contender. The 45-7 blowout loss to the New England Patriots in the AFC Championship Game dropped Indianapolis' record against division winners this season to 1-5. The Colts were outscored 224 to 116 in those six contests.
Salary cap: The Colts are projected to have right around $25.6 million of cap room with a $142 million 2015 salary cap when factoring in tenders for restricted free agents and exclusive rights players on expiring contracts.
Linebacker Jerrell Freeman, long snapper Matt Overton and center A.Q. Shipley are the best candidates among the team's five restricted free agents to receive tenders. Freeman will probably get a second-round tender, which will be $2.335 million with a $142 million salary cap, since he wasn't drafted.
Some members of general manager Ryan Grigson's 2013 free agent signing class could be released or asked to take pay cuts. Safety LaRon Landry, who signed a four-year, $24 million contract, missed an additional game after serving a four game suspension for violating the NFL's performance enhancing drugs (PED) policy because the Colts used the roster exemption they had with him. He backed up Sergio Brown at free safety for five games upon his return before being put back in the starting lineup late in the regular season.
Landry has a $5.75 million cap number in 2015 while making $4 million. The Colts would pick up $2.25 million of cap room by releasing Landry. Landry's saving grace could be that strong safety Mike Adams, a Pro Bowl alternate, and Brown are headed toward free agency.
Outside linebacker Erik Walden could be vulnerable for two reasons: the return of 2013 sack leader Robert Mathis and the emergence of 2014 fifth-round pick Jonathan Newsome. Mathis missed all of 2014 after tearing his Achilles while serving a four-game PED suspension.
Walden is scheduled to make $4 million ($4.25 million cap number) in the third year of a four-year, $16 million contract during 2015. His release would free up $3.75 million of cap room.
Injuries have prevented left guard Donald Thomas, who signed a four-year, $14 million deal, from contributing. He's only played in two games during his two years with the Colts because of a torn quadriceps tendon in his right leg. 2014 second-round pick Jack Mewhort was arguably the best left guard in the AFC South in his rookie campaign. Thomas has a $3.75 million cap number in 2015. $3.25 million of 2015 cap room would be created by eliminating his $3.5 million salary.
The crown jewel of the 2013 free-agent class, Gosder Cherilus, hasn't lived up to expectations after being made the NFL's highest-paid right tackle with a five-year, $35 million contract containing $16.5 million in guarantees. Although the right side of the offensive line started performing better in the playoffs after Cherilus was put on injured reserve with a groin problem, he is probably safe for 2015.
Cherilus has a $6.9 million cap number with a $4 million salary in 2015. Releasing him before June 2 or without a post-June 1 designation would add $1.8 million to the team's 2015 cap obligations. June 1 is significant because the acceleration of bonus proration in future contract years is delayed until the following season for players released after this date. NFL teams also are allowed each year to release up to two players before June 2 with favorable cap treatment.
With this post-June 1 designation, the Colts would be required to carry Cherilus' $6.9 million cap number until June 2 even though he wasn't a part of the team anymore. The Colts would pick up $4 million of cap room at that time when Cherilus' 2015 salary came off the books. The Colts would have a $5.8 million charge cap for Cherlius in 2016.
It's probably time for the Colts to cut their losses with running back Trent Richardson. The 2012 third overall pick has been a disappointment since the Colts gave the Cleveland Browns a 2014 first-round pick for him early in the 2013 season. He was a healthy scratch in the divisional playoffs and missed the AFC Championship Game because of a serious family emergency.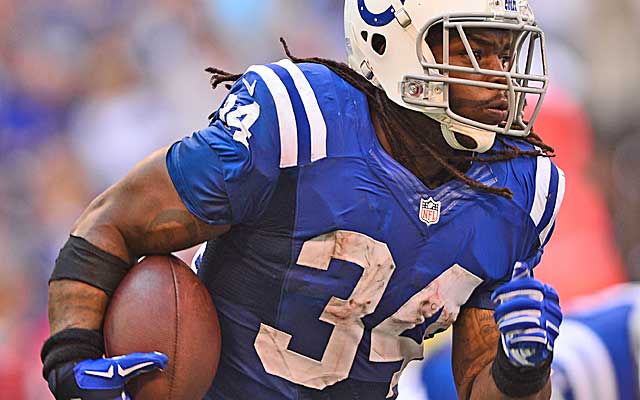 The Colts wouldn't get any cap relief by releasing him because his $3,184,062 2015 base salary is fully guaranteed without an offset unless the Colts could work out a trade involving him, presumably for a conditional or late-round pick. Realistically, the only way this could be accomplished would be with the Colts eating $2,524,062 by converting all of Richardson's salary except his $660,000 league minimum to signing bonus before a trade. The Colts would get $660,000 of cap relief this way.
Free agency/team needs: The Colts have 13 unrestricted free agents, including wide receivers Reggie Wayne and Hakeem Nicks, safeties Adams and Brown, running back Ahmad Bradshaw and defensive end Cory Redding.
Age and injuries caught up to Wayne as he wasn't the same player after suffering a torn triceps in Week 7 against the Bengals. The 36-year-old wide receiver hasn't decided whether he wants to play a fifteenth season. If he does and the Colts want him back, it will be for a lot less than the three-year, $17.5 million deal he signed in 2012. Hakeem Nicks didn't do much to change his fortunes after signing a one-year, $4 million "prove it" deal worth a maximum of $5.5 million with incentives. A similar contract could be order for him to re-sign.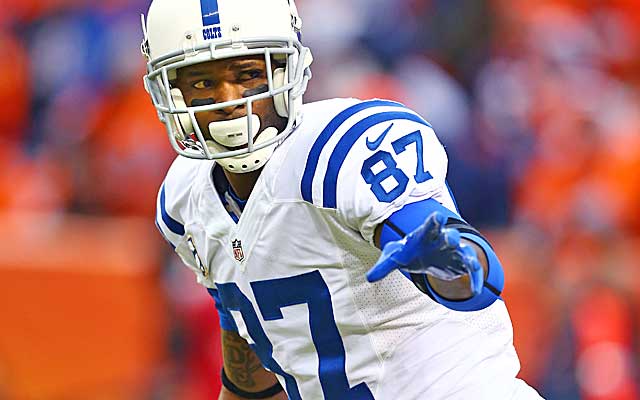 Retirement is also an option for 34-year-old defensive end Cory Redding. Whether or not he returns, the defensive line, as well as the offensive line, could use an upgrade. Newsome's 6.5 sacks shouldn't lead the team in sacks again with Robert Mathis coming back from a torn Achilles, but Mathis -- who will turn 34 in February -- shouldn't be viewed as the savior of the Colts' pass rush. It needs to be addressed also.
An improvement to the running game would bring more offensive balance and ultimately make Pro Bowl quarterback Andrew Luck more effective. The Colts led the NFL with 661 pass attempts in 2014. One of those positions will likely be addressed by the team with the 29th pick in the first round.
One option at running back could be signing DeMarco Murray, the Pro Football Writers of America's 2014 NFL Offensive Player of the Year, to a frontloaded four-year deal. An NFL team negotiator told me he thought the appropriate salary range for Murray is consistent with the 2012 running back marketplace when six players signed contracts averaging between $7 million and $9 million per year with $17 million to $23 million in guarantees. History suggests that Murray could be a case of diminishing returns because of his extreme usage in 2014. He had 392 regular season carries and another 44 in the playoffs to bring his total to 436 rushing attempts.
Frank Gore could be another, much cheaper short-term alternative. His preference is to return to the San Francisco 49ers but he is reportedly intrigued by the Colts. Gore is coming off his fourth-straight 1,000-yard rushing season but since he is almost 32 years old, it's buyer beware for any club that signs him. Steven Jackson is the NFL's highest-paid older running back on the three-year, $12 million deal (worth up to $13.5 million through salary escalators) he signed with the Atlanta Falcons in 2013.
A contract extension making Luck the NFL's highest-paid player is on the horizon according to ESPN's Adam Schefter. Luck could become the NFL's first $25 million per year player with his new deal. Three relevant contract benchmarks for Luck are Aaron Rodgers' $22 million average yearly salary, Colin Kaepernick's $62 million in guarantees and Matt Ryan's $63 million in the first three years of a deal. Extending left tackle Anthony Castonzo and wide receiver T.Y. Hilton's deals could be a possibility since they are entering contract years.
Outlook: The Colts should be a perennial playoff team with Andrew Luck under center for presumably the next decade. Grigson will have to make better use of free agency for the Colts to take the next step as a franchise.
---
Joel Corry is a former sports agent who helped found Premier Sports & Entertainment, a sports management firm that represents professional athletes and coaches. Before his tenure at Premier, Joel worked for Management Plus Enterprises, which represented Shaquille O'Neal, Hakeem Olajuwon and Ronnie Lott.
You can follow him on Twitter: @corryjoel
You can email him at jccorry@gmail.com