During my camp stop in Green Bay two weeks ago, I asked Aaron Rodgers what is probably a pretty foolish question.
What does he need to do to get better?
Rodgers is the NFL's best quarterback, a sure-fire Hall of Famer down the road who could be in the conversation for best-ever when it's all said and done. That doesn't mean he's perfect, even if sometimes it looks like he's damn close. So I asked him what he needs to do to be better.
"Just stay consistent," Rodgers said. "It's not about the major stuff. It's refining the little things. I want to cut down on the sack numbers and interceptions in the red zone."
Packers coach Mike McCarthy had a little smirk on his face when I asked him the same question. McCarthy said he recently told Rodgers something that anyone in any profession would love to hear.
"You've mastered the position."
McCarthy has worked with Joe Montana and Brett Favre, so for him to say that to Rodgers, it carries a lot of weight.
"When you are around guys who play the game, they play it so fast and see it so fast and see so much on the field and they're able to take advantage of it like they do, the challenge is themselves," McCarthy said "He always has to work on the fundamentals, but they have to try not to do too much during the games. Aaron would try and throw a TD on every play. He's so competitive. The discipline in his decisions is the only thing, maybe. He's an excellent leader, teacher, teammate, player, all of it. It's hard to find things wrong."
The 31-year-old Rodgers is entering his 11th season with the Packers, his eighth as the starter. In three of the last four seasons where he's played 15 games -- he didn't in 2013 -- Rodgers has thrown 45, 39 and 38 touchdown passes. Last season, he also threw for 4,381 yards as he won his second MVP.
It will be hard to top some of those numbers, but I get the idea Rodgers will do so in 2015 if he stays on the field. The Packers return their entire offensive starting unit, and it will show up in a big way.
Rodgers takes care of his body, so age isn't an issue, and the scary thing for opposing defenses is he might be the best he's ever been.
Mastering the position. That's high praise indeed.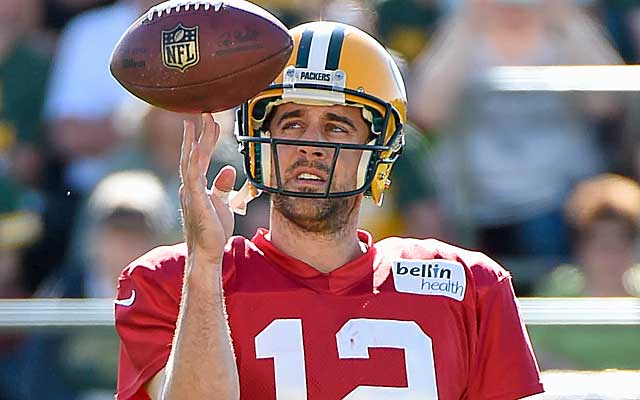 More preseason musings:
Way out of line: As usual, the thing that stood out from the first full weekend of the preseason is how bad some of the line play is early on. Even good teams like Seattle have major issues up front. And the second-team lines on almost every team are horrible. The college game and all the spread offenses are killing NFL line play. It's going to take good or great coaching to get players to play at an NFL level coming out of college. That's why we've seen so many young tackles -- high picks, too -- struggle in their first couple of seasons in the league.
Will the year off help or hurt Adrian Peterson? That's kind of the unknown right now. Sitting out 15 games in 2014 helped his body avoid more hits, but it also could bring on the rust. Peterson played just one game before being suspended for the season after his arrest on child-abuse charges. During the work I watched at Vikings camp, Peterson looked fast and as quick as he ever looked carrying the football. It appears sitting out might have been a good thing. "Not for me it wasn't," Vikings coach Mike Zimmer said. "But it could help in terms of him not taking the hits." Peterson said he feels as good as he did before sitting out. "I may be 30, but my body feels like it's 22," he said. It won't help that the Vikings lost starting right tackle Phil Loadholt to a torn Achilles tendon Saturday night. That will put rookie T.J. Clemmings in as the starter. Loadholt was a good run blocker. Clemmings is athletic, but he will take time to get close to the level of Loadholt in the run game.
The Jaguars are so excited about running back T.J. Yeldon, who has really impressed since being drafted, even though he missed the preseason opener with a hand injury. Yeldon has a chance to be a 1,200-yard rusher as a rookie, especially if the line is improved. He is a glider at 6-foot-1, 220 pounds -- he looks bigger than that -- and he's one of those backs that it's tough to get good shots on as he carries between the tackles. He is also a capable receiver. When the Jaguars motioned Yeldon out of the backfield during their recent scrimmage, it helped widen the defense and create a mismatch with linebacker Dan Skuta on tight end Julius Thomas in man coverage. Blake Bortles hit Thomas for a touchdown against that matchup. That's the type of versatility and threat Yeldon can bring to the offense. The depth behind Yeldon will be good too. Denard Robinson looks much improved. He made a move on Telvin Smith in the hole at that scrimmage that made him look bad. He also did some good things in the preseason opener. Toby Gerhart, who struggled through an injury-plagued first year in Jacksonville, should be much better as a spot player. He was signed last year as a free agent to be the starter, but that's too big a role for him. He looked good in the preseason opener against the Steelers.
Rookie quarterback Marcus Mariota did some good things for the Tennessee Titans in his debut against the Falcons. He shrugged off his two turnovers and played well. I was impressed. But I was also impressed with Zach Mettenberger. He can really spin the football and made some big-boy throws. I can tell you that the Titans were more than willing to play the season with Mettenberger if they didn't get the chance to take Mariota. They know he has talent. Now it will be in a backup role. If I were GM of a team in need of a quarterback -- ahem, Buffalo -- I would inquire about what it might take to get Mettenberger. His big arm would have no trouble in the Buffalo weather. When Mettenberger was leaving the locker room, I told him some team needs to make a deal to get him. He brushed it off. "I just have to focus on getting better here," he said. Some day he will be an NFL starter somewhere.
Like Mariota, Tampa Bay rookie quarterback Jameis Winston had some early troubles in his first game. He threw a pick, but the receiver was held on the play -- and it wasn't called. Even so, Winston didn't look sharp. But he responded and hit Vincent Jackson for a big play and eventually led the Bucs to a touchdown drive. He will be fine. The problem is up front. The line was awful and now might be worse depending on the severity of the injury to right tackle Demar Dotson, their best lineman. He injured a knee, but it's believed to be just a sprain. Even so, he will miss time, which isn't good.
The best story from the first full preseason weekend was seeing Eric Berry back on the field for the Chiefs after his battle with lymphoma. Berry shared an emotional hug with his mother before kickoff. It was a great scene.
The Bengals are raving about undrafted rookie defensive tackle DeShawn Williams from Clemson. He got a sack Friday night against the Giants, but when I was there last week players and coaches were talking him up. He is smallish, but quick. Marcus Hardison, another rookie defensive lineman from Arizona State, is another young player who has impressed. The Bengals will cut good players up front from their line.
The Chargers did the wise thing extending the contract of quarterback Philip Rivers. As if they had a choice. Rivers got a four-year extension on a deal that will pay him an average of about $20 million over the next five years, or slightly more than what Russell Wilson got from Seattle. There had been talk about Rivers being traded and his not wanting to sign an extension with San Diego because of a potential move to Los Angeles, but Rivers and the Chargers both wised up and got the deal done. Rivers, to me, is the most under-appreciated quarterback in the game.
The loss of corner E.J. Gaines for the season is a big blow for the Rams. He suffered a Lisfranc foot injury and had to undergo surgery last week. Gaines played well as a rookie in 2014 and was expected to be even better with the experience. Now Trumaine Johnson, who has played a lot in both the slot and outside, will be the starter opposite Janoris Jenkins.
Steelers linebacker James Harrison is right: Participation trophies are dumb. Life is a competition. Kids need to learn to compete early. Just showing up and getting a uniform isn't enough. Sorry.
In the Redskins' opener, Pierre Garcon dropped a sure touchdown pass from Robert Griffin III. But RG3 was late with the throw and it was to the outside shoulder, rather to the inside, which is where it should have been thrown. Garcon adjusted to the ball, but then had it go off his hands. It was a negative all the way around.
Receiver-return man Tyler Lockett was on my 2015 Better-Than team, guys I liked more than the scouts. Lockett showed why Friday night when he ripped a punt 83 yards for a score for Seattle. The Seahawks traded up in the draft to the third round to get him, another gem of a move for GM John Schneider. He can fly. They needed speed in the receiving department and for their special teams. This kid will help in a big way.
One of the things I noticed early in the Colts-Eagles game was how much trouble the Colts had inside with the Eagles down players. The center spot is a major concern for the Colts and Khaled Holmes, who is in a battle with Jonotthan Harrison, seemed to struggle early on getting push. The Colts aren't strong at the point, no matter who starts there.