If the past couple decades of the NFL tell us anything about this upcoming season, it's that at least four teams that qualified for the postseason in 2014 won't return to the playoffs in 2015. Since 1990, at least four new playoff teams have emerged in every single season, which means of course that at least four teams have fallen short a year after journeying into January. 
Who will those four teams be this season? John Breech took a look at which four teams he expects to make the leap in 2015 and, below, you'll find the four playoff teams from a year ago that I believe will miss the playoffs in 2015. 
History tell us that the Cardinals of 2015 are not going to be the Cardinals of 2014, a team that won 11 games despite only outscoring its opposition by 11 points over the course of 16 games.
In short, the Cardinals were the luckiest team in football last season.
I know what you're thinking. You're thinking that I'm looking at this the wrong way. The Cardinals won 11 games last season despite losing both Carson Palmer and Drew Stanton along the way. With Palmer now fully back from his ACL tear, the Cardinals will be right back in the playoff mix. The Cardinals also have perhaps the best coach in the league (minus Bill Belichick) walking on their sidelines. With the 49ers devastated by the loss of pretty much their entire roster, Bruce Arians' Cardinals should compete with the Seahawks for the NFC West crown.
The numbers say otherwise. The numbers say that the Cardinals are going to experience a regression in 2015.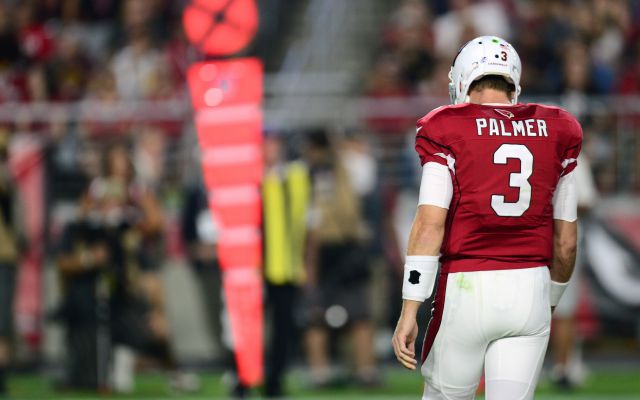 I already mentioned the shockingly low point differential. There's also the fact that the Cardinals won 2.7 more games than they probably should have last season. According to Football Outsiders, the Cardinals' Pythagorean win total -- how many games they should have won based on points scored and points allowed -- pegged them as an 8.3-win team in 2014. In reality, they won 11. They did so by seemingly always winning close games. In games decided by just seven points or less, the Cardinals went 4-1.
Here's the bad news for Arizona: While outperforming their Pythagorean win total and winning a bunch of close games might've worked out last year, it probably means they're not going to be quite as successful this year.
According to Bill Barnwell of Grantland, only 33 teams have outperformed their Pythagorean win total by two wins (not including the 2014 Cardinals). Those 33 teams averaged 2.5 fewer wins the next season.
At this point, I need to make it clear that I don't think the Cardinals are going to be a bad football team. I don't think they'll be picking in the top-10 during next season's draft. I just don't think they're winning 10 or 11 games, which is probably a requirement of an NFC playoff team.
Now, it's true that the Cardinals were also incredibly unlucky last season. Carson Palmer tore his ACL during the 10th week of the season and the Cardinals were forced to ride out the storm with Drew Stanton and then Ryan Lindley.
But just because Palmer is returning in time for the start of the regular season doesn't guarantee that he'll start all 16 games. Palmer is 35 years old, he's coming off the second ACL tear of his career, and he's made a habit of finding himself on the injury list.
Furthermore, expecting Palmer to continue performing at the level he was playing at prior to his ACL tear would be placing too much trust in a limited sample size. In 2014, Palmer went 141 of 224 for 1,626 yards and 11 touchdowns. Unbelievably, Palmer only tossed three interceptions, which was good enough for an interception rate of just 1.3 percent.
It's unlikely that Palmer replicates that performance over the course of the entire season, even if he manages to stay on the field. In Palmer's 11-year career, his interception rate sits at 3.2 percent. Furthermore, Palmer's first season in Arizona in 2013 saw him throw 22 picks for an interception rate of 3.8 percent.
I like Palmer, I think he's a fine quarterback belonging in the same tier of quarterbacks as the Jay Cutlers and the Andy Daltons of the league. But the Cardinals aren't getting Peyton Manning back.
The Cardinals also lost some key members in the offseason, most notably defensive coordinator Todd Bowles, who won the head coaching job in New York. Cornerback Antonio Cromartie also followed him.
Additionally, one of the team's key offseason signings, former 49ers guard Mike Iupati, is expected to miss anywhere up to eight weeks with a torn left meniscus.
As for the Cardinals' schedule, it's not easy. According to Chase Stuart of Football Perspective, the Cardinals face the most challenging slate of games in all of football.
None of this looks good for the Cardinals, which isn't something that I like writing, considering how much I admire and respect Arians as a coach. And if you don't like what I'm arguing, that's fine, namely because the Cardinals were incredibly unlucky last year, at least in terms of injuries.
Just don't blame me for saying the Cardinals are going to regress in 2015 -- blame history. Because that's what history is telling us.
Picking the Panthers to miss the playoffs after winning the NFC South last season isn't exactly a bold move. After all, Carolina won the division last season with just seven wins and one tie. Now, with star wide receiver Kelvin Benjamin sidelined for the season with a torn ACL, the Panthers seem like an obvious choice to miss out on the postseason.
I'll admit, a big reason why I'm picking the Panthers is because I think the division is going to improve substantially in 2015 and I don't think seven or eight wins is going to cut it anymore. Without going too far into the other three teams in the division that could take home the division crown (I'll let John Breech handle that), I'm expecting them to pose a threat to the Panthers.
OK, back to the Panthers. They still have Cam Newton at quarterback and locked him up with a long-term contract extension this offseason. Newton might not post the best statistics when it comes to traditional quarterbacks, but that's entirely the point: He's a tank and is a threat in more ways than most quarterbacks. Since entering the league in 2011, Newton has rushed for over 2,500 yards. That's incredible considering what position Newton plays. But when examining the weapons surrounding Newton, that's where the optimism dies.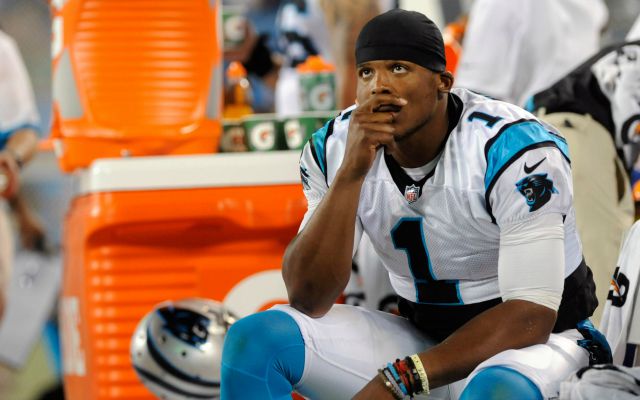 The offensive line charged with protecting Newton isn't good. Protecting Newton's blindside will be Michael Oher. While Oher's name stands out because of that one Sandra Bullock movie, he hasn't exactly panned out in the NFL. He's on his third team since the Ravens spent a first rounder on him. Stud left tackles don't move around the league like Oher has so far in his career.
According to Pro Football Focus, the Panthers' offensive line ranked No. 27 in pass blocking last season. Luckily for Carolina, Newton is a big, athletic dude, and should deal with the protection issues, per usual.
Unfortunately, targets for Newton are lacking. Benjamin, a 1,000-yard receiver in his rookie year, is out for the season. Behind him, is an empty void. Seriously, outside of tight end Greg Olsen, who led the team in receptions last season with 84, there's not much. Some combination of Corey Brown, Ted Ginn, Jerricho Cotchery, Devin Funchess, Jarrett Boykin, etc. won't scare opposing defenses.
At running back, the Panthers are asking Jonathan Stewart to stay healthy. OK then, moving on...
Here's the good news for the Panthers and the reason why they'll perhaps prove me wrong this season: Their defense is coming off three straight seasons ranked in the top 10 in terms of yards allowed. Luke Kuechly looks like a future hall of famer, and I'm a big believer in Shaq Thompson's potential.
But the secondary is concerning. Especially if the Panthers are relying on a 34-year-old Charles Tillman.
Furthermore, Carolina's defense wasn't as good as their top-10 ranking last year. According to DVOA (Defense-Adjusted Value Over Average), Carolina checked in at No. 15 in the league.
Look, even if Benjamin hadn't torn his ACL during practice, I still would've picked the Panthers to miss the postseason in 2015. If not for a lousy division, they would've missed the playoffs last year too. With Atlanta and Tampa Bay on the rise, and with Drew Brees still quarterbacking the Saints, the division isn't going to be the cakewalk that it was last year.
The Panthers' stubbornness to provide adequate pass blockers for Newton is going to haunt them. If you're going to give your quarterback a top-flight contract, maybe spend some money on the five men tasked with keeping him on his feet.
According to SB Nation, Football Outsiders gives the Panthers a 39 percent chance of making the playoffs. That's behind both the Saints and the Falcons. That makes sense, to me at least.
I'll admit that picking the Bengals to miss out on the postseason wasn't easy. Since 2012, they've won 31 games. One of the league's best wide receivers, A.J. Green, is still only 27 years old. The team's offensive line, anchored by stud left tackle Andrew Whitworth, is a fortress.
But then, when I looked at the numbers, I couldn't help it. I don't think the Bengals are heading back to the postseason, which would be the first time they've failed to qualify for the playoffs since 2010.
Like the Cardinals, the Bengals won more games than they should have last year. While the Cardinals outperformed their +11 point differential by winning 11 games, the Bengals were close behind, outscoring their opponents by just 21 points and winning 10 games (and tying in another). It's worth noting that the Bengals' Pythagorean win total in 2014 was 8.6. Again, like the Cardinals, the Bengals did really darn well in one-touchdown games, posting a 3-0-1 record.
All of this probably means the Bengals are going to regress in 2015.
Barnwell also recently wrote about the AFC North for Grantland. In that article, Barnwell wrote about teams that go undefeated in one-touchdown games and what happens to them the following season. The last team that did what the Bengals did was Houston back in 2012. They went 5-0 that season in games decided by seven points or less. They then went on to lose nine of 11 one-score games.
As Barnwell notes, the Bengals probably won't fall of the cliff like the Texans did. But it would be foolish to expect the Bengals to continue their remarkable run in close games. It's just not a sustainable model for winning consistently.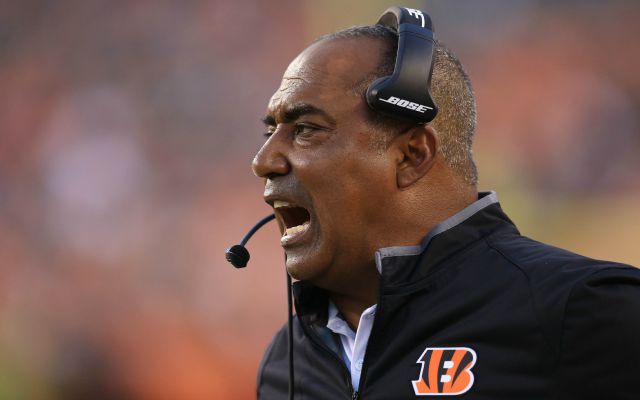 OK, but enough with Pythagorean wins and point differential. What about the Bengals roster?
The Bengals are one of many teams stuck in quarterback purgatory, meaning that their quarterback, Andy Dalton, is just good enough that it doesn't make sense to part ways with him, but he's also not good enough to inspire much hope for the future. Outside of quarterback, the biggest area the Bengals needs help with is on defense, specifically the pass rush.
The Bengals only recorded 20 sacks last season, the lowest number of any team in the league. The team didn't do much to address that issue in the offseason. Cincinnati's first two picks in the draft were offensive tackles, which bodes well for the future, but doesn't really matter for 2015, unless Whitworth, who didn't allow a single sack in 533 passing snaps last season, and Andre Smith, the team's right tackle, go down with injuries. The Bengal did use their fourth rounder on a potential pass-rushing threat, Marcus Hardison, but betting on a fourth-round pick isn't ideal. At best, he's a rotation player.
Not to mention that Geno Atkins tumbled in 2014 after tearing his ACL the year prior. In 2012, Atkins recorded 12.5 sacks. Since then, he has nine.
If the Bengals were playing in, say, the AFC South, I wouldn't be quite as hesitant. But the AFC North was, by far, the best division in the league last season. And if the Bengals' luck runs out in 2015, they probably won't be able to keep pace with the Ravens and Steelers.
Again, I hate to sound repetitive, but it's worth repeating. It's not just me that is saying the Bengals will be less fortunate in 2015. History is also saying that.
Don't underestimate how much the loss of Ndamukong Suh will impact the Lions' fortunes in 2015. Last season, with Suh leading the way, the Lions surrendered an NFL-low 69 rushing yards per game. They finished second in total defense, eighth in sacks, tied for third in interceptions, and third in points per game.
Suh led the way by being on the field for 909 snaps last season. And there's no doubt he made the players around him better. For example, take C.J. Mosley, who followed Suh to Miami this offseason. According to ESPN, when Suh and Mosley shared playing time over the past two seasons, "the Lions pressured opposing quarterbacks on 29 percent of dropbacks, including 18 sacks on 290 dropbacks (6.2 percent)." When Mosley was on the field but Suh wasn't, the Lions pressured opposing quarterback on just 20 percent of dropbacks and recorded just one sack in 163 dropbacks (0.6 percent).
That's one way to measure Suh's impact on the game.
In addition to Suh and Mosley, Nick Fairley is also long gone, having left for the Rams via free agency. Fairley was injured for a big chunk of last season, but in 2012 and '13, he recorded 11.5 sacks. He will be missed.
To replace Suh, the Lions brought in Haloti Ngata, formerly with the Ravens for nine seasons. Ngata has 25.5 sacks in his career and, more importantly, he's a force in the run game. But he's not the force that Suh is, not at this stage in his career.
Furthermore, Ngata can't replace all of the bodies that the Lions lost on the defensive line. In addition to Suh, Fairley and Mosley, George Johnson also departed Detroit. According to Robert Mays of Grantland, the Lions are tasked with replacing nearly 1,500 snaps on their defensive line. And that's not including Suh's 909 snaps.
Ngata can't do that by himself.
There's also this alarming nugget: Ngata hasn't practiced since training camp started, as he's dealing with a bad hamstring. The Lions need Ngata to perform at his peak if they want to replicate last season's success. But that's probably not happening.
As for the offense, Calvin Johnson and Golden Tate form one of the more impressive wide receiver duos in the league, Matthew Stafford is an above-average quarterback who the Lions don't need to worry about, and there's some rumblings that rookie running back Ameer Abdullah is going to break out.
Here's why I'm concerned about the Lions offense: Last season, they weren't forced to score points at a high clip because of their stout defense. But if the defense takes a step back, which it probably will, that'll force the offense to produce more efficiently than it did last season. In 2014, Detroit finished 19th in yards per game and 22nd in points per game. Those rankings will need to jump in 2015.
As for the division that the Lions find themselves in, the Packers still own the NFC North, even with Jordy Nelson sidelined for the season. The Vikings are emerging as one of the most promising, younger teams in the league, and the Bears won't be the joke that they were last season, now that they have an actual, functional coaching staff in place. Four of the Lions wins last season came against the Bears and the Vikings. It's tough to see them replicating that.
And, finally, the Lions' Pythagorean win total was 9.2. They won 11 games.
Alarm bells should be ringing.