Welcome back college football, we've needed the season to start more than ever.
There was no realignment to ruin our summer with constant status updates this year but there were enough players from programs across the country booted off to form their own team (that could win more than a few games from the looks of it). There was, of course, Penn State and everything associated with the university going through a gut-wrenching few months as the Jerry Sandusky scandal continued to unfurl. With Tebow and Peyton Manning's neck dominating the NFL, it's not like the professional game offered a safe haven for all of us either.
But hey, it's finally game week. That means flyovers and pom-pom's, drinking at breakfast and enough calories from cheese-infused bratwurst to feed an entire row at Camp Randall. What we love about the sport of college football will finally be unfurling across campuses and stadiums across the country as pageantry and passion sweeps us up into America's second most popular sport. It's here, let's celebrate.
Hard to believe we're only eight months removed from Washington playing no defense against Baylor and Alabama playing too much against LSU. It's time to stop looking back however, and turn our attention to what's coming up in 2012. There's plenty of new faces at plenty of new places but it's the familiar schools that are seen floating around the top of the polls for the most part -- with good reason. Outside of recent powerhouse Oregon, the top 10 is littered with programs who fit the mold of a historical program with great success. As much as last year was about little guys rising up and reaching new ground as a program, this year seems like the traditional powers will be front and center.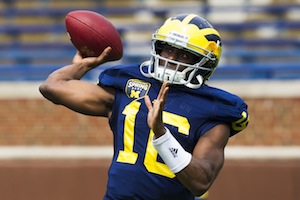 Denard Robinson should be able to use his arm and his legs to keep Michigan in it with Alabama. (US Presswire)
That starts week 1 with Michigan and Alabama, respectively first and seventh historically in terms of all-time winning percentage, taking center stage as the main attraction. Yes, the Tide are working in seven new starters on defense but Nick Saban's pedigree is a big reason why the squad highly ranked to start the year -- as is the fact that many of the replacements played often last season. Concerns along both lines for Michigan has seemingly taken off some luster for this match up but it's puzzling to see why it's not a bigger deal for these programs to open the season with a bang at JerryWorld down in Arlington.
"Offensively, they have probably as significant a player as we've played against maybe since Cam Newton in terms of the quarterback position, in terms of what he can do in the game, in the offense and how the offense is sort of built around and features him as a player," Nick Saban said of quarterback Denard Robinson on Monday. "He does a good job of executing their offense. He's become a better and better passer each game, each year. I think that's a big key."
The Cowboys Classic will be the important first step in determine the national title race. With a relatively manageable schedule (including Michigan State at the Big House) and the always exciting Robinson touching the ball every snap, an upset in Dallas would put the Wolverines firmly in the chase for the crystal ball in January plus cause a massive shift in the dynamic regarding the Big Ten and SEC. Alabama, meanwhile, will just be warming for their trip to Arkansas on September 15th and the Razorbacks' high-powered offense. Given that they're in the SEC, a chance to repeat as BCS champions is a road filled with potholes and while the Crimson Tide may have plenty of talent to get to Miami, the ball bouncing the right way or a field goal sneaking inside the uprights plays a big role as to whether or not that will actually happen.
Of course, neither program takes home the prize for most intriguing storyline this season -- that lies in Los Angeles with USC. The Trojans are back from their NCAA-mandated black hole and are once again the pretty boys on the college football scene. Matt Barkley is deservedly topping most Heisman Trophy polls and there's no wide receiving corps in the country that comes close to matching what will take the field at the Coliseum this season. With Lane Kiffin at the helm, perhaps no team will be as decisive to fans than this one. Regardless, the apt slogan of 'Unfinished Business' and chance to return, coincidentally, to the site of their vacated BCS title to play for another one is something that will garner interest from coast-to-coast.
Most look at USC and note the lack of depth the program has, particularly along the defensive line, as being one reason they can't make it to Miami. Having been to one of the Trojans' fall scrimmages, I'm not sure I buy into this line of thinking as much as others but it will undoubtedly be concerning once the injuries start to pile up. The difference of 10 scholarship players is notable but at the same time, it's not as great as perception leads most to believe. Kiffin and his staff will redshirt fewer freshman, play more guys and generally manage the roster to where the difference between the number of guys they play will lineup with other programs more often than not. Last season saw 78 USC players take snaps over 12 games. Oregon? 84 with two extra games. Alabama? 77 with one extra game. Keep in mind that the Trojans are also throwing out four- and five-star guys too.
Across the country, expectations are being heaped on Florida State as well. As a team that has for the most part failed to come close to preseason praise the past few years, the Seminoles are hoping the offensive line gels quickly to keep quarterback E.J. Manuel upright and bring in a nasty defense to close things out. We've seen highly ranked teams before but this year seems different as Jimbo Fisher and FSU will have to deal with being picked to win the whole thing by several pundits. When the pressure was turned up in the past, it seemed like the team never could find enough consistency to pull through. This team has been known to lose to some mediocre teams -- the Wake Forest jokes really write themselves -- so keeping a level head may be as big as dealing with schemes, injuries and the games themselves.
Then there's LSU, who on paper has the most talent in the country despite losing the best playmaker in college football. We all saw those heads dripped low at the Superdome in the BCS title game after getting embarrassed by Alabama and perhaps that has colored our perception of the Tigers going into the year. They likely upgraded at the quarterback spot with Zach Mettenberger under center and have the best collection of running backs in a long time with Alfred Blue, Kenny Hilliard, Michael Ford and Spencer Ware all in the mix. Toss in a deep an dominating defensive line plus Alabama in Baton Rouge and it's easy to see why a return trip to the championship game is expected and not hoped for this season.
Ahh it's good to be talking football again. Time to buckle up and get ready for a fun few months ahead as the season plays out before us.
Yard-by-yard
There are plenty of interesting things to keep an eye on between now and January 9th but here are a few for week 1
The offseason hasn't given Brian Kelly much to smile about. (US Presswire)

The first game on Saturday will be bright and early from across the pond as Notre Dame and Navy play in Ireland during the Emerald Isle Classic. Redshirt freshman quarterback Everett Golson should draw plenty of interest and if the Irish are going to have any sort of success against a tough schedule this season, their offense will have to carry the load for the most part. Breaking in what amounts to an entire new secondary is the most concerning issue, with former high school running back and true freshman Keivarae Russell starting following a season-ending injury to corner

Lo Wood

s. People talk all the time about Notre Dame's relevance in college football and while they won't be to the national title race barring pulling an upset, they'll at least be interesting to watch.
In other interesting things to watch, no conference will have as much fun in the coming years as the Pac-12 will with coaches like Rich Rodriguez and the lovable pirate Mike Leach taking over at Arizona and Washington State this year. Thanks to a new media deal and seven conference networks it won't be too hard to find one of the four new coaches out West with each bringing a unique brand of offense into the fold (well, Jim Mora will be doing the same on defense at least, with former Arizona State offensive coordinator Noel Mazzone running things on that side of the ball). Leach takes his Air Raid offense to prime time on Thursday night against his alma mater BYU while RichRod opens with Toledo for some late night scoring on Saturday.
Speaking of points, Oregon will be breaking in new starting quarterback Marcus Mariota by hosting a new head coach who knows a thing or two about offense in Gus Malzahn and Arkansas State. Those around the program love that Mariota has the 'it' factor and while he's got the wheels to run, is a better passer than most give him credit for. With De'Anthony Thomas, Colt Lyerla and other weapons surrounding him, the redshirt freshman's comfort level as the starter may be the only thing stopping the Ducks from making a title run.
Boise State hasn't been shy about going out and playing a tough opener but the Broncos may have bit off more than they can chew with Michigan State this season. The Spartans have one of the better defenses in the country and that's a tough test for new quarterback

Joe Southwick

. Although he's had a chance to sit behind Kellen Moore for four years, a new cast around him will make the adjustment to running out of the tunnel a bit tougher than expected. Likewise on the opposite side,

Andrew Maxwell

takes over for Michigan State's all-time winningest quarterback. He'll have a better running game and defense to fall back on however.
One midweek game to keep an eye on is Louisiana Tech hosting the newly-minted SEC program of Texas A&M. The Bulldogs are no pushover after winning the WAC last year, returning a number of players that could make things interesting with tropical storm Isaac expected to bring windy and rainy conditions. Kevin Sumlin takes over the Aggies and has tabbed Johnny Manziel to be the first freshman (he is a redshirt) in school history to start at quarterback and be the triggerman for the offense. With one of the best offensive lines in the country and what should be a sound running game, it will be interesting to see how the team does in their first test of the season with the new staff despite the conditions.
A new era, to say the least, begins in Happy Valley as Bill O'Brien takes over as the first head coach of the Nittany Lions since 1966. Down a number of players due to transfer and graduation, only 15 percent of the team's scoring returns for this season (from last year's 110th-ranked offense) that might not be pretty to watch on or off the field.
Who won't be at the Chick-Fil-A Kickoff in Atlanta seems to be what is on everybody's mind. No Sammy Watkins for Clemson, Auburn will be without starting center Reese Dismukes and Tennessee wideout Da'Rick Rogers has reportedly left the team to play elsewhere. Every opener is "big" for every respective program but it seems like for Clemson and Tennessee especially, the spotlight is on them a shade brighter than the others. Derek Dooley is obviously on the hot seat and being upset by N.C. State (not far fetched with Mike Glennon looking like a big time NFL prospect) does not bode well to start the year off. For Clemson, starting anew after the blowout at the Orange Bowl, this game is as much about perception of the program changing as it is trying to help the ACC's with a win over an SEC program.
State of the week
Via the sports information staff, Wisconsin averaged 47 ppg in their last 18 games, or since running back Montee Ball entered the starting lineup. The previous 18 games? Just 33 ppg.
Tweet of the week
We don't have hurricanes in Australia. I'm not sure how to react to all this..

— Brad Wing (@bwing38) August 27, 2012
Fisch's Finest
Les Miles has a good reason to smile given the talent returning for the Tigers in 2012. (US Presswire)
1. LSU
2. USC
3. Alabama
4. Oregon
5. Georgia
7. Wisconsin
9. Oklahoma
10. Michigan State
Where we'll be this week
Senior writer Dennis Dodd breaks out the passport and travels to Ireland for Notre Dame-Navy at 9 a.m. ET on CBS. Columnist Gregg Doyel takes in the start of the Urban Meyer era at State" data-canon="Ohio Bobcats" data-type="SPORTS_OBJECT_TEAM" id="shortcode0"> against Miami (Ohio) while Tony Barnhart is in Atlanta to see the Chick-Fil-A Kickoff Classic with Tennessee/N.C. State and Auburn/Clemson. Finally, I'll be at Cowboys Stadium for Michigan-Alabama.
Leaning this Way
Alabama vs. Michigan
There are questions about Michigan sure, but they still have Denard Robinson as the best quarterback to make something out of noting in the college football. This game should be closer than most think for just that reason but ultimately AJ McCarron will make enough plays over the top and the stable of running backs will grind the Wolverines down by the 4th quarter to allow the Crimson Tide to leave Texas with a win.
Pick: Alabama
Michigan State vs. Boise State
Two new quarterbacks is reason enough to watch this game and see how each program's season will be shaped going forward. While Boise has enough players with experience and a slight edge in terms of coaching, it will be tough to get around the fact that the Spartans have a great rushing attack and terrific defense. This should be close but the more physical team ultimately prevails in the 4th.
Pick: Michigan State.
Tennessee vs. N.C. State
With Da'Rick Rodgers gone and corner David Amerson taking on Justin Hunter, Juco transfer Cordarrelle Patterson becomes an important piece to the Vols offense. If he has success in getting down the field, Tyler Bray should be able to find him. If the passing game falters however, it could be a long night for Derek Dooley. With Mike Glennon looking to continue his strong finish in 2011, don't discount the Wolfpack and what they can do on both sides of the ball with months to prepare.
Pick: N.C. State.