During the early part of last weekend's wild-card game against Washington, Aaron Rodgers' receivers just couldn't get open. Seemingly every throw was to a receiver that had a Washington defensive back draped all over his back, and after completing his first pass of the game, Rodgers missed on his next seven passes of the first quarter. He finished 1 of 8 for 11 yards.
On Green Bay's first drive of the second quarter, Rodgers found James Jones -- who again had a defender all up in his grill -- on the right sideline for a short gain. The next play, he quick-snapped the ball before all of Washington's defenders could get off the field, yielding a 5-yard penalty and a first down. And then he got rolling. He went 4 of 5 for 61 yards on the rest of the drive, which included a 12-yard touchdown strike to Randall Cobb.
He finished the day 21 of 36 for 210 yards and two touchdowns. Those aren't quite the monster numbers we've come to expect from Rodgers over the years, but considering how his day started, they're pretty good. He went 20 of 28 for 199 yards and two scores after that 1-of-8 start, which works out to 7.1 yards per attempt and a 115.0 passer rating.
If Green Bay's receivers similarly struggle to gain separation and Rodgers similarly struggles to complete passes at the start of Saturday's game against the Arizona Cardinals, the Packers may not find themselves in position to come back for a victory as they did against Washington. Kirk Cousins may have had an excellent season, but he's no Carson Palmer, who had every bit the MVP-caliber season that either Cam Newton or Tom Brady did. And the Cardinals, with the No. 1 scoring offense in the league, won't leave points on the board they way Washington did early on. They'll punish the Packers early and often if Green Bay makes mistakes, just as they did back in Week 16.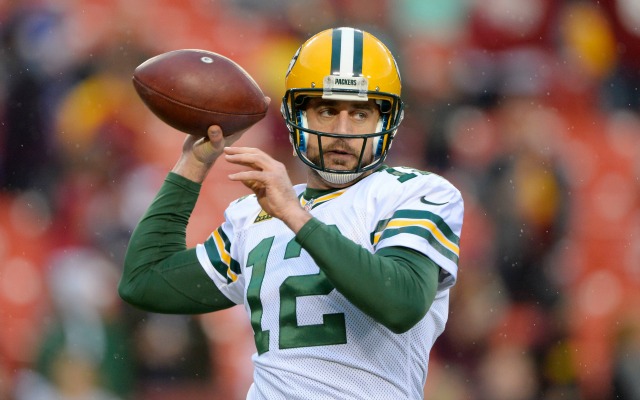 Rodgers has not been quite as accurate this season as the rest of his career. He completed 60.7 percent of his passes compared to a 65.8 career rate entering the year, and an accuracy percentage (per Pro Football Focus) of 73.1 compared to a career average of 78.0 percent entering the season. Still very good, but slightly off the peak performance levels that he established as his norm throughout his career.
That's why Rodgers' weapons -- Jones, Cobb, Davante Adams if he's healthy, Jared Abbrederis if Adams is not, and Richard Rodgers -- need to win their matchups against the Arizona defensive backs in decisive fashion (something they mostly have not been able to do all season). Adams seems fairly unlikely to play at this point with his sprained MCL, so we'll proceed from here as though he won't.
In that case, Cobb will probably move out of his usual role in the slot and play on the outside, where he'll be matched up with top Cardinals corner Patrick Peterson. Peterson had a rough 2014 while dealing with diabetes, but he got right back on track this season and rebounded to his typically excellent level of play. He finished the season as PFF's sixth-highest graded cornerback, allowing a passer rating of only 61.8 on throws in his direction. When these two teams met in Week 16, Rodgers only threw his way five times, completing three passes for 8 yards.
It doesn't seem all that likely that he'll only target Cobb five times if Adams sits, so expecting Peterson to be a bit busier Saturday makes some sense. If Cobb bumps inside to the slot, though, Peterson may not follow, and that could be a chance for a plus matchup against Jerraud Powers (who figures to see Abbrederis when he lines up inside as well), who has not been very good lately. He allowed 10 grabs for 100 yards in the final three weeks of the regular season and yielded 49 catches for 687 yards and a 101.6 passer rating on the year. Among corners that played at least 50 percent of their team's snaps, that 101.6 rating ranked 59th out of 79.
The player Rodgers targeted most often when these two teams met a few weeks ago was Justin Bethel, who has not exactly had a smooth transition to playing more snaps since Tyrann Mathieu went down. He gave up 18 catches for 221 yards and two touchdowns over the final three-plus games of the season (though he did pick off Rodgers in Week 16). Bethel seems likely to get the James Jones matchup on the outside, which could prove tough for him. Jones was the Green Bay receiver Rodgers targeted deep down the field most often this year (26 targets of 20-plus yards in the air), and that's one way he can take advantage of the Bethel matchup.
Richard Rodgers could have a tough time against this defense. The Cardinals ranked seventh in Football Outsiders' DVOA (Defense-adjusted Value Over Average, which adjusts performance for down, distance, and opponent) guarding tight ends this season, yielding only 55.7 yards per game. However, in the two full games Arizona played against non-Packers opponents without Mathieu at the end of the year, they gave up 18 catches for 180 yards to Zach Ertz, Brent Celek, Cooper Helfet, and Chase Coffman, so maybe there's a bit more vulnerability there than it might initially appear.