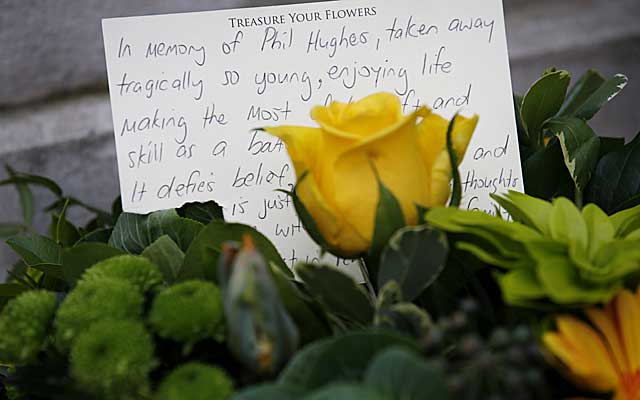 Australian cricket player Phil Hughes passed away on Thursday after a ball struck him in the upper neck earlier this week.
Hughes, 25, passed in a Sydney hospital after he was hit by a bouncer while batting in a game on Tuesday. He had been wearing a helmet, but the ball missed the covered area. 
After CPR at the grounds, Hughes was taken to a local hospital where surgery was performed to relieve pressure on his brain. 
Australian team doctor Peter Brukner said on Thursday that Hughes had suffered significant internal bleeding. "As a result of the blow, his vertebral artery was compressed by the ball. That caused the artery to split and for bleeding to go up into the brain." 
Hughes was taken to the hospital and then placed in an induced coma, which he was unable to recover from.
James Sutherland, the CEO of Cricket Australia, offered this at Thursday's conference.
"It's an understatement to say we are completely devastated," he said, via the BBC. "Without a doubt he was a rising star, with his best cricket ahead of him. He was a hero to kids around the nation and particularly those around his home grounds of New South Wales."