Read this before deciding that Week 11's Thursday Night Football matchup between the Jacksonville Jaguars (3-6) and Tennessee Titans (2-7) is a dud of a game.
This matchup features a variety of exceptionally talented players, especially on offense. Oh, and the AFC South is completely up for grabs right now. Don't forget, too, both teams are wearing alternate uniforms as part of the NFL's "Color Rush" games on Thursday nights.
Here are the five advanced stats to know before the colorful primetime battle between these two division rivals.
1. Ahead of the curve
The chart below shows the average stats for rookie quarterbacks over the past decade who were drafted in the first three rounds and attempted at least 200 passes in their first professional season.
Here's how Titans quarterback Marcus Mariota stacks up to those averages that were formulated by the numbers of 28 signal-callers who fit the criteria.
Mariota vs. Rookie Quarterbacks From 2005-2014
 
Completion %
TD %
INT %
Yards Per Completion
Rookie QB Averages
57.3
3.39
3.26
11.43
Marcus Mariota
65.6
5.8
2.7
12.2
Now you know how this subheading got its name.
Among the 28 qualifying quarterbacks were busts like Matt Leinart, Vince Young and Christian Ponder.
So which signal-callers' rookie campaigns has Mariota's been the most like?
Mariota vs. other rookie campaigns
Player
Completion %
TD %
INT %
Yards Per Completion
Marcus Mariota
65.6
5.8
2.7
12.2
Russell Wilson
64.1
6.6
2.5
12.4
Robert Griffin III
65.6
5.1
1.3
12.4
Cam Newton
60
4.1
3.3
13.1
Source: Pro Football Reference
Griffin III ultimately flopped in Washington, but Newton and Wilson both signed second contracts worth more than $100 million.
Is Mariota bound for the former or the latter? We'll see, but he's undoubtedly ahead of the curve. Which is even more interesting than usual because many believed the Oregon star would certainly take longer than half a season to acclimate to the NFL as an effective passer.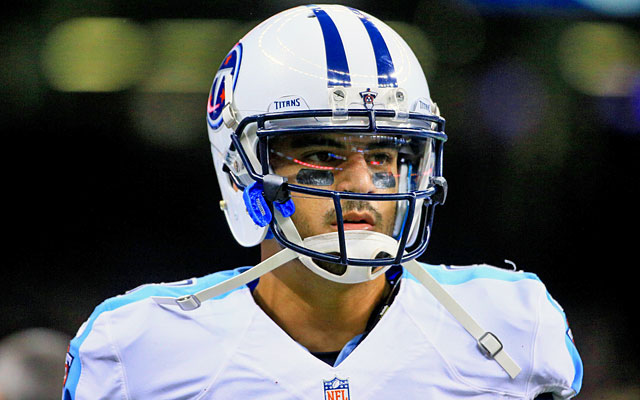 2. Big-play Blake
Blake Bortles is like, "um, what about me?"
Let me get there, man.
Bortles, the No. 3 overall selection in 2014 draft, didn't have a Mariota-esque rookie season, but he's taken a noticeable step forward in his sophomore year with the Jaguars. Although his completion percentage is down, his touchdown and interception percentages are better, and his QB rating is more than 10 points higher.
Beyond that, Bortles has been a big-play machine in 2015.
Being in the middle of a quarterback group consisting of Drew Brees, Carson Palmer, Andy Dalton and Aaron Rodgers is almost always a really good thing.
Bortles hasn't been super consistent this season; however, the Jaguars have to be happy with the explosive plays he's created through the air basically every week.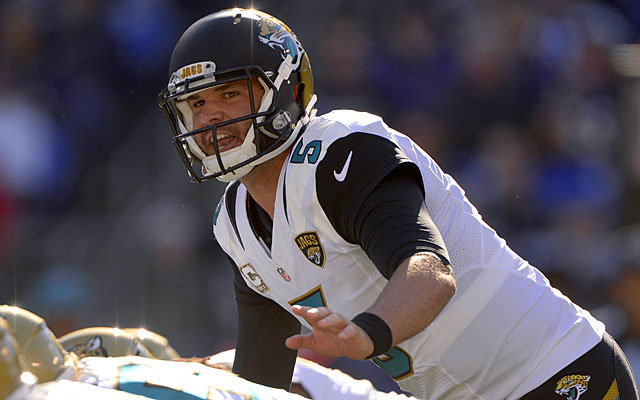 3. Put him in, coach
There is a legitimate argument that the Jaguars' best defender is a backup, situational role player.
Defensive lineman Ryan Davis is tied for the team lead with three sacks, yet he's played just 140 snaps all season, which equates to about 20 percent of plays in which Jacksonville's been on defense.
His +6.1 overall Pro Football Focus grade is the highest on his side of the football. Check out how Davis has performed compared to other Jaguars defensive ends:
Clemons vs. Jaguars defensive ends
Player
Snaps
Sacks + Hits + Hurries
Chris Clemons
382
12
Andre Branch
232
10
Ryan Davis
140
17
Source: Pro Football Focus
Gus Bradley knows slightly more about defense than I do, but the numbers? Well, they can lie if taken out of context, but here they're clear as day.
Davis has been the most productive defensive lineman for the Jaguars and needs to be on the field more, especially given the recent injury to Sen'Derrick Marks.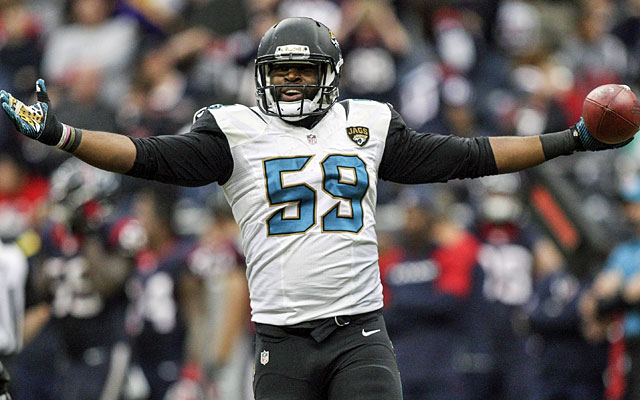 4. Titans' underrated tight end
Delanie Walker doesn't look like the prototypical tight end that's become so popular and effective in today's NFL.
He's not 6-foot-6 and 260-plus pounds with an enormous wingspan.
At 6-foot and 248 pounds with twitchy athleticism and solid blocking ability, Walker is a prototypical H-back, a crossbreed of a fullback and tight end.
Take a peek at where the versatile offensive weapon ranks among tight ends in PFF's Yards Per Route Run this season.
Ranking the tight ends (yards per route run)
Player
Yards
Routes run
Yards/route run
Rob Gronkowski
806
332
2.43
Greg Olsen
664
280
2.37
Delanie Walker
508
222
2.29
Antonio Gates
312
147
2.12
Jordan Reed
397
198
2.01
Source: Pro Football Focus
Not bad for a former sixth-round pick who can't simply box out defenders to make catches down the seam or in the end zone.
Walker, who currently leads Tennessee in every major receiving category, will be frequently targeted by Mariota in this one.
5. Allen family
So you know about Allen Hurns and Allen Robinson. They've been the go-to targets for Bortles this season.
But how impressive have they really been?
Answer: Extremely impressive, particularly in the dynamic-play department. Among the 32 receivers who have made at least 40 catches thus far in 2015, Hurns and Robinson lead the NFL in yards per grab.
Jaguars' dynamic duo
Player
Receptions
Yards/reception
TDs
Allen Hurns
41
17
7
Allen Robinson
45
16.8
7
Mike Evans
40
16.5
1
T.Y. Hilton
43
16.3
3
Rishard Matthews
42
15.4
4
Source: Pro Football Reference
Those touchdown totals are remarkable too.
Rob Gronkowski and Julian Edelman are the only pass-catching duos with more touchdowns this season (15) than Robinson and Hurns.
Prediction: Jaguars 31, Titans 27
Usually, Thursday Night Football games are relatively low-scoring. Not this week.
Hurns and Robinson will showcase their down-the-field abilities, and although Bortles and Mariota will make some mistakes with the football, overall, they'll have sound evenings.
At home, I like Jacksonville to make a few more plays against a banged-up Tennessee secondary which will lead to an important division victory.