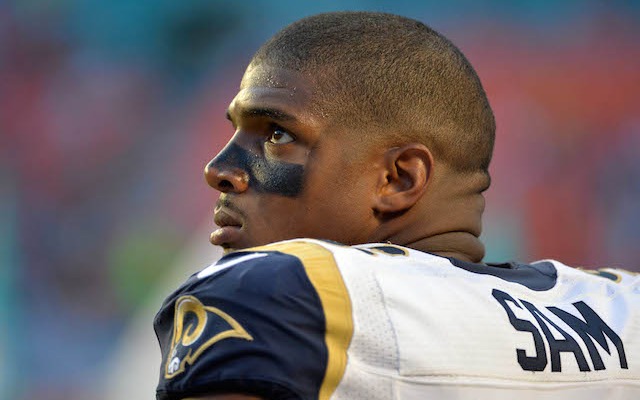 For some players, like Peyton Manning, the final week of the preseason means sitting on the bench looking around the stadium in Dallas trying to find people wearing weird Peyton Manning jerseys. Like the guy below. He was probably easy to spot in Dallas because of his Mets hat. New York doesn't even really have any Mets fans, so seeing one in Dallas is a complete shock.  
It says ELI'S BROTHER and may win for #jerseyfoul of the night @wyshynski pic.twitter.com/6C6Ivr26Bz

— Emily St Germaine (@ev0lemi) August 29, 2014
For other players, like Michael Sam, the final week of the preseason means one last shot at proving that you belong. 
And then for other players, like Derek Carr, the final week of the preseason means you come out of nowhere and start a quarterback controversy out of thin air in your best effort to start a riot in Oakland if your coach decides not to start you. 
So what's on our mind after the final week of the preseason? Glad you asked. 
Will Michael Sam make the Rams roster?
The Rams are either going to carry nine defensive linemen or 10 on their 53-man roster. If they carry 10, then Sam can start apartment hunting in St. Louis because he'll be around until at least next season.
If the Rams only carry nine linemen though, then Thursday's game against the Dolphins could be the deciding factor. If that's the case, Sam has to at least like his chances. In his final action of the preseason, the NFL's first openly gay player led the Rams defense in tackles with six.
One of the knocks on Sam going into training camp was his durability, as in, how would he handle a full game of action?
The rookie defensive lineman appeared to handle his increased playing time well. Sam made several athletic plays, including making a tackle on a screen play that was ran to the other side of the field. 
If Sam has anything to worry about going into cut day it's this: Although he was good, Ethan Westbrooks might have been better. Westbrooks outplayed Sam through the first few weeks of camp and tallied four tackles, including a sack, in the Rams' 14-13 loss to the Dolphins. 
This one's still too close to call and it won't be shocking to see Sam cut, but he definitely did everything he could to make the team. Even if the Rams do dump him, Sam still believes he'll be playing football for someone this season.
"I'm very confident I'll be on an NFL roster this fall," Sam said after the game. 
Johnny Football can do no wrong in Cleveland
Johnny Manziel had a rough first half for the Browns, going 4 of 11 for 64 yards. But don't tell that to anyone in Cleveland because they don't appear to care.
Just before halftime, one of the Cleveland-based announcers in the game had this to say of Johnny Football, "That's the most excitement I've ever had watching a guy go 4 for 11." 
It sounds ridiculous, but it's absolutely true. Every play Manziel runs feels like it could end with a touchdown, a 38-yard loss or a middle finger thrown at the opposing bench. Anything is literally possible when Johnny Football's on the field. 
Just watch this play. 
Johnny Football is here! http://t.co/I5QESbUrCp

— SB Nation GIF (@SBNationGIF) August 29, 2014
Johnny Football looked like the ol' Gunslinger Brett Favre there. Playing like Favre isn't always a good thing, but it was in that situation.
Although Manziel did make some plays, he was also erratic. Johnny Football wasn't as accurate as Brian Hoyer on Thursday, but he led the team to more points. Manziel led the Browns on three scoring drives, including an 80-yard drive that ended with a touchdown pass to Jim Dray.
Manziel overthrew his receivers several times and even hung one out to dry, but despite that, he seems to bring a spark to the Browns offense that Hoyer doesn't. Not to mention, Manziel can also go 'crazy legs' if he has to and he did that several times on Thursday, rushing for 55 yards, the second-highest total in the game.
Johnny Football finished 6 of 17 for 83 yards in the Browns 33-13 win. Hoyer ended his night 6 of 8 for 69 yards.   
How long will Blake Bortles be on the bench?
Jacksonville coach Gus Bradley has already announced that Chad Henne will be the Jaguars starting quarterback in Week 1, but don't tell that to Blake Bortles because he's playing like there's still a competition going on.
In a brief appearance in the Jaguars 24-14 loss to the Falcons, Bortles did everything a quarterback can possibly do when you only get to throw six passes. The rookie completed four of those six throws for 86 yards, including a beautiful 57-yard touchdown pass to fellow rookie Marqise Lee in the first quarter. 
BLAKE BORTLES BLAKE BORTLES BLAKE BORTLES http://t.co/ZuG2wCHScc

— SB Nation GIF (@SBNationGIF) August 28, 2014
Carr-terback controversy in Oakland
Raiders coach Dennis Allen has been saying the same thing for a while now and what Allen's been saying is that Matt Schaub is the starting quarterback in Oakland. Schaub even missed two practices this week, but that didn't faze Allen, who still insisted that Schaub was on pace to start Week 1 against the Jets. 
That was all fine until Derek Carr decided to throw a football-shaped wrench into things on Thursday. The rookie quarterback, getting his first start of the preseason, only played for 16 minutes, but in those 16 minutes, he managed to go 11 of 13 for 143 yards and three touchdowns as the Raiders shot to a 35-21 halftime lead over the Seahawks. 
If you're keeping track, Carr has now thrown four preseason touchdown passes, compared to Schaub's zero. That might be why Schaub was making the face below during the game. 
LOOK AT SCHAUB pic.twitter.com/RiUO12I8fL

— Chandler Miller (@CM_Draft) August 29, 2014
When training camp started, the guess here was that Carr would win the job, now that looks more possible than ever.
Bills take a step back
Although it was mostly good news for Sam, Manziel, Carr and Bortles, it was the opposite in Buffalo. Not only did the Bills get shutout 23-0, but it was actually worse than that. Rookie wide receiver Sammy Watkins re-injured his ribs and now, there's a chance he could miss the regular season opener.  
As if things weren't bad enough for Bills fans, EJ Manuel once again proved that throwing the football might not be his strength. With Watkins on the bench, Manuel went 3 of 7 for 56 yards. The second-year quarterback was also sacked twice in an underwhelming offensive performance that almost makes me afraid to watch the Bills play in Week 1. 
Patriots might have a new backup QB
We didn't learn a ton from the Patriots 16-13 loss to the Giants, but we did learn that Ryan Mallett might all of the sudden be expendable. If the Patriots were holding onto Mallett because they wanted to see if Jimmy Garoppolo was a capable backup to Tom Brady, then I think they got their answer on Thursday. 
Garoppolo didn't go all Derek Carr on us with three touchdown passes, but the rookie did play better than any quarterback on the Giants roster. Garoppolo finished 22 of 42 for 284 yards and a touchdown, along with one interception. It wasn't a beautiful performance, but it looked pretty enough that the Patriots should feel comfortable shopping Mallett if that's what they decide to do. 
Hold your horses
Whoever said preseason football's not worth the price of admission has never seen Tom Brady hold because that alone is worth the price of admission. Fans at the Meadowlands were treated to a cameo appearance by Brady when he held the ball for an extra point and two field goals. It wasn't much, but at least they got to see a three-time Super Bowl champion holder in action. 
Tom Brady makes thrilling cameo in Giants-Patriots game. Holds PAT after New England TD. pic.twitter.com/gYQsxMJYOI

— Eye on Football (@EyeOnNFL) August 29, 2014
Vick gets one play in Philly
There was actually a quarterback who was on the field less than Brady's three plays and that was Michael Vick, who was on the field for just one play on Thursday. With Vick making a return to Philadelphia, Jets coach Rex Ryan decided to let him start. 
That's literally all Vick did though. The Jets quarterback went in, took one snap, and then was pulled from the game. 
Michael Vick leaves after one (running) play. Saving Riley Cooper's career must have tired him out.

— Phil Sheridan (@SheridanScribe) August 28, 2014
That Riley Cooper joke, you can follow up on that here. 
Finally, to celebrate the Giants 5-0 preseason, lets end with some Manning-Face. Not only do you get the real thing, but you get bonus 'video game Manning-Face' on the left. Nothing beats bonus 'video game Manning-Face.'
Madden meets "Manning Face." You can actually find it in the game this year: http://t.co/ZUJM4KPnqj pic.twitter.com/kYOc9qjgEN

— CBS Sports (@CBSSports) August 28, 2014