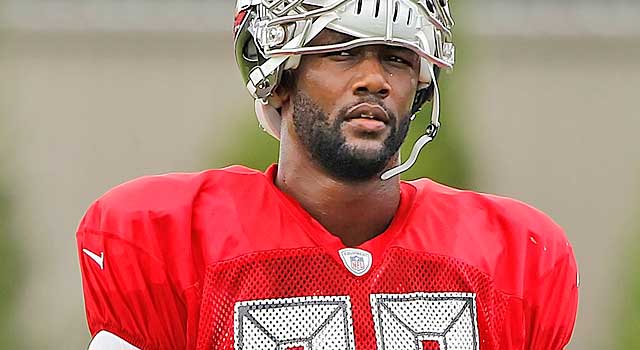 More NFL: Photos | Videos & GIFs | Training Camp updates | Manziel watch
TAMPA, Fla. -- On the surface, when evaluating the five-year, $43 million contract defensive end Michael Johnson signed with the Tampa Bay Buccaneers, it would be easy to say it's a lot of money for a guy who had 3.5 sacks last year.
But a deeper dive into Johnson's tape shows a player who was significantly better than his sack numbers. He racked up a bunch of pressures, played the run well and was a big part of the Bengals' defense with his influence on the quarterback showing up in a big way.
We all know sacks define pass rushers. So when I mentioned the skeptics to Johnson, he let out little chuckle. He's heard it before.
"I know what I did and what I meant to my team," Johnson said. "You watch the tape you can see it as well. I just want to improve on that every year. I want to improve every aspect of my game. I expect a big jump in my pass-rush production."
He joins a line featuring Gerald McCoy, arguably the best defensive tackle in the league. When Johnson got 11.5 sacks in 2012, he saw more single blocks than a year ago because Geno Atkins was healthy inside. When Atkins went down because of a knee injury last season, the rest of the line got far more attention from the offensive schemes.
"I was also asked to do a more diverse role [in Cincinnati]," Johnson said. "This will be different. Playing next to Gerald and getting my old buddy, Clint McDonald [from Seattle], down here with me has made for a smooth transition."
In the scheme employed by coach Lovie Smith and defensive coordinator Leslie Frazier, Johnson will be more of an up-field edge rusher from his right end spot.
That's why I think he has a real chance to get to make a big jump to 12-15 sacks this season.
Here are nine more pass rushers who failed to reach double-digit sacks in 2013 for a variety of reasons who I think have a real shot to reach that total this season.
Chargers OLB Melvin Ingram: This 2012 first-round pick has two sacks in two seasons, but in 2013 he suffered a torn ACL in May and played only the final month of the season. He did have a sack, two forced fumbles and a playoff interception in those games. He should be ready to really break out this season.
Browns OLB Barkevious Mingo: As a rookie, Mingo had five sacks as he was used as the third outside backer in the rotation. With more snaps this season, he should be able to get to 10 sacks -- at least. He has an explosive first step. He showed that Saturday night when he blew by the right tackle to get a sack of Dan Orlovsky of the Lions.
Jaguars DE Chris Clemons, DE: The Jaguars signed the veteran away from Seattle to help liven up their pass rush. Clemons was coming off a torn ACL suffered in January 2013, so it took him time to get going. He had only 4.5 sacks, but by the close of the season he was back to pressuring the quarterback. The concern is whether he's slowing down at 31.
Broncos OLB-DE DeMarcus Ware: He was dinged by injuries last season and had a career-low six sacks. That, coupled with his big contract, are why he's not in Dallas anymore. With Von Miller on the other side, Ware has a real chance to bounce back and be a double-digit sack guy again.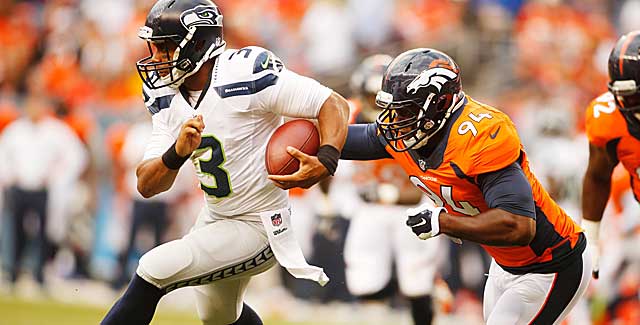 Jets OLB Quinton Coples: He opened last season battling an ankle sprain that kept him out the first two games. He finished with only 4.5 sacks, but really came on late with 3.5 sacks over the final five weeks. Playing with three dominant down linemen, he should have a lot of one-on-one chances.
Vikings DE Everson Griffen: As a backup to Jared Allen and Brian Robison, he had 5.5 sacks last season. The Vikings decided to hand Griffen a five-year, $42 million deal and let Allen walk. He will be the right end in their defense, which is the sack position. Some scouts wonder if he can be a real pass-rush force, but he has the speed.
Steelers OLB Jason Worilds: The Steelers let Lamar Woodley walk and decided that Worilds was their rusher worth paying. He had eight sacks last season. As the primary pass rusher now, he will get more attention but he has the tools to get to 12-15 sacks.
Giants DE Jason Pierre-Paul: In 2011, Pierre-Paul looked like a future star with 16 1/2 sacks. Since then he's developed back issues -- he had surgery -- which have led to a major decline. He's only 25, so there is time, but he has 8.5 sacks the past two seasons and only two in 2013.
Seahawks DE Cliff Avril: He had eight sacks last season, his first with Seattle, but was not a starter. With Clemons gone, Avril will start and play more on the right side. He had 11 sacks for the Lions in 2011, so he's capable of reaching double digits.
More Musings
• The NFL can't possibly call games as close as they did the first full weekend of the preseason when play starts for real. I know there's an emphasis on calling illegal contact in the secondary, but the officials went overboard the first weekend. I am all for more offense, but the pace of play was horrible in some games. There is no way that can continue.
• Why would the Jacksonville Jaguars go through the charade of starting Chad Henne? It's becoming more and more apparent that rookie Blake Bortles, their first-round pick, is picking things up faster than expected. He was sharp in the preseason opener against Tampa. More impressive than his stats (7 of 11 for 117 yards) was how he stood in the pocket and made throws. He also looked off receivers, a plus for a rookie. There is no reason Bortles isn't the starter in Week 1. Don't dare talk to me about psyche. He looks like Ben Roethlisberger on the field. I am not saying he's that good, or close to it, but he does resemble Big Ben on the field.
• The Tampa Bay guards are awful. The team knew there was an issue inside, but it really showed up against Jacksonville. Oniel Cousins and Jamon Meredith really struggled to handle the Jaguars' inside players. Sen'Derrick Marks looked like the best defensive tackle in the league against them. He's good, but they were bad. The Bucs have to do something to address that position and they started by demoting Meredith and inserting second-year player Jace Daniels, who signed as an undrafted player last year.
• Kansas City Chiefs rookie De'Anthony Thomas had an 80-yard punt return in his first preseason game last Thursday. The Oregon product always looked explosive in college, but he ran a 4.5 in the 40 leading up to the draft. Since he's on the smaller side, that scared teams away. But the reality is he is one of those players who plays faster than he is timed. That's why 40 times can be misleading sometimes.
• There is nothing that infuriates a team more than somebody saying they aren't tough. So when Atlanta Falcons owner Arthur Blank mentioned a lack of toughness from his team during the offseason, it didn't sit well with some players. But when we watched the first episode of Hard Knocks, that's all we heard about. Part of the problem is the Falcons are a passing team, and passing teams are considered softer than running teams. I don't buy that. It's just a perception. You can throw it and still be tough. What's tough in the NFL anyway? Fighting? Cheap shots? Talking crap? Tough is winning your battle -- no matter what the job, run or pass. Can you push the envelope and show toughness when somebody comes after a teammate? Yes, without being stupid and hurting the team. Let's not get carried away with the perception that passing teams can't be tough. That's just old-time, out-of-date thinking. The Falcons, like all NFL teams, have a lot of tough guys.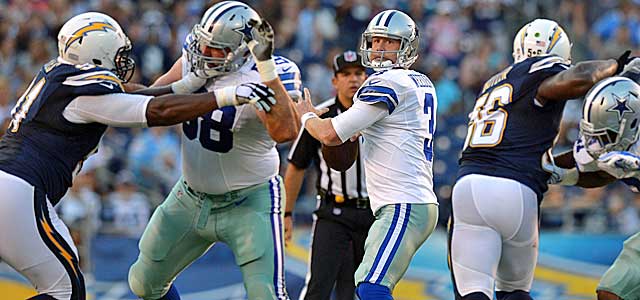 • I have to say Cowboys backup Brandon Weeden actually looked good against San Diego. He was 13 of 17 for 109 yards and a touchdown. That touchdown throw to tight end James Hanna was a dart to the back of the end zone. Weeden was actually flushed to his right and with a defender bearing down on him, he fired a shot to Hanna. Cleveland fans probably wonder where that was last season.
• Ravens rookie linebacker C.J. Mosley impressed in a big way in his preseason debut. He ran over a back to get a sack against the 49ers and showed nice speed to the ball. He could be a future star.
• The Ravens are raving about guard Kelechi Osemele, who is healthy again. He has Pro Bowl ability, but back issues limited him last season. In Osemele and Marshal Yanda, the Ravens have a heck of a guard tandem.
• I love how there's this perception that any passer who sits and learns behind a start quarterback will be good, too. What? I say that because there are some who think New England's Ryan Mallett would be worth trading for. A third-round pick in 2011, Mallet has not played at all in the regular season behind Tom Brady. And he didn't look good last week starting the preseason opener. Matt Cassel, Matt Flynn, Curtis Painter, Tim Tebow and a long list of other backups behind stars have failed when given the chance. You either have it or you don't. Rubbing against a star won't give you the same talent. Sometimes I wonder if people actually believe that.
• Saints running back Mark Ingram ran hard Friday against the Rams. He ran for 80 yards, but looked quick in doing so. Ingram former first round pick, who hasn't come close to expectations, looks leaner -- which seems to have helped his speed.
• The Seahawks line struggled last season, and some if it was because of injuries. This time, it could be because of right tackle issues. They have second-round pick Justin Britt and veteran Eric Winston working there and both had issues in the first game against Denver.
• Want a young pass rusher to watch? Broncos second-year end/linebacker Quanterus Smith. I loved him coming out of Western Kentucky, but he was limited as a rookie coming off knee surgery. Now he looks like his explosiveness is back. Learning from DeMarcus Ware and Von Miller has to help.
• I had my doubts about Ryan Fitzpatrick as Houston's starting quarterback. He didn't do anything to change that when I watched him work in practice and then again Saturday night against Arizona. He just can't drive the football, and that's a problem. The Texans are in for a long season.