There has been so much focus on the quarterbacks this week leading up to the AFC and NFC championship games, and rightfully so with all the talent that will be on the field -- but let's not forget about the defenses.
Somebody has to try and stop the quarterbacks.
In Matt Ryan and Aaron Rodgers in the NFC and Tom Brady and Ben Roethlisberger in the AFC, we have a star-studded field of passers -- including seven Super Bowl rings combined.
That will make for big challenges for all four defenses this weekend, and the two that handle it best will be going to the Super Bowl. On paper, we should expect to see a lot of scoring in the NFC, less in the AFC, although with Roethlisberger and Brady you never know.
Here's a look at all four defenses as you ready for Sunday's games:
Young player to watch
Cornerback Jalen Collins: He took over as the starter when Desmond Trufant was lost for the season with a torn pectoral muscle. He's done a nice job, even if he isn't as good as Trufant. He was good in man coverage last week against the Seahawks, although he did give up a long pass completion to Paul Richardson on a crossing route. Collins can sometimes drift in zone coverage, leaving a void, so keep an eye on that this week.
If Packers receiver Jordy Nelson can't go, that will be a big help to Atlanta secondary. Robert Alford is the other starting corner, and he has more experience. I would expect the Packers to attack Collins and nickel corner Brian Poole.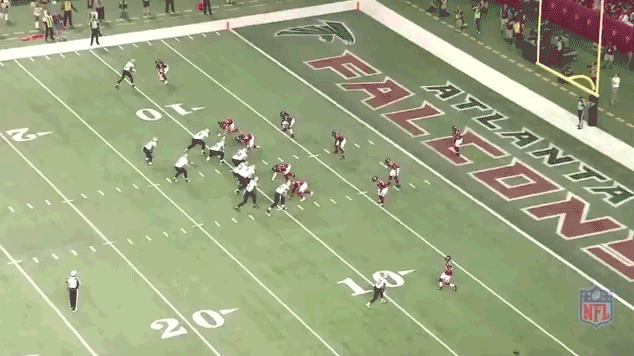 Who the Packers should attack
The Falcons sometimes seem to lose guys in zone coverage, which allows easy throws to open receivers. That's what happens when you have young players on defense. The Falcons start three rookies in linebackers Deion Jones, De'Vondre Campbell and safety Keanu Neal. They are all fast and aggressive, but that can lead to problems in coverage at times. Against Rodgers, that can lead to big plays. They also have to plaster their receivers when Rodgers does get out of the pocket.
Defensive key
Can they contain Rodgers and stop him from getting outside to make plays?
Rodgers is outstanding at extending plays, which will put a lot of pressure on the edge pass rushers, especially Vic Beasley, to keep him contained. The Packers are great at getting away from defensive backs when Rodgers is outside the pocket. He has to be contained. Beasley didn't get a sack last week, and that can't happen here.
---
Green Bay Packers
Young player to watch
Cornerback LaDarius Gunter: When the Falcons beat the Packers 33-32 in Week 8, Gunter was assigned the duties to cover Julio Jones a lot in man situations. He passed big time. Using his strength as a big corner, he was able to get his hands on Jones a lot and limit him to three catches for 31 yards.
Gunter has had his moments against some receivers this season like Jones and Alshon Jefferey, and he played a big part in limiting Odell Beckham Jr. two weeks ago. But he struggled against the Cowboys, and Dez Bryant, giving up a bunch of big plays.
It will be interesting to see if this undrafted second-year player will spend a lot of time on Jones again. I think he will, which will make that battle a real focal point of the game.
In the first meeting, he got called for a questionable pass-interference penalty when in a man situation on Jones. But he also made some nice plays. He didn't back down from the challenge.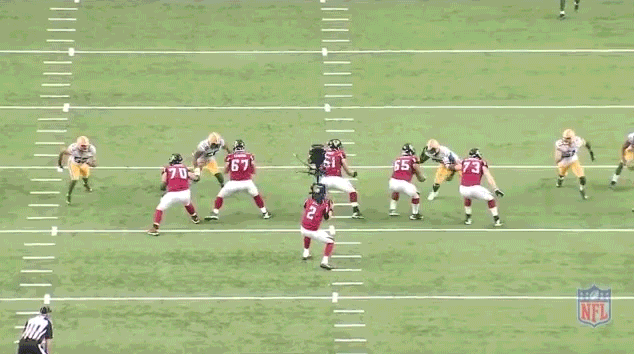 Who the Falcons should attack
The Green Bay linebackers have coverage issues that show up on a regular basis. With the Falcons getting 85 catches from their running backs during the regular season, I would imagine they will press the linebackers to cover this week. That means Joe Thomas, their best coverage linebacker, and Jake Ryan have to be up to the challenge. I don't know if they can be. Those backs are outstanding in the passing game.
Defensive key
They have to get old guys Clay Matthews and Julius Peppers to show up in the pass rush. If not, Matt Ryan will kill them. Matthews had five sacks in the regular season, but he missed three games, including the first one with the Falcons. He has one sack in two playoff games. Peppers had 7½ sacks in the regular season and one in the playoffs so far. He had a sack in the first meeting against the Falcons. These two have to get after Ryan -- or else. The Falcons run a lot of long-developing plays, and pressure can kill those.
---
Young player to watch
Outside linebacker Bud Dupree: When the Steelers drafted Dupree in the first round in 2015, I thought he'd be the perfect player for their defense, a powerful rusher who could also play the run. He flashed at times as a rookie in his four starts, getting four sacks, but so much more was expected in 2016.
But Dupree missed the first nine games with an abdominal injury and his absence was felt. Since returning, the Steelers defense is much better. Dupree had 4½ sacks in the final five games and has one plus a big hit to cause an interception in the playoffs. His ability to rush Tom Brady will be huge this week.
Dupree lost 20 pounds with a no-carbs diet during the offseason, and that shows up now on the field. He is much faster getting to the football. Dupree is also good against the run and chases down a lot of plays in the run game.
Last week, he beat Chiefs right tackle Mitchell Schwartz to hit Alex Smith, causing the ball to flutter and enabling Ryan Shazier to pick it off. He made a few other plays in the run game as well.
The Steelers can move him around, sometimes lining him up standing up inside, but he should spend a lot of time working against right tackle Marcus Cannon. Keep an eye on that one.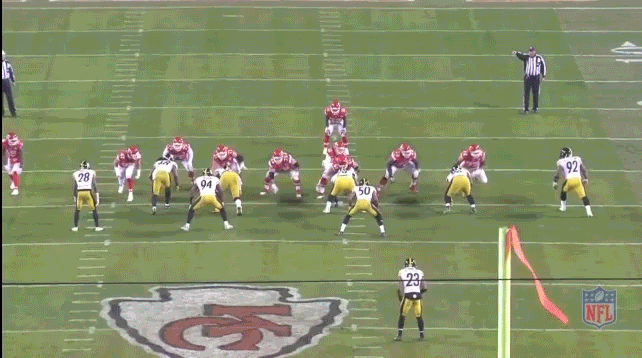 Who the Patriots should attack
Free safety Mike Mitchell is a big hitter, sometimes too big based on some his shots being flagged. But he isn't great in coverage. I would think that the Patriots will find a way to get him in some bad coverage situations.
When the Steelers go to a single-high safety look, it leaves Mitchell in the middle of the field. With him being so aggressive, Brady will try and use that against him with his eyes -- moving him off the spot to create seams to throw.
Defensive key
Try to fool Brady. He is outstanding at dissecting before the snap, which is why coordinator Keith Butler will be big in this one for the Steelers. They have to give him a lot of looks that will slow him down a tick.
"You have to make him think pre-snap," one AFC defensive back said. "If he knows what you are in, you are dead."
The Steelers will show a lot of looks, especially up front. They have to confuse Brady and the much-improved offensive line. They aren't good enough on the back end to hold up for an entire game.
---
New England Patriots
Young player to watch
Defensive end Trey Flowers: When the Patriots traded pass rusher Chandler Jones to the Arizona Cardinals before the season, many wondered who would pick up the slack. That guy was Flowers.
In his second season, he has emerged as a good pass rusher, leading the team with seven sacks, all in the final nine games. He didn't get one last week against Houston, but he had a handful of pressures.
At 6-2, 265 pounds, this 23-year-old will be big this weekend against the Steelers. He will have to win his battles with left tackle Alejandro Villanueva to slow the Steelers offense.
The good news is Flowers is also good in the run game. That will be big at trying to slow Le'Veon Bell. Flowers made several tackles last week against the Texans, even beating a double to do so on one play. If he can handle things up front, freeing up the linebackers to run to Bell, it will impact the run game. He can also get penetration to slow Pittsburgh's power game.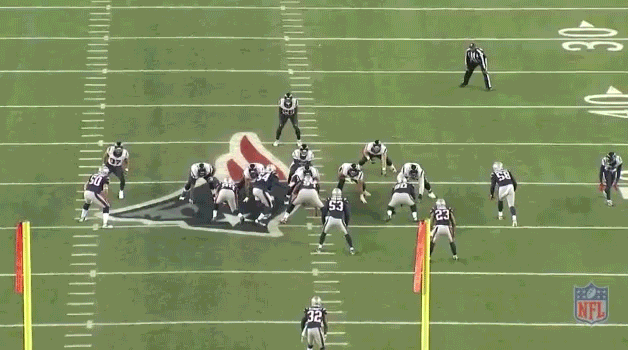 Who the Steelers should attack
The Patriots led the NFL in scoring defense, but they played just two teams in the top-10 in scoring, and one of those was the Steelers without Roethlisberger. They played four games against teams ranked in the bottom of the NFL in scoring.
They haven't played many good quarterbacks this season, so that means the secondary will be challenged. And two players who I would attack are corner Eric Rowe and safety Patrick Chung.
Since coming over in a trade from the Eagles, Rowe has been a starter at times -- and was inactive at others. He has been better than he was with the Eagles -- where he was called a bust -- but I think he can be attacked. Chung has had a bad year all the way around after a good one in 2015. He has never been great in coverage, so if the Steelers can get him matched up in some bad situations it could mean big plays.
Defensive key
Stopping the run. The Patriots were third in rush defense and eighth in yards per rush allowed, so they had a nice season in that area. They need a big game here to slow down Bell. I think they will let Malcolm Butler match up with Antonio Brown and the focus everywhere else will be to take away Bell. That's risky with a receiver like Brown, but Butler is an outstanding cover player.
Defensive tackles Malcom Brown and Alan Branch both had good games last week in the run-defense department. They need another here.