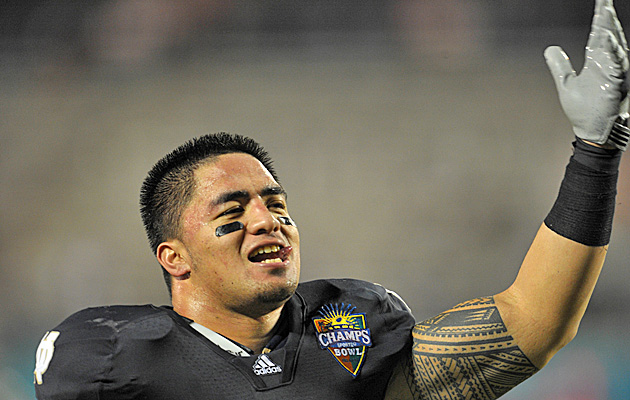 Manti Te'o's impact on the Notre Dame defense can't be understated. (US Presswire)
Any top 10 list about college football's most indispensable or irreplaceable players figures to be quarterback-heavy, but what if you can't include quarterbacks? Then it opens it up quite a bit. That's the subject of this week's Tuesday Top 10. Note: I'm factoring in how strong a team is expected to be in 2012 (all of these guys are on teams in my Top 25) as well as their role on the team and the quality of players at their position behind them.
1. Manti Te'o, Notre Dame, MLB: The big Hawaiian has been everything he was touted to be in the recruiting process. He has had a big impact on the Notre Dame defense going all the way back to his freshman season, standing out for a program that has long lacked difference-makers on D. There are other defenders who may be higher on NFL scouts' lists, but no one who is more vital to his team's hopes in 2012. Last season, Te'o piled up 128 tackles and five sacks, but keep in mind, he is also the only one of the Irish's top five tacklers who returns this season. The Irish do have some promising young players emerging in their front seven, but those guys are all pretty green. That makes Te'o's experience and leadership that much more significant. The 6-foot-2, 255-pounder also will be a key to coping with a bunch of the run-heavy teams on the Irish's stacked schedule this fall.
2. DeAnthony Thomas, Oregon, RB/WR/KR: The nation's most exciting player is a perfect fit in Chip Kelly's frenetic system. The Ducks need to replace the explosive LaMichael James, but still have Kenjon Barner, who has a lot of experience and should be a 1000-yard back. Barner notwithstanding, Thomas just does so much for the Ducks and creates so many additional headaches for people. Last year, as a true freshman, he averaged almost 11 yards per carry; he was also Oregon's leading receiver and no one in the college game is a more dangerous returnman. It is scary to think how much more lethal he could be in Year Two.
3. Jarvis Jones Georgia, OLB: The USC transfer was the star of a fierce Dawgs defense in 2011, notching an SEC-best 13.5 sacks to go with 19.5 tackles for loss. Jones, though, should be even more valuable and is higher on this list when you consider that Georgia is expected to be without several key defenders early on while it deals with suspensions for discipline: Among those are starting cornerback Sanders Commings, safety Bacarri Rambo and linebacker Alex Ogletree.
4. Tyrann Mathieu, LSU, D/KR: The "D" here simply stands for defender, because he's used as so much more than just a cornerback. There were better pure covermen in college football last season than the Honey Badger, starting with his teammate Mo Claiborne. But few guys could impact a game the way the 5-9, 185-pounder could. Mathieu is the quintessential ball-hawking, big-play man, lining up all over the place. Rival teams saw him as more of a linebacker than a cornerback in how he is deployed. LSU will miss Claiborne (gone as a first-rounder) but the Tigers still are ridiculously deep at CB and on the defense in general. It's also no stretch to think that safety Eric Reid is their best DB, but Mathieu's also a big-time return guy and a true difference-maker and tone-setter.
5. Stepfan Taylor, Stanford, RB: Last year, it was Andrew Luck's show. This year, expect things to revolve around the 215-pound Taylor, one of the country's most underrated players. There are a lot of concerns about who replaces Luck -- Brett Nottingham or Josh Nunes -- but whoever gets the call is going to lean on Taylor, a key cog for a team that wants to set-up the play-action game after wearing people out. Some in Palo Alto even think Taylor could be a 2000-yard back this season.
6. Rex Burkhead. Nebraska, RB: You certainly could make a case that Burkhead is even more valuable to his offense than some of the other RBs are on this list above him are to theirs. The guy did rush for 1,357 yards last season. Next best among Husker RBs was Ameer Abdullah's 150. Burkhead's presence makes Taylor Martinez so much more dangerous. My reason why Burkhead's not even higher is, like with Stepfan Taylor, I'm not sold his team has the potential to be a Top 10 team this season even if he has a great year.
7. Marcus Lattimore, South Carolina, RB: Steve Spurrier experienced life without his star in 2011 and the Gamecocks fared pretty well after Lattimore was lost in mid-October to a knee injury thanks to Brandon Wilds, Kenny Miles and QB Connor Shaw's own wheels. The Gamecocks averaged over 185 yards on the ground in those and eclipsed the 200-yard mark against Florida and arch-rival Clemson. Would they have been even better with Lattimore, no doubt, but this is case where the options behind the stud are still pretty good.
8. Montee Ball, Wisconsin, RB: Ball got in much better shape in 2011 and emerged as record-setting back and a legit Heisman contender. Still, the Badgers are loaded in the backfield with an already proven big-time RB in junior James White plus a handful of gifted guys behind their first two.
9. Knile Davis, Arkansas, RB: Similar to Lattimore and Ball, Davis would be even higher if his team didn't have such other talented and proven backs behind him. In 2011, with Davis out due to injury, Dennis Johnson ran for almost 700 yards and Ronnie Wingo went for almost 500. Johnson's also a really good receiver. Of course, neither is as explosive or the Freak that Davis is -- and don't forget that QB Tyler Wilson doesn't have the experienced WRs that he had in 2011. So why is Davis lower on this list than Ball and Lattimore? Davis' team has the best QB of the bunch.
10a. Star Lotulelei, Utah, DT: The biggest reason why the nation's best interior defensive lineman isn't higher on this list is because even if he's able to be every bit of the force he was in 2011 or even more, it's a stretch to think the Utes will be able to crack the top 15. But don't underestimate Lotulelei. No one out West does after witnessing him and what the Pac-12's top D could do, and as I wrote a few weeks back, Lotulelei has changed his diet and gotten into much better shape this season.
10b. Barrett Jones, Alabama, OL: The heartbeat of the country's top O-line, Jones can play anywhere on the Tide's front and succeed. When Nick Saban was asked last month if he's ever been around a lineman like Jones and who offers this kind of versatility, the Alabama coach went all the way back and mentioned the great Bruce Matthews, a Pro Football Hall of Famer. That's a mouthful.