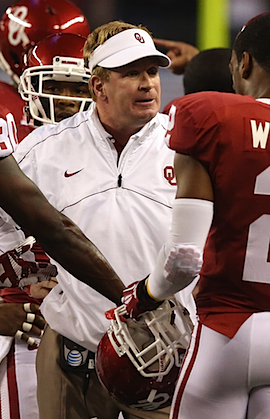 Mike Stoops is in his second stint as Oklahoma's defensive coordinator, a job he held from 1999-2003. (US Presswire)
Last January, Mike Stoops was welcomed back to Oklahoma like the prodigal son -- or prodigal brother, to be more precise -- reuniting after eight years with his older brother, Bob, and his old job as defensive coordinator on Bob's staff. This January, on the heels of the worst defensive season in the elder Stoops' 14-year tenure as head coach, the brothers are going back to the drawing board.
According to The Oklahoman, Sooner coaches are telling recruits the Oklahoma defense will likely shift to a 3–4 scheme this fall, a potentially radical shift for a staff that has made its living on the 4–3. If so, the decision makes sense on multiple levels, none of them more important than turning around a unit that ran out of gas in 2012.
Ostensibly the change is being dictated by personnel: Last year's top four defensive tackles, David King, Jamarkus McFarland, Casey Walker and Stacy McGee, are all on their way out, along with the 80 combined starts they amassed over the last three years. In their place, there's Jordan Phillips, a 6-foot-6, 315-pound sophomore who came off the bench in 10 games as a redshirt freshman, and literally no one else who has seen significant game time in the middle of the line.
The rest of the depth chart at defensive tackle includes a newly arrived transfer from junior college, Quincy Russell, who is already enrolled ahead of spring practice; a redshirt freshman, Jordan Wade, who sat out last season; three true freshmen (Kerrick Huggins, Charles Walker, Matthew Romar) expected to sign letters of intent next week; and a handful of veterans (Torrea Peterson, Marquis Anderson, Damon Williams) whose only playing time has come at the end of blowouts.
Moving to a 3–4 scheme can ease the burden of finding enough viable bodies inside by reducing the number of tackles on the field at any given time from two to one. It also means more speed on the field in the form of an additional linebacker, another tweak in response to the spread-friendly tendencies of Big 12 offenses. For the past several seasons, Oklahoma has increasingly replaced the third linebacker in a traditional 4–3 set with a fifth defensive back, essentially turning the base defense into a 4–2–5. If the transition to a 3–4 philosophy sticks, it will probably look more like a 3–3–5, with the nickel position manned by a hybrid safety/linebacker who can hold up against the run. Who exactly that will be this fall is an open question.
But the shift is also a response to the defense's collapse over the second half of the season. Through eight games, the Sooners led the Big 12 in both yards and points allowed, having held Kansas State (24 points), Texas (21) and Texas Tech (20) to season lows on the scoreboard. Over the last five, though, it was a different story, with OU yielding 34 points to Baylor, 49 to West Virginia and 48 to Oklahoma State in consecutive weeks in November -- all shootout victories, thanks to the Sooners offense -- and 41 points to Texas A&M in a blowout loss in the Cotton Bowl.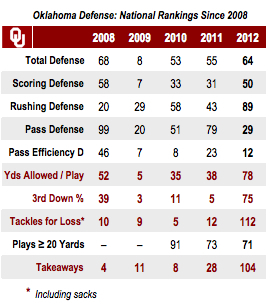 The trip to West Virginia was arguably the worst defensive effort in school history, resulting in a staggering 778 yards of total offense (458 rushing) by the Mountaineers, the most ever allowed by an Oklahoma defense; on the same night, WVU wide receiver Tavon Austin alone racked up more all-purpose yards against the Sooners (572) than any FBS player in any game in more than a decade. In the bowl game, Texas A&M went off for 633 yards of total offense, a Cotton Bowl record, the vast majority from the arm and legs of quarterback Johnny Manziel.
For the season, Oklahoma finished 64th nationally in total defense, 50th in scoring and 89th against the run, ultimately allowing more yards (398) and points (25.5) per game than any defense of the Stoops era. The Sooners also forced just 16 takeaways, a stark departure from their usual knack for thievery, and finished dead last in the conference in tackles for loss, another category in which they've typically excelled. On third downs, they plummeted from fifth nationally in getting opposing offenses off the field in 2011 to 75th.
Under any circumstances, 2013 would qualify as a rebuilding job, with nine starters on their way out and only four coming back. Aside from the void at defensive tackle, the Sooners will be replacing four of last year's top five tacklers and a pair of All-Big 12 picks in the secondary, cornerback Demontre Hurst and strong safety Tony Jefferson, where they may very well be forced to fill Jefferson's spot with a freshman. (The leading candidates heading into the spring are redshirts Hatari Byrd and Ahmad Thomas.) After the way 2012 ended, though, with the talent on hand, there's really nowhere to go but up.