Celebrating the weekend's losers, on the scoreboard and in spirit.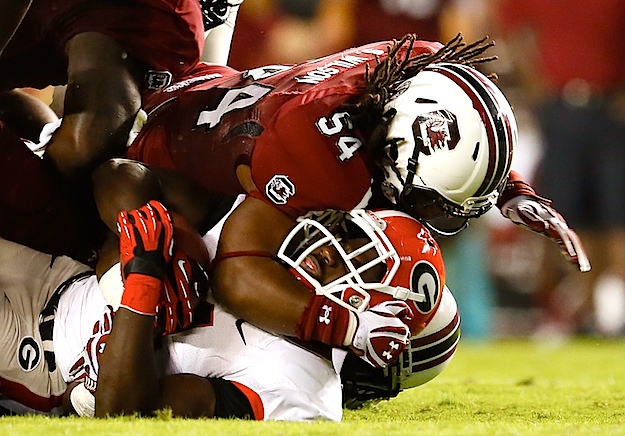 • They s'posed to be SEC. Georgia's elite pretensions were quickly crushed by South Carolina on Saturday in a 35-7 debacle that wasn't nearly that close, and even the more rational, patient corners of the UGA fan base were left to wonder why they keep falling for the notion that their team is a first-rate SEC power. Since opening the 2008 season as the No. 1 team in both major polls, the Bulldogs are 1-9 against top-10 opponents, losing by an average margin of 18 points per game. Including the flop in Columbia, four of those nine defeats have come by at least 24 points; only one, a 20-13 nail-biter against LSU in 2009, was decided by single digits, and that edition of LSU wound up nowhere near the top 10 after finishing just 4-4 from that point on.
In fact, over the same four-year span, Georgia is just 2-14 against teams that landed anywhere in the final polls, and entered this season riding a nine-game losing streak in that category. Assuming the Gamecocks are on their way to a ranked finish, that streak is now at 10, and counting.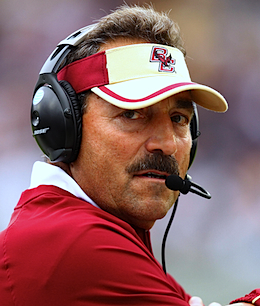 • Knights of the chopping block. Long-suffering Boston College fans didn't think there was any pride left to wound after three long, mostly fruitless seasons under coach Frank Spaziani, but the 2012 Eagles managed to redefine "rock bottom" Saturday in a humiliating 34-31 loss at Army. Coming into the weekend, the Black Knights were 0-4 and had just been mocked in this space for failing to score a touchdown in a 23-3 collapse against Stony Brook. (Stony Brook!) Against Boston College, the academy found its footing and then some, racking up a staggering 516 yards rushing en route to the upset.
Through five games, the Eagles are 1-4 with the lone victory coming over an FCS team (Maine) and Florida State, Notre Dame, Virginia Tech and N.C. State still on the schedule. At this point, there are two types of Boston College fan: The ones who had been resigned to letting Spaziani "retire" at the end of the season but now want him gone ASAP, and the ones who already wanted Spaz gone and have nothing new to add except increasingly inventive insults.
Their only solace is that they've just been introduced to the man who will wield the ax at some point over the next few months.
• For whom the Bull tolls. With Saturday's deflating, 37-28 loss to Temple – at home – South Florida has lost four straight in 2012 and 10 of its last 11 in Big East play dating to 2010. Skip Holtz, this hot seat's for you:
The unrest among South Florida fans and Tuesday's basketball media day led athletic director Doug Woolard to address the football situation in a three-paragraph statement.

"I know Skip, his staff and the players are working diligently to get that next win, and to find sustained success. Certainy, the results, in terms of wins and losses to date, are disappointing to everyone involved with our program -- the coaches, the players, athletic administration and our passionate fans. Our expecations for this program are very high. I also know this team has a lot of football left to play and great opportunities in front of it. We're only six games into a 12-game regular season."
Holtz is also less than one year into a contract extension that will reportedly pay him $2 million a year through 2017, which suddenly doesn't look like quite such a bargain.
• WORST PLAY(S) OF THE WEEK: Canes contract the dropsies.
Notre Dame held Miami without a touchdown in a 41-3 blowout in Chicago, but not without plenty of help from the Hurricanes themselves – especially the wide receivers, who contributed generously to the Irish's defensive effort with a plague of drops, including two certain touchdowns by Miami's best receiver, Phillip Dorsett, on the opening series of the game:
Altogether, the Canes dropped at least seven passes and committed a litany of other crucial mistakes in the loss. For his part, Dorsett – just one week removed from bringing in a game-winning bomb to cap a career day against NC State – told the local media that he received death threats over the early touchdown drops. I'm guessing that's not going to prove to be very effective motivation.
• WORST GAME OF THE WEEK: Syracuse 14, Pittsburgh 13
The current Big East/future ACC rivals managed to confirm every unflattering stereotype about both conferences in a nationally televised Friday night drag featuring a grand total of two offensive touchdowns and three points in the second half. Pitt controlled the game statistically, but also gave up a decisive touchdown on a fumble return by the Orange's Dyshawn Davis, and even failed to convert the narrowest possible margin into a dramatic finish: Clinging to a one-point lead, Syracuse's offense managed to kill the final five minutes on 10 consecutive runs to end the game.
• LOWLIGHT HALL OF FAME:  Trojans' old hands are all thumbs.
USC's offense features an All-America quarterback, Matt Barkley, and an All-America center, Khaled Holmes, who played together as high school teammates, and who could very well go in the first round together in next year's NFL draft. But on their first two series at Utah, to quote a certain USC recruit on Twitter, the vets looked like they were back in Pop Warner:
If you're scoring at home, that's two botched exchanges between Holmes and Barkley in the span of four plays, two quick turnovers and a 14-0 deficit for the Trojans barely two minutes into the game.
Of course, once they got the most basic element of the game down, USC proceeded to outscore the Utes 38-7 over the next 57 minutes, and won easily on the strength of three Barkley touchdown passes. Maybe they just need the challenge, or something.
• THE DREADFUL DOZEN. The worst of the worst, in ascending order…
- - -
1. Tulane (0-5). Green Wave still rank dead last nationally in total and scoring offense, but just turned in their highest-scoring effort of the season in a 41-13 loss to Louisiana-Lafayette.
2. UMass (0-6). Minutemen improved on a weekly basis through September, then walked into a 52-14 thumping at Western Michigan.
3. Eastern Michigan (0-5). Eagles have yielded more rushing yards (1,527) and touchdowns (17) in five games than many defenses will allow all season.
4. New Mexico State (1-5). Aggies make their "Dreadful Dozen" debut after losing to "Dreadful Dozen" mainstay Idaho on the heels of back-to-back-to-back losses against UTEP, New Mexico and Texas-San Antonio.
5. Florida Atlantic (1-4). Owls are winless since a rousing, come-from-behind win over Wagner in the season opener.
6.Southern Miss (0-5). Usually proud Golden Eagles rank 100th or worse nationally in total offense, scoring offense, scoring defense, passing offense, pass efficiency, pass efficiency defense and turnover margin.
7. Boston College (1-4). With another losing record on the horizon and a new athletic director in the fold, only question is whether Frank Spaziani makes it to Thanksgiving.
8. Army (1-4). A win is a win, but a 20-point loss to Stony Brook is still a 20-point loss to Stony Brook.
9. Auburn (1-4). If not for a narrow overtime escape against Louisiana-Monroe, the Tigers would be 0-5, and appear to be well on their way to 0-8 in the SEC.
10. Colorado (1-4). Buffaloes turned in their best effort of the season Saturday by taking the day off.
11. Colorado State (1-5). If only the Rams had been so lucky: Instead, they were pounded by Fresno State, 28-7.
12. Kansas (1-4). Jayhawks were so overmatched in a 56-16 blowout at Kansas State, Charlie Weis is dropping the pretense and openly devoting the rest of 2012 to laying the groundwork for 2013.
Next week in the Worst: Colorado takes the national stage on Thursday night and Auburn limps into Ole Miss with the SEC West basement on the line.