BUFORD, Ga. -- The 2012 Elite 11 tour headed down to the South for the second of six stops this spring and plenty of talent from across the country came out to the impressive facilities of Buford High School to show they had what it takes to be among the top quarterbacks in the class of 2013. From as far away as Minnesota, some 86 signal-callers came to compete for a coveted invite to Southern California this summer but only one was able to say he earned MVP.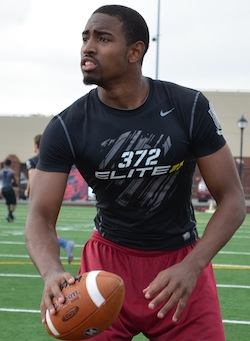 Surprisingly, coaches didn't have to look too far to hand out a golden ticket as Marietta (Ga.) quarterback Anthony Jennings was named the top performer after a strong two-hour throwing session.

"It's a great feeling," Jennings said. "I work everyday in the offseason so I feel like this isn't really a surprise. I just really appreciate this invite."

A dual-threat on the field, Jennings looked like a seasoned pocket passer on a slightly overcast Friday afternoon. He displayed a smooth delivery and quick motion while dropping back that got the ball to the receivers quickly, only a handful of the traits that earned him top billing despite going against several other big name quarterbacks that showed up.

"I just kept my intensity up and tried to be coachable and be competitive," he said. "I think those are the things that made me stick out to the coaches."

The 6-foot-1, 200-pounder already has several scholarship offers and was consistent during drills throughout the day to make it to the final group and really show off his arm. Jennings spun the ball well during the two-minute drill that closed the camp and showed poise and solid footwork that already has college coaches excited about what he brings to the table.

"Nobody wants to come out and be second or third," Jennings said. "I came out trying to be the first quarterback here and get the invite to LA. I want to compete and be the top quarterback in the nation."

With the evaluation period just beginning and an Elite 11 MVP in his back pocket, Jennings figures to increase the number of offers on a list that includes 16 schools already. The quarterback is already eyeing a few programs but for the moment is just trying to go with the flow of the recruiting process.

"I've got West Virginia, Virginia Tech, South Florida, Mississippi State, Ole Miss, Syracuse and North Carolina. So I have a few," he said. "I really don't know what this (Elite 11 invite) will do. My film has been out there but this may increase my offers."

Jennings recently had minor knee surgery but looked close to 100% on his five- and seven-step drops. He hasn't been active in taking visits with all that has gone on but is looking into taking a few before making a decision this year.

"I don't have any planned right now but I'm pretty sure I'm going to go to a couple of schools," he said. "We have spring practice in May so probably after that or before the season starts I'll probably have a decision."

With plenty of invites to hand out this year it's doubtful that Jennings becomes the only Elite 11 camper from the Atlanta stop but there's no doubt that he earned the first invite.

Ramsey relaxed and locked in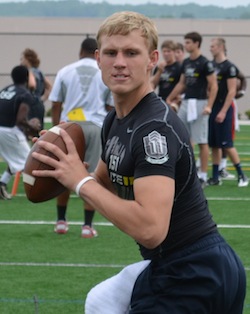 Another local quarterback who made an impression at the Elite 11 was Kingsland (Ga.) signal-caller Brice Ramsey. He made the final group and was really came into his own during the second half of the day in what is a bit of a new environment for him.

"It was loaded with a whole bunch of talent," Ramsey said. "It's a different setting than most (camps) I've been to before. It was a lot of fun to see what was out there and see other people out here to compete against and get a feel for everyone."

As one of only a handful of guys at the event that has made a pledge to a school already, Ramsey may have had a target on his back from other quarterbacks but was calm and collected once he got into a rhythm. He was on the money with his deep throws and hit several receivers in stride when working the middle of the field on a day that could have easily been spent working out at his own high school.

"I felt relaxed because I don't really have anything to worry about," he said. "I've got the scholarships and stuff but I'm just out here competing," Ramsey said. "I don't have to be here to be honest with you but I love to compete and wanted to come out."

Elite 11 alum and current Georgia starting quarterback Aaron Murray came out to the camp to talk with the players and give them advice on getting to the next level and staying there. Ramsey is friendly with his predecessor between the hedges and was very appreciative of Murray coming out not only to speak but also representing the school by wearing a big 'Georgia' sweatshirt.

"It's good to see people like that out here supporting everyone," Ramsey said. "He's a good guy and I can't wait to say I'll be a teammate of his one day."

Ramsey hooked up often with Tyrone (Ga.) wide receiver Demarre Kitt, a 2014 Georgia commit. The Bulldogs have been rolling on the recruiting trail with Kitt's recent pledge a sign of how well the program has been doing and Ramsey is doing his part as a recruiter to get another 'dream team' recruiting class to Athens.

"We're trying to pick up some big timers," he said. "If we could just get the in-state people to stay we'll be alright. They being stubborn though. I'm working on Reuben (Foster) but he's out there in Alabama so I guess he's solid I guess. Laremy Tunsil and Montravious Adams are the two big names right now that we're trying to get."

The four-star quarterback is ranked 55th overall in the class of 2013 and should still be in the mix for an invite to the national competition.

Ferguson is golden at Elite 11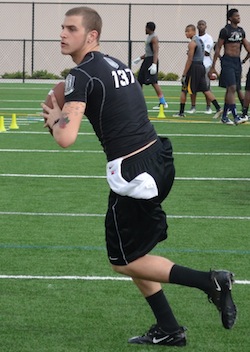 Matthews (N.C.) quarterback Riley Ferguson made the drive down to the Elite 11 and earned his place among the final group, showing off a live arm and solid play to accomplish just what he set out to do Friday.

"It was great. I pretty much used today as a tool," Ferguson said. "Every coach out here is unbelievable. I just take everything in and try and help out my skills. You can work on everything no matter how good you are."

The 6-foot-2, 190-pounder was impressive at times during the camp but occasionally lacked a spiral with his throws. When Ferguson was able to get a good drop back and get his feet set properly there were few signal-callers who could match his accuracy, which led to him taking a Golden Arm Award home.

"It means a lot to me," he said. "It's for accuracy and that means a lot because some people say you need arm strength and everything but you have to have accuracy behind that too. I'm just proving that I have everything and trying to get better and show that I can go to the next level and play good and then hopefully go to the next level after that."

Ferguson claims five offers and will no doubt see his recruitment pick up as the evaluation period gets into full swing in the coming weeks. He is taking things slow but is still looking to get out and take a few unofficial visits as he searches for the right fit.

"Things are going pretty good right now," he said. "I went to Alabama last weekend and that was real good. I'm trying to get a couple more visits in and see where I like. I liked Alabama a lot so I'm just trying to get that feeling so I can commit to wherever I want to go to college."

Though he doesn't have a short list, Alabama is no doubt one of the schools in the running for Ferguson's services. While it is likely the staff will wait until seeing quarterbacks in their camp before really chasing a guy, Ferguson thinks very highly of the Crimson Tide following his visit.

"They're up there near the top," he said. "I just had a real good feeling when I went there. I'll probably have a top five at the end of the spring and then make my decision sometime in the summer.

"I loved the staff. When I was down there I was talking to coach (Chris) Rumph and he's great, a real cool dude. I talked to coach (Nick) Saban and coach (Doug Nussmeier), sat in a meeting with them and just sitting in the room with AJ McCarron and them watching film - I just took it all in. When I left I was just amazed by everything."

Virginia Tech is likely the next stop for Ferguson in the coming few weeks with nearby North Carolina also a player for his commitment.

News and Notes

- The final group was Jackson (Miss.) quarterback Ryan Buchanan, Metairie (La.) quarterback Damian Williams, Plantation (Fla.) quarterback Tyler Cogswell, Brentwood (Tenn.) quarterback Max Staver, Ferguson, Ramsey and Jennings.

- Damian Williams was very impressive to say the least. He's a smaller, more compact guy that looks like a linebacker or running back but he certainly could gun it. He has a plus arm and threw a very nice spiral. You can tell he's a dual-threat guy but don't discount his passing skills after a breakout Elite 11 performance.

- Max Staver was another signal-caller who exceeded expectations, especially during the route throwing portion. He's got a good arm and was throwing darts all over the place with solid footwork that could always improve. He's got great size at around 6-foot-4 and based on his performance, it wouldn't be surprising to see him add to his offer list down the road.

- Shawnee (Kan.) quarterback Skyler Windmiller had one of the strongest arms out of anybody at the camp and could really spin it down the field. It was surprising at how much the ball jumped out of his hand considering he didn't really get his body into throws and really just used all arm. He wasn't perfect by any means but definitely turned a few heads. Boise State commit and Scottsdale (Ariz.) QB Ryan Finley also looked sharp.

- 2012 Auburn signee Jaquay Williams and 2014 Georgia commit Demarre Kitt were among the notable players at wide receiver.

- In addition to Murray, Clemson quarterback and Elite 11 Tajh Boyd stopped by to speak.

- Ellenwood (Ga.) quarterback and Vanderbilt commit Johnathon McCrary did not have a great day. He's certainly athletic with a great frame and could probably play wide out if needed but he didn't have a great day as a QB. His footwork and mechanics need work and more than anything the ball just didn't jump out of his hand. There were plenty of times that he flashed his talent but it just didn't seem like he was in to competing with the best guys.

- Hollywood (Fla.) signal-caller Sean White (the QB MVP of the Miami Nike Camp), Gainesville (Ga.) quarterback DeShaun Watson (a Clemson commit), Blackshear (Ga.) quarterback Tyler Harris, Davidson (N.C.) quarterback Will Grier and Marrietta (Ga.) quarterback Elijah Staley were some of the 2014 players who had solid performances.