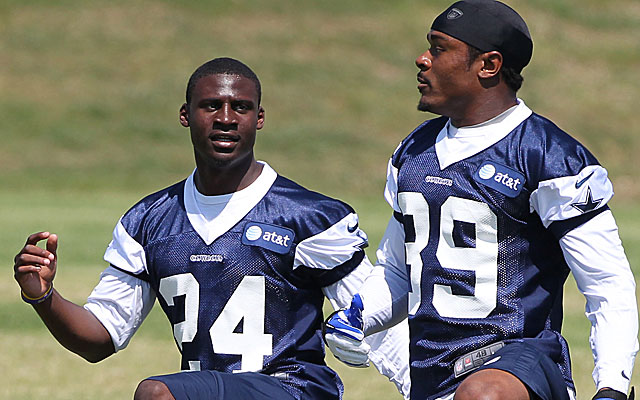 Morris Claiborne (24) will have the benefit of playing with veteran Brandon Carr (39). (US Presswire)
The definition of "impact" for a rookie can vary. Obviously, Cam Newton had tremendous success last year. No one's questioning that; he was worth a couple wins in 2011, which is no small feat for a rookie. But there's an argument that guys like Von Miller, A.J. Green, Julio Jones and Aldon Smith had bigger impact in terms of putting talented teams over the top for the playoffs.
In assessing the top impact rookies, I'm factoring in statistical production, actual game impact and playoff impact as well. So, yeah, it stinks to be a quarterback taken with the top pick. You'll make an impact, but short of leading your team to a miraculous playoff berth, you're not locking up the top spot here. In other words, please don't write in the comments and tell me what an idiot I am just because RG3 isn't on the top of this list.


More on NFL rookies
Related content
10. Kendall Wright, WR, Titans: The wideouts who make the biggest impact in the NFL are true No. 1 wideouts who can step in and make a difference right away. (Think A.J. Green.) These wideouts don't come around every year because it requires them landing in a situation that's perfect, with either an outstanding quarterback or an ability to play the No. 2 role. Wright, however, will be a game changer for the Titans. He has elite speed and the ability to improvise. Both will work well once Tennessee inevitably turns the reins over to Jake Locker. There are some good corners in this division, but they'll spend their time hounding Kenny Britt (or Nate Washington if Britt's not healthy). Meanwhile, Wright will put up big numbers and some long touchdown catches.

9. Andrew Luck, QB, Colts: Luck will end up being more efficient than Peyton Manning was his rookie year. But he won't be as prolific. That's just Luck's style. But he'll have nice numbers. Those numbers, however, will be helped by a trio of other rookies: Coby Fleener, Dwayne Allen and T.Y. Hilton all will help Luck make an impact (not to mention Reggie Wayne and Austin Collie) in his first season. The Colts won't open up Luck guns-a-blazing either. That wasn't his style at Stanford and it won't be his style early on in the NFL. He'll get his production, but it'll be smart production. The problem is, the Colts won't sniff the playoffs next year, though they may end up sniffing six or seven wins -- Indy did enough in April to be competitive offensively.

8. Cordy Glenn, OL, Bills: Glenn's the hot name to take over at left tackle for the Bills, and this could be big news for not just the Eagles (who will obviously sign him as a free agent and/or trade for him in five years) but also Ryan Fitzpatrick. Glenn could fortify protection for a quarterback who looked like a Pro Bowler before injury -- or a new contract, you pick -- derailed his season. And while folks might be inclined to chuckle at the Buffalo offense, this is a potentially dangerous unit. Fitzgerald, when healthy, can obviously play. Stevie Johnson is clearly dangerous. And the tandem of Fred Jackson and C.J. Spiller is dynamic. Add in a surprising second-round value in Glenn, and it could really help Buffalo meld together for a wild-card run in the AFC.

7. Trent Richardson, RB, Browns: On any other team, T-Rich would be higher. He's the type of back you steal in the second or third round of your fantasy draft and laugh your way towards a 1,500 total yard season. But on the Browns? He's more of a question mark, because we don't know how Brandon Weeden will perform. (Weeden will start all 16 games, barring a serious injury or a more seriously abysmal performance.) Richardson's running behind Joe Thomas and will be a feature in the passing game given the poor state of affairs for Browns wideouts, which should make him an even bigger threat. But he's also going to play the Steelers, Ravens and Bengals twice, and those defenses aren't exactly rush friendly. Put him on a playoff-caliber team and he waltzes with No. 1 here.

6. Robert Griffin III, QB, Redskins: Yes, I'm aware that it looks like I'm selling both RG3 and Luck short. Again, they will have big seasons. I expect them to. But they won't have seasons that end up with their teams making the playoffs, and that's partially the point of the exercise here. In almost any other division, I'd give RG3 more props, but the Cowboys, Eagles and Giants could all be better. If Griffin guaranteed a division title, it would make more sense than Rex Grossman doing it last year, but it would also be more improbable. He's essentially operating on the (mostly misconceived) public notion that he'll put up Newtonian stats. He won't -- he'll be good, but he won't be that good. And the Redskins will finish at the bottom of the NFC East, despite a hope-infused season and great numbers from Griffin.

5. Luke Kuechly, LB, Panthers: Despite having to learn the weakside position for the first time in his career, it's likely that Kuechly could a) end up looking like a defensive tackle addition and b) win the Defensive Rookie of the Year Award. The guy makes plays. Not necessarily in the backfield, but just in general -- his sack totals at Boston College are video-game stuff. And he's going to do that in Carolina, simply because he's one of the most plug-and-play players in this year's draft. Aided by the health and tutelage of Jon Beason, I expect Kuechly to put up monster numbers, tackle-wise, and help shorten the length of opponents rushes. Additionally, he'll show cover skills that folks didn't think were coming from the "Mike" qualities that he displayed at B.C. If this defense gets shored up, the Panthers have a wide-open window to make a run in the NFC South.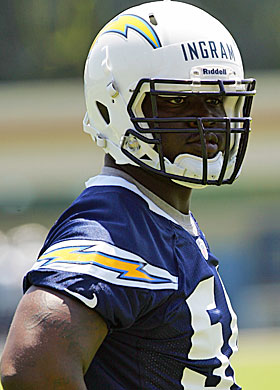 Versatile pass rusher Ingram is a good bet to help the sack-poor Chargers.
(US Presswire)
4. Melvin Ingram, LB, Chargers: That Ingram fell as far as he did in April is silly. That he fell to a team like the Chargers in need of help when it comes to pass rush is even sillier. Ingram can line up at more than half the positions on the defensive line and make a difference -- watch tape of him playing defensive tackle at South Carolina and you'll be floored. He's going to step in from Day 1 and make an impact on this defense, and you'll notice when the Chargers increase their sack rate as a team. He'll get some, because he's great at bringing down the quarterback. His game impact will be felt when Shaun Phillips is less clogged, and the Bolts will end up taking back a division title this year, which helps him immensely in the rankings here.

3. David DeCastro, OG, Steelers: Before you complain about an interior lineman ranking this high, I want you to think about the help that Ben Roethlisberger has had on the offensive line the last few years. It's been virtually non-existent in terms of elite talent, and that's putting it nicely. All of a sudden, he might end up with a left side that features DeCastro, Mike Adams and, if you want to count the middle, Maurkice Pouncey. A Big Ben with a protected blind side is a much more dangerous Ben that you've imagined most of his career. I think Todd Haley with a new scheme helps these young linebackers, and I think a beefed-up offensive line means a big year from the Steelers.

2. Chandler Jones, LB, Patriots: It hasn't been a great run for Bill Belichick on defensive players over the past few years in the draft, but he's mostly whiffed on defensive backs. With the Patriots losing a ton of sacks to free agency, they needed someone to step in and provide a multi-faceted attack on the quarterback. That someone is Jones, and he could be ready for a huge year defensively. He'll allow the Pats to mix 3-4 and 4-3 and continually put pressure on the quarterback, and in a division with Matt Moore (or Ryan Tannehill! Or David Garrard!), Mark Sanchez (or Tim Tebow!) and Fitzpatrick, Jones could pile up the pressures. No, it doesn't hurt that he plays for someone who's coming off a Super Bowl loss. But that's how these rankings work; if you can put up big numbers while pushing your team over the edge, you're a bigger difference maker right now.

1. Morris Claiborne, CB, Cowboys: To me, Claiborne is the piece that puts Dallas over the top. They signed Brandon Carr in the offseason, and that means the rookie won't be drawing impossible matchups early on. He'll get the benefit of being a top-flight stopper in a defense that's only asking him to be a mid-level stopper most of the time. There will be growing pains when he has to cover Jeremy Maclin and Victor Cruz, but the Cowboys also have Mike Jenkins to help out (barring a surprising trade that I missed while on vacation). Claiborne will end up, as a result of getting to cover No. 2 wideouts most of the season, having the biggest impact of any rookie. He'll get his picks because people will throw at him, he'll get his game impact because he'll cover legit wideouts and when he does his job people will talk, and he'll get the playoff bump because the Cowboys will contend for a very difficult division.
For more NFL news, rumors and analysis, follow @EyeOnNFL on Twitter, subscribe to our RSS Feed and subscribe to our Pick-6 Podcast and NFL newsletter. You can follow Will Brinson on Twitter here: @willbrinson.