Here are 10 things from NFL championship Sunday that intrigue me:
Green Bay Packers QB Aaron Rodgers' mobility with the injured calf: Rodgers was limited in terms of movement against the Cowboys last week, but another week removed from the injury should help. It's just that the Seahawks' defense closes so fast, which makes moving even tougher when he tries to step up or out.
Patriots coach Bill Belichick against Colts QB Andrew Luck: In three games against the Patriots, Luck is 0-3 and has six touchdown passes and eight interceptions. Belichick is a brilliant defensive mind and he will throw him a ton of looks. How will Luck respond?
Will the Packers stay away from Seahawks CB Richard Sherman? Aaron Rodgers has done just that in the past two meetings against the Seahawks, especially in Week 1 this season. But I would imagine the Packers would go after him some in this one. Why not? Take some shots.
Dom Capers' plan against the Seattle offense: Capers' defenses have had trouble with read-option schemes in the postseason the past few years, so I expect Seattle to use a lot of it in this game. They are good at it, and it really helps get the running game going. How will Capers have his players respond to it? Will he spy Russell Wilson?
Packers LBs Clay Matthews and Julius Peppers against the Seattle tackles in pass-rush situations: While Matthews will play inside on run downs, he moves outside in passing situations, giving Green Bay a nice pair of bookend rushers. Russell Okung is a good veteran at left tackle, but Justin Britt is a rookie on the right side. The pressure will be key for the Green Bay defense.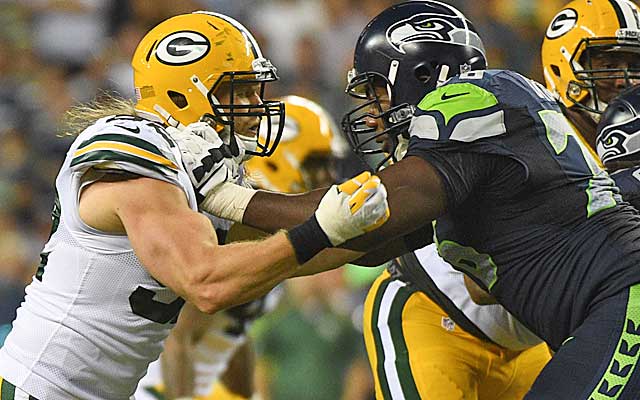 Colts' run defense: The last time these two teams played, Jonas Gray ran for 201 yards against the Colts. Indy had little answer for New England's power plays. The linebackers had all kinds of issues. They got blocked, and missed tackles.
How will the games be called in the secondary? Seattle and New England both like to grab and hold and play a physical style in the secondary. If they get away with it, it could pose big problems for the Packers and Colts throwing the football. If it's called tightly, that could benefit their passing attacks.
Can Indianapolis muster any pass rush? They don't have a dominant pass rusher with Robert Mathis missing the season, but rookie Jonathan Newsome has come on in the second half. His speed off the edge could be key.
What receivers come up big for the Seahawks? In the first meeting, Percy Harvin was the leading receiver. He's long gone. Starting receivers Jermaine Kearse and Doug Baldwin had four catches for 24 yards in the first game against Green Bay. That number has to be a lot higher this time around.
With Bryan Stork  likely out, how does the inside of the line play for the Patriots? Stork suffered a knee injury last week, and when he went down they moved Ryan Wendell from guard to center and put Josh Kline in at right guard. They did a nice job against the Ravens, but Stork was big in how the Patriots ran it last time against the Colts. He will be missed.