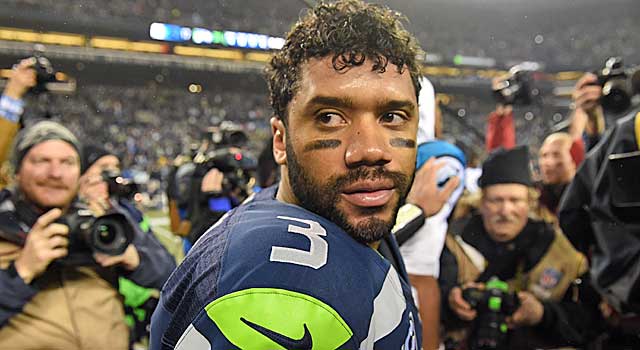 An eventful NFL playoffs divisional weekend is a wrap, but before we head down the road to the conference championship games, what did we learn from the past two days, and the season in general?
Glad you asked.
1. QBs getting younger (and will get richer): The master, Tom Brady, is still in the mix and may well win it all, but Peyton Manning, Joe Flacco, Ben Roethlisberger and Tony Romo have been eliminated from the playoffs. And Drew Brees, Eli Manning and Philip Rivers didn't even make the playoffs.
Teams think nothing of agreeing to $100 million deals for over-30 QBs, but Andrew Luck and Russell Wilson are playing on their rookie contracts and they are in the final four. Wilson has one Super Bowl title under his belt and Luck is destined to win multiple titles.
Now the Seahawks and Colts must figure out how, and how much, to pay these two stars. Luck is 25 and Wilson 26, meaning the next deal each gets likely will not be his final mega-contract.
If both win conference title games Sunday and face off in the Super Bowl, they jump into the $20-million-a-year level. And who knows what a deal around 2020 would look like when they're up again.
2. Right call on Dez, but bad rule: The non-catch call on Dez Bryant was the right call but it's a bad rule. I hated when Calvin Johnson's touchdown vs. the Bears was overturned on the same rule in 2010, and this one bothered me just as much.
The competition committee really should look at the language in the definition of a catch and modify it. But I suspect they think it is fine as is, which means we will see more plays like the Dez Bryant play maybe even next weekend.
As for Sunday's Dallas-Green Bay outcome, the Cowboys had other chances to win and failed. When the catch was overturned there was 4:06 left in the game and the Cowboys were down five points.
But the Cowboys' defense could not get the ball back. Green Bay converted two third-down passes and Eddie Lacy picked up 11 yards on the ground.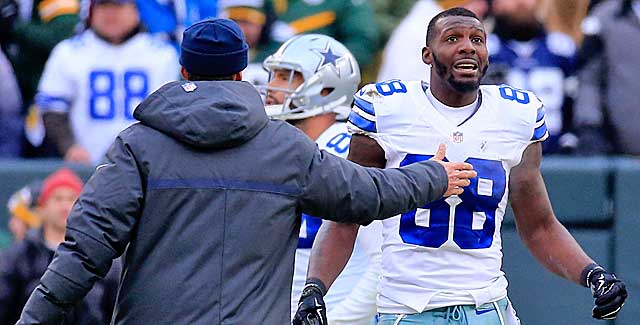 3. How passes are distributed: In the four divisional games, 56 receivers were targeted -- an average of seven different players per team.
A number of factors lead to an increase in targets for tight ends and running backs: weather conditions, the pass rush forcing QBs to throw quicker, or excellent secondary play taking top wide receivers. The numbers: 26 wide receivers targeted vs. 30 TEs and RBs.
What's interesting about those numbers is six of the eight divisional teams' predominant personnel group was the "11" -- three WRs, one TE and one RB. The wide receivers were targeted 141 times (87 catches, 12 TDs). Tight ends and running backs were targeted 111 times (79 catches, eight TDs). All this proves is that it's getting tougher for defenses to handle all the threats. Take away the top targets (wideouts) and there are ample alternate targets, exemplified by each of the remaining four teams had a tight end catch a TD pass over the weekend.
4. Rookies rock the divisional round: The four advancing teams got significant contributions from first-year players. Of 10 who had a real impact, only one -- Green Bay's (Ha Ha Clinton-Dix) was a first-round pick.
Green Bay center Corey Linsley (fifth round), TE Richard Rodgers (third-rounder, who scored a TD) and WR Davante Adams (second-rounder, also with a TD) impressed.
Indianapolis had three rookies make major contributions: Starting guard Jack Mewhort (second round), WR Donte Moncrief (third) and OLB Jonathan Newsome (fifth-rounder, who had a sack).
Seattle started rookies at right tackle (second-rounder Justin Britt) and WR (Paul Richardson, another second-rounder).
The Patriots started a rookie at center, fourth-round pick Bryan Stork.
It's difficult enough for an rookie to make an impact, forget non-first-rounders on championship-level teams. That's a sign these clubs draft well and develop players.
5. 'Five for Sunday,' continued: Before the divisional games, I noted that over the past 10 years, three of four home teams win -- and 2015 was right on schedule.
The tough part was trying to pick the road winner last Friday. I ran a survey on my radio show, for three days (Dallas got 23 votes, Baltimore 20, Indianapolis nine and Carolina three). The Colts won at Denver, but 46 of our votes didn't see that coming. Of note: One voter, a guy we call "The Wick Star," entered the survey and not only called the Colts to win, but he also had the final score (24-13) right on the nose.
Bits and Pieces
• In Peyton Manning's past two postseason games the Broncos have scored a combined 21 points.
• Aaron Rodgers is 44-11 at home with 129 touchdown passes. Russell Wilson is 25-2 at home.
• Tom Brady is on another planet when it comes to the playoffs. He's 19-8 (13-3 at home) and entered Saturday averaging 33 points a playoff game, and put 35 on the board with a home playoff-best 367 passing yards.
• Did you notice flags were flying on elite corners Darrelle Revis and Aqib Talib? When teams prepare for games, especially playoff games, they send video to the league office -- trying to point out where flags should be thrown on certain players. It felt like the officials were informed there was a little too much going from those corners, plays that may not have been flagged during the regular season.
• Heading into the divisional round my concern for the Denver defense: DeMarcus Ware didn't have a sack or hit on the QB in four games and only had one tackle for a loss. Make that five games.
• There were 52 penalties called in the four games (13 per game, below the 2014 regular season average of 16). The Patriots and the Ravens had seven each, but in the other three games all three winning teams had more penalties than the loser.
>> Want more playoffs? Prisco: Colts -- black sheep of title games