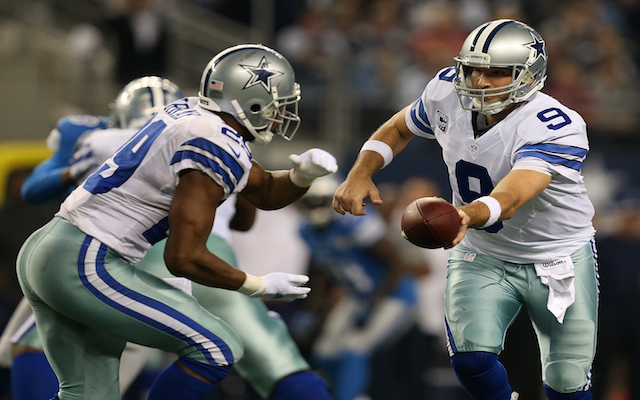 The Green Bay Packers went a perfect 8-0 at home this season. Aaron Rodgers has not thrown an interception at Lambeau Field since December 2, 2012. Rodgers has two of the 10 or so best receivers in football at his disposal in Jordy Nelson and Randall Cobb, and he has had great success against Cowboys defensive coordinator Rod Marinelli in the past.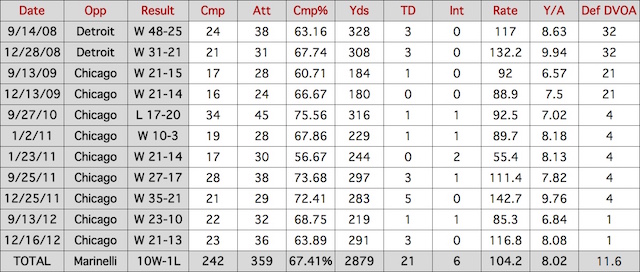 (Quick note on the above chart: Yes, Rodgers' overall career passer rating is very slightly higher than it is just against defenses coached by Marinelli. However, as you can see, Marinelli's defenses have on average ranked in the top-third of the league in defensive DVOA, and they have been in the top-four for seven of the 11 games played against Rodgers. This means that, on average, a Marinelli defense has been significantly tougher than the rest of the defenses Rodgers has faced, which makes his still-excellent performance -- and a 67.41 completion percentage with 8.02 yards per attempt is excellent, even if 21 touchdowns in 11 games may not be -- against Marinelli's defenses all the more impressive.)
Given how good Rodgers has been at Lambeau both throughout his career and this season in particular, and how much success he's had against Marinelli's defenses, it can be considered fairly unlikely that the Cowboys will hold Rodgers and the Green Bay passing game in check. It is of course possible; it's just not all that likely.
Dallas had the league's 22nd-ranked defense by DVOA this season, and they were 22nd against the pass as well. Detroit moved the ball through the air fairly easily in the early part of the game against the Cowboys last week; it was only once the Dallas run defense shut down Joique Bell and Reggie Bush that the pass rush was able to get in on the action. It's significantly harder to slow down Eddie Lacy than it is Bell and Bush, and it will be even harder if the Cowboys are without the services of Rolando McClain and Jeremy Mincey, both of whom are working their way through the league's concussion protocol.
Regardless of whether or not McClain and/or Mincey suit up, the job of stopping Rodgers will still prove difficult. Even the one area of the passing game the Cowboys might have expected to work in their favor -- the slot, where Orlando Scandrick and Sterling Moore have been excellent this year -- may not, because Randall Cobb is probably the NFL's best slot receiver right now.
That's why the Cowboys will need to lean on the formula that led them to an 8-0 record on the road and an NFC East crown: heavy doses of DeMarco Murray, early and often. When listing the reasons that Tony Romo had the best season of his career and led the NFL in passer rating, completion percentage and yards per attempt in 2014, the prowess of Murray and the run game should go right up top. Freed from having to do everything for the Cowboys' offense, Romo was able to do so much more.
Murray led the NFL with 1,845 rushing yards, a mark good enough to best Emmitt Smith for the most in a single season in the history of the storied Cowboys franchise. Murray ran for 998 of those yards after contact, a number only 12 other backs in the league reached, period. Murray's 13 rushing touchdowns and 27 carries of 15-plus yards also led the league, while his 4.7 yards per carry were just outside the top-10 -- and he had almost 160 more carries than anybody ahead of him. 
Murray of course had the pleasure of running behind what might be the league's best offensive line. Left tackle Tyron Smith, center Travis Frederick and rookie right guard Zack Martin all made the Pro Bowl. Smith and Martin were named First Team All-Pro and Frederick was named to the Second Team. Doug Free had another good year at right tackle, while Jeremy Parnell has more than held his own filling in after Free's injury. Left guard Ronald Leary is the most unsung member of the line, and he ranked as Pro Football Focus' sixth-best run-blocking guard this season, better than Martin. That unit, individually and especially in concert, is elite.
Dallas did struggle a bit to run the ball against Detroit last weekend, but this Green Bay defense is not anywhere near the caliber of the 2014 Lions D. Detroit ranked third in the league in defensive DVOA this year, first against the rush. Detroit's run defense was so good that it was the fourth-best in the history of DVOA, which goes all the way back to 1989. They let up only 3.2 yards per carry, an insanely low number.
Green Bay's run defense, meanwhile, ranked 14th this season in rushing touchdowns allowed, 20th in yards per carry and 24th in DVOA. There is no Ndamukong Suh here to blow up every other play in the backfield, as he did multiple times in the Wild Card game, even inspiring Dallas to run a stretch play away from Suh and behind Smith and fullback Tyler Clutts -- rather than their bread-and-butter run behind Frederick and/or Martin -- on 4th-and-goal to pull within six points in the second half.
Green Bay's best run defenders are more of the "eat up blockers" type rather than the "make a play" type, which is to be somewhat expected in their 3-4 scheme. The Cowboys' run-blockers don't get eaten up, though, and that's where Murray can make some hay, especially if he can get past the first level.
We've already mentioned how Murray led the league in breakaway runs of 15 yards or more this season, and we've seen in past playoff games how vulnerable guys like Clay Matthews are to misdirection and read-option runs. Remember Colin Kaepernick taking off down field with Matthews spinning in his cleats in 2012? Romo's not suddenly going to start pulling the ball out of Murray's chest to take off around the edge, of course, but Dallas has an opportunity to run some counters or stretch plays to Matthews' side of the field.
Running at Matthews, or running some screens in his direction, would also help keep him from pinning his ears back to get after Romo in the passing game. Ziggy Ansah made himself a new home in the Cowboys' backfield in the first half last Sunday, while Suh and multiple blitzers got through plenty of times as well. But when the Cowboys adjusted by going with three wides and hitting Jason Witten and Cole Beasley over the middle, that slowed down the pass rush and gave Romo more time to work.
Most of all, Dallas will need to run the ball well simply to keep Rodgers off the field. On a per-play basis, this year's Dallas defense was better than last year's historically bad version, but not by as much as it might seem on the surface. They work harder, fly to the ball faster and create more turnovers, but they're still liable to give up yards in bunches. The Cowboys gave up 5.8 yards per play this year, seventh-highest in the NFL; they just happened to be on the field for far fewer plays this season (978, fifth-fewest in the league) thanks to the clock-killing run game and remarkably efficient passing game the Cowboys displayed all year long; Dallas was second in the league in average time of possession. To control the clock against Green Bay, Dallas will need to lean on Murray and that offensive line to do the heavy lifting and give Romo, Dez Bryant, Jason Witten and the rest of the weapons in the passing game more advantageous opportunities.