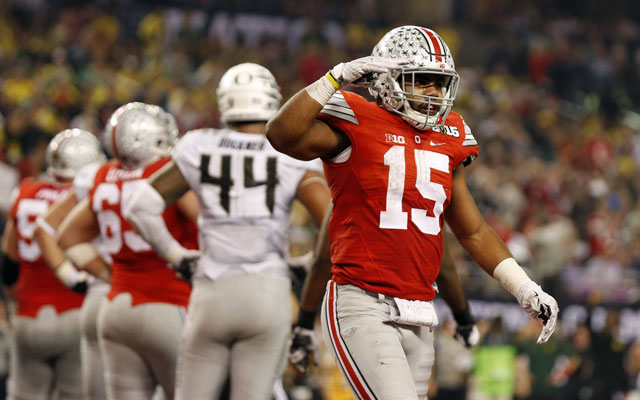 Sportsbook operator CG Technology released Over/Unders on win totals for 67 college football teams, and Ohio State stands apart from the rest.
The Buckeyes are listed at 11 wins, the Over juiced at -165, meaning you have to risk $165 to win $100. The Under is priced at +135.
CG Technology pegged Baylor and TCU at 10 wins, and no other team is in double digits.
"Ohio State is tricky because you could actually put 12 as the number," Jason Simbal, vice president of race and sports, told CBSSports.com. "I say that as a joke but they're going to be the favorite in every game. They go undefeated in the majority of simulations we ran.
"You can either open it at 11.5 or 11, but juice the Over."
Offshore sportsbook 5Dimes released win totals a month ago, but 5Dimes is only taking $100 max bets. CG Technology, which runs eight sportsbooks, including those at Venetian, Cosmopolitan and the Palms, is taking $1,000 bets now and will raise the limit to $5,000 as the season approaches.
The first bet came in on none other than lowly Illinois. A professional bettor wagered the max on Over 4 wins at +145.
"I have no idea why -- we're going to leave it and see if someone else touches it," Simbal said. "This is the most interesting part, seeing how people start betting. We can see which numbers we missed on and try to apply that going forward."
Here are Simbal's thoughts on a few teams that were hard to peg:
Notre Dame, 9 wins (-115 either way): "Notre Dame is always tough because of the amount of action they usually get from fans, so you want to tweak that to the higher side. We saw the new QB (Malik Zaire) play in the bowl game, but it's a small sample and how much of a dropoff is there? Plus, Notre Dame's schedule is strange. They've got a lot of very easy games and a lot of really hard games and no real in-between games."
Baylor, 10 wins (Over -105, Under -125); TCU, 10 wins (Over -140, Under -110): "They play each other [Nov. 27 at TCU] so the loser of that game cannot afford any other losses. As always, Baylor plays nobody out of conference. They do play Oklahoma, but at home, which helps. They don't play Oklahoma State. TCU, on the other hand, plays at Oklahoma and at Kansas State."
Wisconsin, 9.5 wins (Over -140, Under -110): "Questionable QB situation, and they're going to be a big underdog in the first game they play (vs. Alabama in Arlington, Texas), so you're behind the 8-ball there. The interesting thing is no Michigan State or Ohio State on the schedule. Toughest game is at Nebraska. I can understand where 10 could be the number, but it seemed to make more sense to use 9.5 because their offense was predicated on one guy last year and he's gone."
Here's the full list of CG Technology's win totals.
Note: Win totals are for regular-season games only; conference championship games, bowls and playoffs do not count.
SEC
Alabama: 9.5 (-135o)
Arkansas 8 (-140u)
Auburn: 8.5 (-130o)
Florida: 7 (-130o)
Georgia: 9 (-125o)
Kentucky: 5.5 (-130o)
LSU: 8.5 (-130o)
Ole Miss: 8.5 (-115)
Mississippi State: 7 (-145u)
Missouri: 7.5 (-135o)
South Carolina: 6.5 (-155o)
Tennessee: 8 (-160u)
Texas A&M: 8 (-120u)
Vanderbilt: 3.5 (-135u)
ACC
Boston College: 5.5 (-115)
Clemson: 9 (-135u)
Duke: 7 (-130o)
Florida State: 9.5 (-130u)
Georgia Tech: 7.5 (-140o)
Louisville: 7.5 (-125o)
Miami: 6 (-130o)
North Carolina: 8 (-150u)
NC State: 7 (-150o)
Pittsburgh: 6 (-125o)
Syracuse: 4.5 (-115)
Virginia: 4 (-130o)
Virginia Tech: 8 (-125u)
Wake Forest: 3.5 (-135u)
Big 12
Baylor 10 (-125u)
Iowa State: 3 (-115)
Kansas: 1.5 (-145o)
Kansas State: 7 (-140u)
Oklahoma: 8.5 (-160o)
Oklahoma State: 7.5 (-140o)
TCU: 10 (-140o)
Texas: 6 (-130o)
Texas Tech: 5.5 (-125o)
West Virginia: 7.5 (-115)
Big Ten
Illinois: 4 (-175o)
Indiana: 5.5 (-130u)
Iowa: 7.5 (-120u)
Maryland: 4.5 (-120o)
Michigan: 7.5 (-125u)
Michigan State: 9.5 (-125u)
Minnesota: 6 (-145u)
Nebraska: 8 (-140o)
Northwestern: 6 (-140o)
Ohio State: 11.5 (-180u)
Penn State: 8 (-125o)
Purdue: 4 (-120o)
Rutgers: 5 (-120o)
Wisconsin: 9.5 (-140o)
Independent
BYU: 8 (-140u)
Notre Dame: 9 (-115)
Mountain West
Boise State: 9.5 (-130o)

UNLV: 2.5 (-125o)
Pac-12
Arizona: 7.5 (-140o)
Arizona State: 8 (-125u)
California: 5.5 (-135u)
Colorado: 5 (-140u)
Oregon: 9.5 (-130o)
Oregon State: 4 (-125u)
Stanford: 8.5
UCLA: 9 (-140u)
USC: 9 (-115)
Utah: 7.5 (-130u)
Washington: 4.5 (-140o)
Washington State: 5 (-125u)