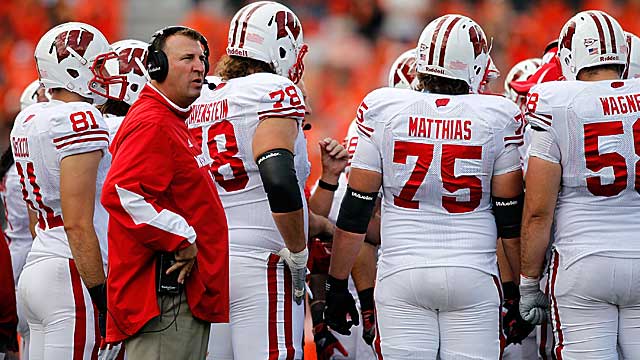 Bret Bielema looks for answers at Oregon State. What he finds is a big, fat 'L.' (Getty Images)
One of the great things about college football is discovering how programs change from year to year, especially how some turn out to be so much different than we all anticipated they'd be. Bill Parcells had a great line once: "You are what your record says you are." It's true. Although we are just two weeks into the 2012 season and the variables in the college games, especially how they relate to the competition -- or lack thereof -- can skew things significantly. This week's Top 10 list: Most surprising stats of the early season:
1: Wisconsin is ranked 103rd in the country in rushing? Huh? And this is after facing an FCS team and a school that just went 3-9. Montee Ball's Heisman hopes already are in the toilet and new Badgers O-line coach Mike Markuson is now a former Badgers O-line coach. Bret Bielema said he thought about the decision on Houston Nutt's long-time line guy on the long flight back to Wisconsin and later deemed it publicly as "personal matters." My hunch is Bielema takes it very personally when his team, with arguably the best running back in college football, is No. 103 in the country in rushing and averaging only 2.9 yards per carry. Maybe Bart Miller, the GA (a Bob Bostad protégé) that Bielema just promoted, will provide a spark.
2: UCLA is No. 2 in the nation in rushing and No. 3 in total offense? The real jaw-dropping part of this is that the Bruins are putting up these numbers despite starting five freshmen on offense, including linemen at the three most critical spots: left tackle (Torian White), center (Jake Brendel) and right tackle (Simon Goines). Oh, and they're also starting a guard (Xavier Su'a-Filo) who hadn't played football in two years and a QB (Brett Hundley) who never played in a college game before this season. Meanwhile, the rest of the guys have had to adapt to OC Noel Mazzone's new hurry-up, spread scheme that incorporates NFL run-game principles. The results: 344 rushing yards per game (only Air Force has run for more) and 650 total yards, as Johnathan Franklin, who leads the nation in rushing by more than 40 yards per game, has vaulted into the Heisman picture.
Some could dismiss their showing after Week 1 and say "Well, it was only Rice," but after the way the Bruins attacked Nebraska, it's time to take notice. Jim Mora deserves credit for ramping up the intensity. Staffers say he goes best-on-best at practice much, much more than any other places they've coached. So far, so great.
3: Alabama is No. 113 in sacks allowed? Going into the season, the Tide had the nation's consensus top offensive line, and they sure looked the part in Week 1's demolition of Michigan. Last weekend, WKU got a surprising amount of heat on the 'Bama QB, notching six sacks. Now, that is something that Nick Saban has reason to get fired up about. Senior center Barrett Jones told reporters that it was because of missed assignments and poor technique.
"Three or four of those were just that guys got beat," Saban explained to reporter. "A couple of them were pressures that we didn't pick up properly, so that's something we definitely need to get better on.
"A couple of times, we probably held the ball -- the last one we held the ball, no one was really open. We just need to do a better job all the way around, in pass protection, in our ability to throw the ball with consistency, the balance and identity that we create on offense, in terms of what we do. I think it's real important."
4: The two Washington schools are No. 104 and No. 111 in scoring? The Huskies and the Cougars each have respected offensive minds calling plays and have experienced QBs as triggermen, but both have had surprisingly sluggish starts. Some of the blame can go to shaky offensive line play and guys adapting to new coaching, but still the Huskies are No. 111 in scoring and only 93rd in passing. With Stanford, Oregon and USC coming up soon, that doesn't sound good. And when was the last time a Mike Leach offense was as low as No. 62 in passing?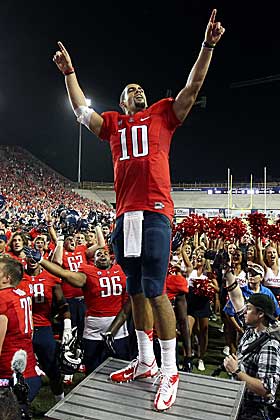 Matt Scott leads the cheers in Tucson after dumping OK State. (Getty Images)
5: Arizona (2-0) is No. 9 in the country in passing and scoring? In Rich Rodriguez's first season at Michigan, the Wolverines were 59th in rushing, 108th in passing, 109th in offense and only scored 24 or more three times all year. They've done it twice already in the first two games. QB Matt Scott has been terrific in this scheme, as have the rest of the Cats. "We don't have everything down execution-wise -- we can play a lot better," Rodriguez said. "But our guys have bought into it from Day One from as far as the pace and learning some new techniques. They've been sitting up in their chairs as far as seeing what's next."
6: The Big Ten is 2-7 vs. teams from AQ conferences and both wins are by Northwestern? As shaky as the conference's rep has been over the past decade or so, it's looking even more suspect after losing six games last weekend -- and all were against opponents outside the top 15. In fact, it's no stretch to now think that by season's end, the Big Ten might only have one team (Michigan State) ranked in the Top 15 of the Coaches Poll.
7: Pitt is No. 108 in scoring? The Panthers have been awful across the board, losing by two TDs to Youngstown State and then getting blown out on the Thursday night stage by unranked Cincy. They still can't pass protect; they can't consistently run; they have been inept at stopping the run and making matters worse, they're No. 108 in turnover margin.
8: Miami is No. 114 in passing defense? It's Year Two in DC Mark D'Onofrio's system and the Canes have gone from bad to much, much worse. There's been almost zero pass rush, a staggering number of assignment busts and players looking lost. They're allowing 10.5 yards per pass attempt, which is an insanely high number especially for a team that has played two QBs who were ranked 77th (Collin Klein) and 100th (Chase Rettig) nationally in passing efficiency last year. In 2011, only one defense even allowed worse than 9 yards per attempt, Ball State at 9.25. Last year, UM was No. 29 in pass defense and allowed 7.54 yards per attempt.
9: Knile Davis is averaging less than 4 per carry carry and 66 yards per game? The Hogs, despite a talented stable of backs are No. 87 in the country in rushing despite having played an FCS team and a Sun Belt team that went 4-8 last season. In 2011, the Hogs were No. 38 in rushing.
10: Kansas is No. 108 in passing? Charlie Weis is back running a program and he brought a couple of his former Notre Dame players with him to the Big 12. So far, it's been ugly. They did beat South Dakota State, but then the Jayhawks lost at home to Rice. The team is averaging a minuscule 4.89 yards per pass attempt. (Only four other teams have a lower number.) Weis' team has TCU up next and the schedule won't get much easier the rest of the way. A 1-11 season looks very likely.