A week-long survey of the preseason favorites for the BCS championship, and what they have to overcome to get there. Today: LSU. Previously: Alabama … Florida State.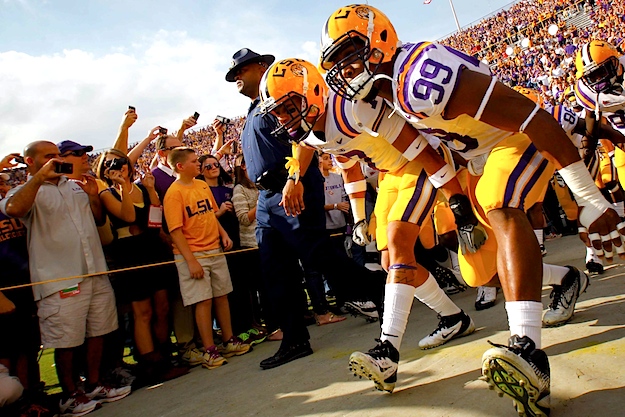 • What we know. The last time we saw LSU, it was having the life squeezed out its dream season by Alabama in a merciless, 21-0 beatdown in the BCS Championship Game. A few months later, the Tigers lost five players in the first four rounds of the NFL Draft, three of whom had eligibility remaining. Together, that could make for a fairly grim offseason, until you take a couple steps back to make out the bayou from the trees. Just as the BCS flop against 'Bama obscured the fact that LSU was the best team in college football over the course of the entire 2011 season, the departures in the draft obscured just how frighteningly young that team really was.
Not only are the Tigers bringing back 16 players who started at least three games last year: Thirteen of those 16 were only freshmen or sophomores, a bloc that included the top four tailbacks, the top two pass rushers, eight of the top eleven tacklers and LSU's first Heisman Trophy finalist in 35 years, ballhawking cornerback/punt returner Tyrann Mathieu. Add to that number a pair of five-star linemen, La'El Collins and Anthony Johnson, who didn't start but still came in for Freshman All-America notices off the bench.
Barring a precocious surprise in the incoming recruiting class, Collins and Johnson will still be the greenest of the regulars on their respective lines of scrimmage as sophomores: The offensive line is one of a only a handful nationally whose members have already logged at least 100 career starts between them, and the defensive line is expected to go at least eight deep for the second year in a row. Between veterans Alex Hurst, Chris Faulk and Josh Williford on offense and Sam Montgomery, Barkevious Mingo, Bennie Logan, Josh Downs and Lavar Edwards on defense, next year's NFL exodus will surpass this year's without even leaving the trenches.
• What we don't. Just when the last of the skeptics had begun warming up to Jordan Jefferson and Jarrett Lee, the BCS Championship Game seemed to confirm every doubt they'd ever had about the Tigers' beleaguered senior quarterbacks, and then some. Jefferson, making his 32nd career start, looked as timid and lost as ever in the face of Alabama's pass rush, until he started to look petulant and frustrated. Meanwhile, coaches apparently had such little confidence in Lee, who'd lost the starting job for good after being picked off twice by the Crimson Tide in the regular season, that they didn't even bother making the switch as Jefferson melted down. On a team that seemed to dominate every other aspect of the game all season long, there was no mistaking any of them but the passing game as the weak link.
Predictably, the upshot for 2012 is that their successor, fire-balling junior Zach Mettenberger, has been greeted far and wide as an inevitable upgrade. Which is certainly true in terms of raw arm strength. But it's also true that Lee and Jefferson were better stewards of the offense than they're usually given credit for: Prior to the BCS debacle, they were the two most efficient passers in the SEC and presided over an attack that tied for fewest turnovers in the nation. They combined for a sparkling touchdown-to-interception ratio of 21-to-5. They generated big plays on a fairly regular basis. Against a dozen opponents that didn't boast Alabama's sledgehammer of a defense, the Tigers scored at least 35 points in every game but one.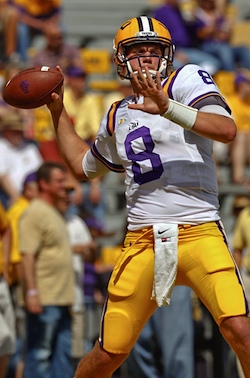 Again, Mettenberger has the arm. But he doesn't have last year's resident deep threat, Rueben Randle, and he certainly doesn't have the experience: He's never attempted a pass against an FBS defense. Last year's exemplary turnover margin is not a realistic target for a new starter (or for just about anyone, really), but with this defense, avoiding a season-killing upset will have more to do with Mettenberger's brain than his arm.
• Where it can all go wrong. Oh, so many places. The SEC schedule has set strategically placed land mines at Auburn, at Florida, at Texas A&M, at Arkansas and on visits from Mississippi State and South Carolina. (That's ignoring a non-conference visit from Washington in September, which is not advisable.) That leaves no rest for the weary and no margin of error.
Make no mistake, though: In any reasonable forecast, the season is going to come down to the Nov. 3 rubber match against Alabama, this time in Baton Rouge. The Tigers and Tide will begin 2012 right where they left off in 2011, at No. 1 and No. 2 in the polls, and both will be heavily favored to come in with perfect 8-0 records. If for some reason either of them doesn't, a win in the most hyped game of the year could very well be enough to absolve an earlier stumble. The winner has every reason to expect to be back in the BCS title game, presumably without having to worry this time about being forced into a rematch with the loser. If both sides fulfill the hype again, the only way the collision could be bigger is if the presidential election was riding on it.
• Visions of champions past. LSU has a national championship to its credit under Les Miles, in 2007, courtesy of a lineup that also featured a nasty defense, a deep backfield and a first-year starter at quarterback who had paid his dues as a backup. But even though most of the older members of the '07 team were actually recruited and briefly coached by Miles' predecessor, Nick Saban, the current Tigers hew more closely to the black-and-blue script Saban employed for championship runs at Alabama in 2009 and 2011.
Both of those teams survived first-year starters under center (Greg McElroy and A.J. McCarron, respectively) thanks to consistently, outrageously good defense and virtually none of the recurring drama that defined LSU's improbable, twice-bitten triumph in 2007. Of course, they weren't nearly as interesting as LSU's improbable, twice-bitten triumph in 2007, either, but neither was LSU's steady, punishing march into the championship game last year. Even a natural gambler like Miles can learn to let his damn strong football team play it close to the vest until somebody forces it to do something else.
• Crystal ball says… For the first 13 games, 2011 was arguably the best season in school history: The Tigers spent eleven consecutive weeks at No. 1, won the SEC title, beat three teams that finished in the top five of the final polls and were not challenged by anyone except their crimson-clad doppelgängers – as impressive a resumé as any team has assembled in any single season in the BCS era. On paper, this is essentially the same team with an extra year under its belt, given a second chance to finish the drill.
That's about the size of it: Learn to close. They've been through the rest before. Man for man, the offensive and defensive lines both match up with with any front in the nation. The five-man tailback rotation is the deepest in the nation. Tyrann Mathieu is the most exciting, potentially game-changing defender in the nation, and the most exciting, potentially game-changing return man. The do-or-die, season-defining showdown is in Baton Rouge. If Mettenberger is alright, there is no good argument against this outfit as the best in the college football. If not, it's possible the rest of the team will find a way to get there, anyway.


 out of five.