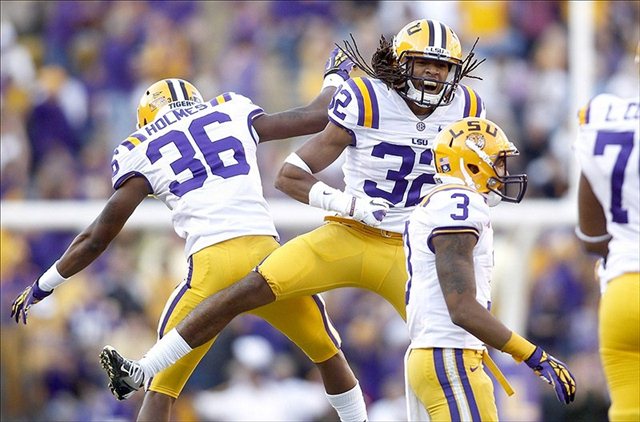 Jalen Collins and LSU scored the game's final 13 points for the win. (US Presswire)
LSU WON: No team in the SEC -- maybe the nation -- is better at winning ugly than Les Miles', and the Tigers proved it again Saturday, turning the ball over three times, giving up 456 yards, and generally looking like the second-best team on the field for most of the 60 minutes. No matter: Odell Beckham's game-changing 89-yard punt return tied the game at 35 in the fourth quarter, and Jeremy Hill's touchdown with 15 seconds left provided the final margin.
The Rebels' Donte Moncrief pulled in six catches for 161 yards and two touchdowns, but he couldn't do anything as Ole Miss' last (real) possession ended in a pair of sacks that forced Bryson Rose into a 53-yard field goal attempt -- one that went well wide, and set the stage for the clock-killing drive that would end in Hill's game-winner.
WHY LSU WON: Because it plays special teams better than you. Beckham's punt return was of course the defining example, a winding, weaving masterpiece of both unit-wide blocking and Beckham's punt-returning vision. The Tigers couldn't have done it any better even if Tyrann Mathieu was still around. And of course, that the return came with the Rebels leading 35-28 and Zach Mettenberger ailing -- he'd left the game for the Tigers' previous third-down play after a big hit -- only emphasizes that the reason LSU can rely on its special teams to win them games is because their special teams wins them games.
But there were also Brad Wing's punts -- downed inside the 20 repeatedly -- and the first-half muff from Rebels punt returner Korvic Neat that set up LSU inside the Rebels 20. As is so often the case for teams looking to upset LSU, all other things were either equal or leaning in Ole Miss' favor. But the Rebels couldn't even stay close in the special teams battle, and they, too, left Baton Rouge with a loss.
WHEN LSU WON: Not until Barry Brunetti stepped out-of-bounds with 3 seconds to play while trying to set up the Hail Mary before the Hail Mary. With one play left to cover 71 yards, the Rebels were done.
WHAT LSU WON: It's not another SEC West title or shot at a BCS championship, but another 10-win season would still be an accomplishment, and the win pulls LSU within one more victory -- against feeble Arkansas -- of doing just that. 
WHAT OLE MISS LOST: The Rebels, once 5-3, are down to their final strike if they want to go to a bowl game. They'll host archrivalMississippi State in next week's Egg Bowl. While no one will argue that Ole Miss hasn't taken several gigantic leaps forward from last year's Houston Nutt-led debacle, the nagging feeling is that maybe they should have a head-turning upset and bowl eligibility already in the bag -- they've now given away fourth-quarter leads and a statistical edge against both Texas A&M and LSU. 
THAT WAS CRAZY: Beckham's return was the same distance, against the same opponent, from the same end of the field to the other and down the same sideline, as the most famous punt return -- and most famous play, period -- in LSU history. Here's Beckham's return:
And here's Billy Cannon on his way to the Heisman against the Rebels on Halloween, 1959: