Last summer, I made Lions defensive tackle Ndamukong Suh the NFL's most overrated player.

He's lived up to the title this season.

Suh isn't close to being the player he was as a rookie in 2010. What has happened to the player once destined for stardom?

He just doesn't win as much as he should, and he is way too aggressive and teams use that against him.

After watching the Lions-Vikings tape from last week, it was obvious the Vikings did a great job of handling Suh. Whether he was handled one-on-one or doubled on a few occasions, they got him blocked. Nick Fairley, the Lions' other defensive tackle, is a better player now.

Adrian Peterson ran wild against the Lions in part because Suh didn't play very well.

Here are a few shots to show you that.

The first shot is Suh being mauled by Vikings right guard Geoff Schwartz, who moved him across the formation with a powerful block that helped open up a lane for Peterson to run for 14 yards.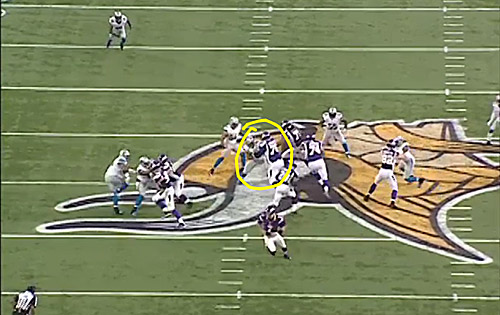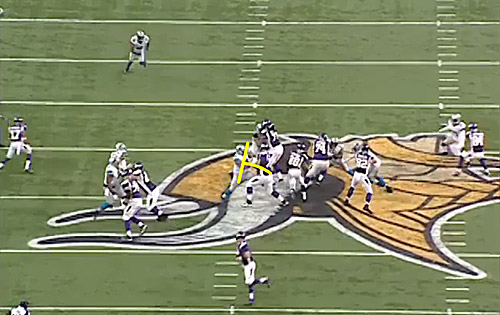 The second shot shows Vikings right tackle Phil Loadholt making a block down on Suh, crumbling him, which allowed the Vikings other linemen to pull around and lead Peterson on his 61-yard touchdown run. In the second picture, you can see how the lane opened up for Peterson, but you can also see Suh still being handled by Loadholt in the backfield.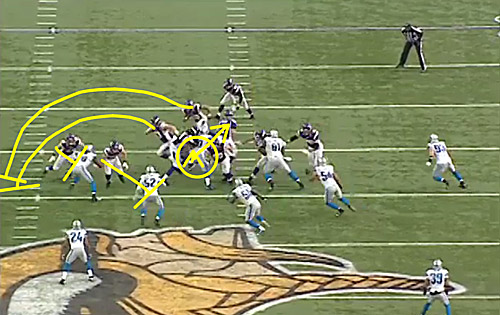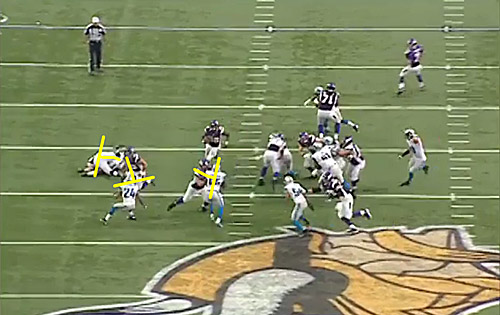 Holliday's non-touchdown

The NFL admitted it made an officiating mistake on the punt return for a score by Denver's Trindon Holliday against the Panthers last week. So I went back and wanted to see for myself. And, for your purposes, I froze the frame and blew it up so you can see for yourself that Holliday did indeed drop the ball before he scored. It should have been a touchback. There was also a blatant block in the back on the return that wasn't called. But here are the pictures that show Holliday dropping the ball before he crossed the goal line with the blow-up shot really showing it.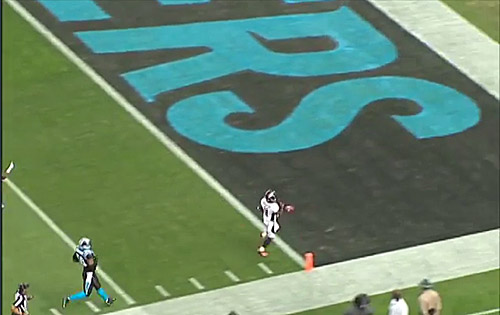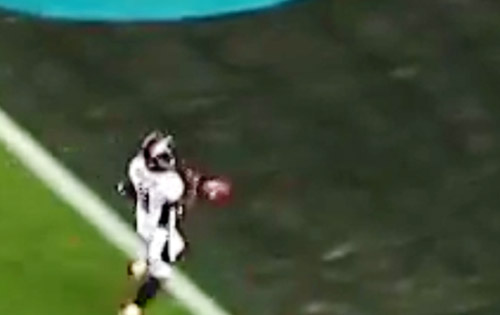 Turning point for Pittsburgh?

One play can change a season. In the case of the Pittsburgh Steelers, here's the one that might. It's the play where Ben Roethlisberger suffered his broken rib and shoulder injury. It was a pass play, but as you can see by the yellow circles, all of his receivers were covered. Roethlisberger had nowhere to go with the football. So he tried to buy some time in the pocket, but that's when he was hit by outside linebackers Justin <span data-shortcode=" data-canon="Justin Houston" data-type="SPORTS_OBJECT_PLAYER" id="shortcode0"> and Tamba Hali. As you can see by the second picture, it appears that Houston's helmet to Roethlisberger's midsection is what caused the rib injury, and then he was taken down on his shoulder.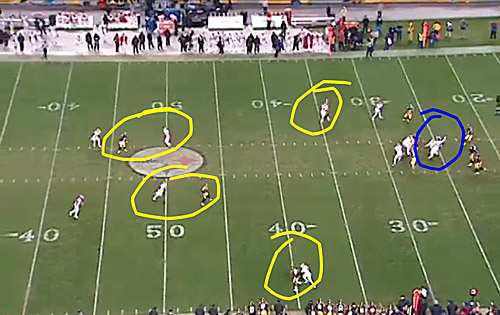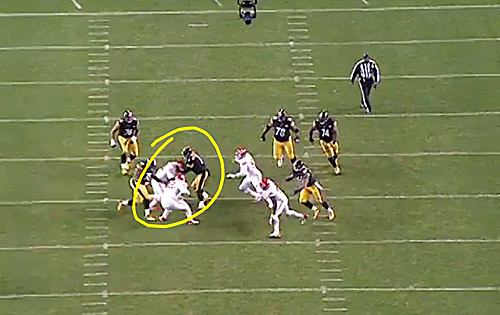 Big gain for Wright

Nothing kills a secondary like speed. The Vikings have lacked it for most of this season, but rookie Jarius Wright provided some last week against the Lions. Here is his 54-yard catch that set up the Vikings' first touchdown.

On the play, Wright  (yellow circle) was lined up in the slot on the right side. The Vikings were in a two-deep zone. But Wright put immediate pressure on safety Erik Coleman (blue circle). In the second picture, you can see Wright running past Coleman, who was slow to react, and the third picture shows Wright gathering in Christian Ponder's pass for the big gain. This is a good sign for the Vikings offense moving forward. This kid can run.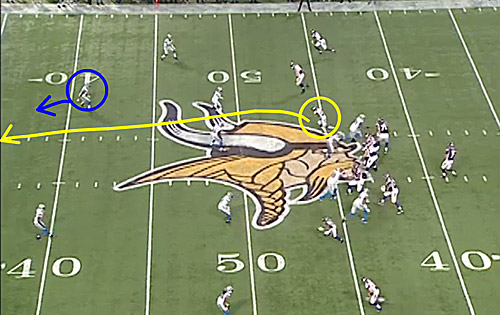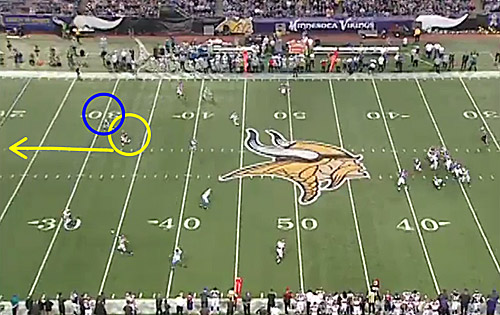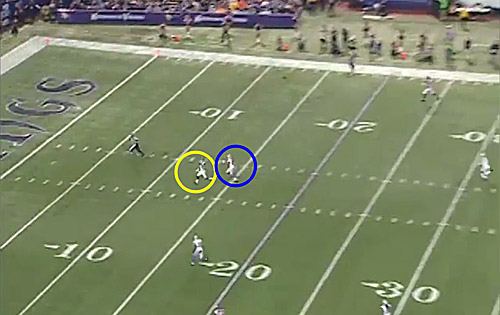 For more film room breakdowns, check out my After Further Review.