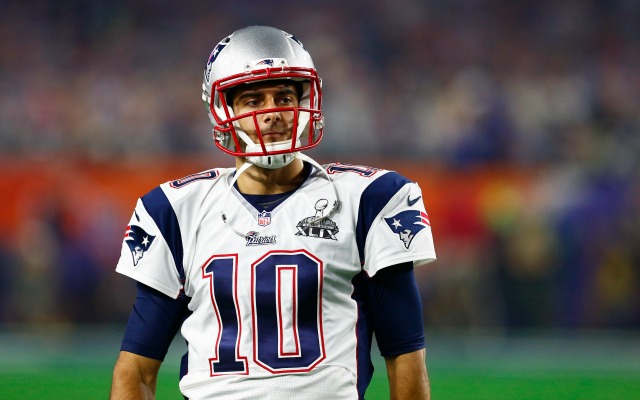 With Tom Brady still suspended without pay for the first four games of the NFL season due to his role in Deflategate, the New England Patriots are looking at starting backup Jimmy Garoppolo at the beginning of the season.
One person who seems to be alright with that is wide receiver Brandon LaFell. "Jimmy has grown a lot since he first stepped foot up there in Foxborough last year," LaFell said, per ESPN.com. "He got a little experience during the later part of the season against Buffalo; he showed a little glimpse of what he can do. He's been having a nice OTAs, a nice offseason with us.
"I feel like studying behind Tom has been great for him. If we have to be without Tom for the first couple games, I'm pretty sure Tom will be in Jimmy's ear helping him prepare each and every way he can to go out here and lead this team."
It's entirely possible that Garoppolo performs well while filling in for Brady. He was, after all, a second-round pick in the 2014 draft, and though he went to a small school, it's one with a bit of a history of developing NFL talents. He went to Eastern Illinois, which produced Mike Shanahan, Sean Payton and Tony Romo, among others. Garoppolo even broke Romo's career record for pass completions at the school. He has talent, and the Patriots obviously saw enough of it to tab him in the second round.
It's just not likely that any good performance Garoppolo puts forward will be due to some sort of osmosis from learning at the foot of Brady. If that were true, the previous young quarterbacks who learned behind Brady would probably have had some degree of NFL success, which they mostly have not. Take a look at the career statistics for Brady's pre-Garoppolo backups throughout his tenure as the Patriots' quarterback.
(Note: We've excluded Brady's veteran backups like Drew Bledsoe, Vinny Testaverde, Doug Flutie and Damon Huard from this exercise because they realistically weren't brought in to learn from Brady, but rather to provide semi-reliable insurance in case he went down with an injury.)
Tom Brady's Pupils
QB
COMP
ATT
COMP %
YDS
TD
TD%
INT
INT%
YPA
QB RTG
Rohan Davey

8
19
42.1%
88
0
0.0%
0
0.0%
4.6
56.5
Matt Cassel
1,397
2,369
59.0%
15,727
96
4.1%
70
3.0%
6.6
80.1
Matt Gutierrez
2
2
100.0%
18
0
0.0%
0
0.0%
9.0
104.2
Kevin O'Connell
4
6
66.7%
23
0
0.0%
0
0.0%
3.8
73.6
Brian Hoyer
356
630
56.5%
4,557
19
3.0%
19
3.0%
7.2
76.8
Ryan Mallett
42
79
53.2%
417
2
2.5%
3
3.8%
5.3
61.0
TOTAL
1,809
3,105
58.3%
20,830
117
3.8%
92
3.0%
6.7
78.8
That 78.8 passer rating compiled by the quarterbacks who have learned at Brady's altar is essentially the equivalent of Byron Leftwich's career rating. In other words, it's not all that great. Garoppolo, despite appearing in just six games and throwing a pass in only three, already has aready the fourth-most career completions (19), yards (182) and touchdowns (1) among this group. Not one of them has become a consistently above-average NFL quarterback.
Brady's talent hasn't seeped into any of his backups through osmosis yet, so it's far more likely that if Garoppolo does experience success, it's due to A.) his talent; B.) the coaching and scheme; and/or C.) the offensive talent the Patriots have around him. We saw Matt Cassel have a solid season filling in for an injured Brady while playing under the Bill Belichick/Josh McDaniels duo and with a wide receiver crew that included Randy Moss and Wes Welker, but once he left that incubator, his production fell off. That likely matters far more than who the usual starter is.
LaFell, to be fair, also alluded to the talent on hand being a factor. "I think we have a great group of guys around him that will kind of take the pressure off Jimmy so he won't have to feel like he has to go out there and win the game himself with me, Gronk (Rob Gronkowski),  (Julian) Edelman, Scott Chandler, we have all great guys around here – LeGarrette Blount, Aaron Dobson -- a few guys who can go out and make a lot of plays for him so he doesn't feel like he has to go out there and win the game himself. Everybody just has to up their level of play to help out."
It remains to be seen if Garoppolo will even have to play, and if he does, for how long. A decision on Brady's appeal of his suspension has still yet to be handed down by the commissioner, though that could be here by as soon as next week.