When you're trying to make the team as a kicker, one way to impress the coaching staff is by hitting 70-yard field goals -- and that's exactly what Broncos kicker Brandon McManus did on Monday. 
Before McManus could try the 70-yarder during the team's two-minute drill, he had had to convince special-teams coordinator Joe DeCamillis that he could make it. 
"I actually told Coach DeCamillis that I could make this one," McManus said. "I don't know if he believed me or not, so I saw him smirk at me and he went over to coach [Gary Kubiak] and he told him. I just waited for them to make the call. I knew I could get it there, it was just whether -- it does look far away, I'll tell you that."
Once he got the green light, McManus, who's in a battle with Connor Barth for the Broncos kicking job, went out and nailed the kick. You can see below how close the ball was to the crossbar when it went in. 
The kick from McManus was just barely the longest kick of the day, because Barth hit a 65-yarder during the same drill. Both kicks were impressive because not only were they with a snap and a hold, but defenders were rushing. 
"That's a good battle between those two and obviously, it's going to be a tough, tough decision for our team down the road," Kubiak said of the kicking competition. 
McManus was the Broncos kicker for the first 11 weeks of 2014, but he lost the job to Barth after he went through a 3-for-6 stretch from Weeks 7-11. 
Anyway, the big question here is: Could someone actually hit a 70-yarder in a game?
Lions kicker Matt Prater, who hit a 64-yarder against the Titans in 2013 to set the NFL record for longest field goal, thinks it's possible. 
"If it's the right opportunity at the end of the game or before a half and that's your best option, why not attempt it," Prater told ESPN.com. "It's definitely doable."
Prater hit his record-setting kick while playing for the Broncos and he thinks that a potential record-breaking kick would probably have to happen in Denver or in a dome.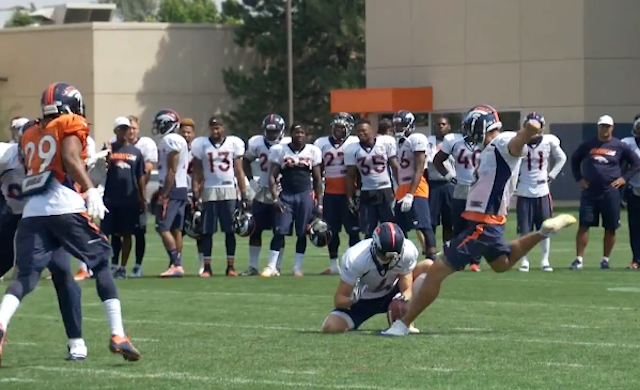 Three of the longest five field goals in NFL history were kicked in Denver.  
As for the amount of kickers who could hit a 70-yarder, it's probably not a long list. 
Raiders kicker Sebastian Janikowski hit a 70-yarder in warmups once, but that came in Denver. Vikings kicker Blair Walsh also once hit a 70-yarder in pregame warmups. 
The ball allegedly travels farther in Denver's mile high air, a fact that Ravens kicker Justin Tucker pointed out in 2013. Tucker claims he once made a 79-yarder during warmups in Denver. 
"In practice I've hit from 79 yards," Tucker said. "That was in Denver before our opener in September [2013]. The weather was perfect; the field was good. With the altitude in the Rocky Mountains, the ball jumps off your foot."
Back to McManus though. You can see a clip of his kick below. To see his entire kick and Barth's 65-yarder, head over to DenverBroncos.com.