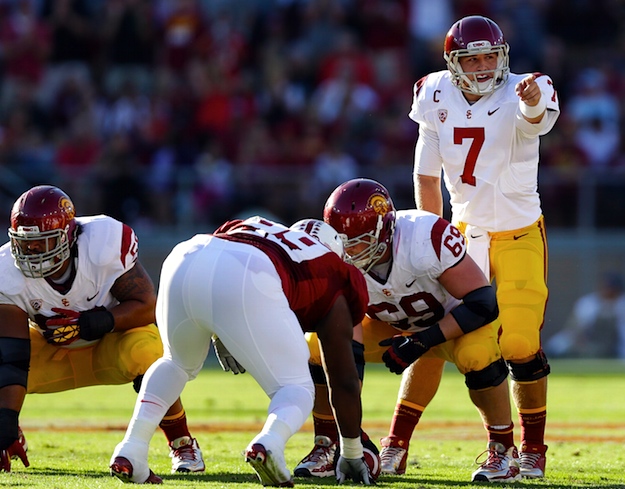 USC quarterback Matt Barkley endured the harshest spotlight of his career Saturday night at Stanford, completing fewer than half of his passes with two interceptions and no touchdowns in a 21-14 loss that sent the Trojans plummeting in the polls and Barkley's stock plummeting in the Heisman chase. But the harshest spotlight was reserved for a far more unlikely candidate: Redshirt freshman center Cyrus Hobbi, whose obvious struggles in his first career start were repeatedly singled out by Fox's broadcast of the game – and subsequently by USC fans looking for a scapegoat.
Playing in place of injured senior Khaled Holmes, Hobbi was cited on-air for a litany of mistakes, including missed blocks, awkward exchanges with Barkley and a critical holding penalty from which USC never recovered on its final, failed offensive drive of the night. Meanwhile, the camera repeatedly panned to Holmes on the sideline, inviting the contrast of steady presence in the middle of the line with his freshman understudy's as one of the biggest games of the year slipped from the Trojans' grasp.
By Tuesday afternoon, Holmes had heard enough of that narrative, and took to his Twtitter feed in Hobbi's defense:
Cyrus was put in the most difficult situation imaginable, and did a commendable job. People attacking him are out of place and incorrect.

— Khaled Holmes (@KhaledHolmes) September 18, 2012
He is a great young man and is going to be a great player for USC. That's all I'll say about the subject. #FightOn

— Khaled Holmes (@KhaledHolmes) September 18, 2012
As Holmes suggests, though, there was plenty of pain to go around. For the night, Barkley was sacked four times by four different Stanford defenders and hit on a regular basis; including the sack yardage, USC managed a grand total of 26 yards rushing on 28 carries, even with a 30-yard run by Curtis McNeal in the first half. The Cardinal defense as a whole recorded 12 tackles for loss, five of them involving defensive end Ben Gardner, who was named the Pac-12's Defensive Player of the Week. After scoring their second touchdown to go ahead 14-7 early in the second quarter, the Trojans' final nine offensive possessions resulted in two interceptions, a fumble, two turnovers on downs and four three-and-outs.
On Sunday, coach Lane Kiffin said the offensive line as a whole had more missed assignments than "any offensive line group we've ever had at any place we've ever been," and put sophomore left tackle Aundrey Walker on notice that his starting job would be up for grabs during this week's practices. ("We have standards and expectations here that our team's well aware of. [Walker's] effort in that game did not meet those.") Kiffin also singled out his quarterback, calling Barkley's interceptions in the first half "probably two of his worst decisions in our three years together on back-to-back plays." But the major problem was that Barkley was hit too often, "more often and harder than he's ever been hit while we've been here." I get the feeling Barkley would probably agree with that statement.
As for Hobbi, his chance at redemption may come Saturday against California, if only for lack other options: Holmes and veteran backup Abe Markowitz are both uncertain to play due to the same injuries that kept them out against Stanford.