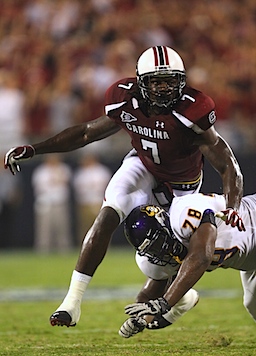 Jadeveon Clowney's first season at South Carolina had no chance to match his outrageous recruiting hype, which would have required a debut so dominant it recalled scenes of looting and pillaging out of ancient folk talkes. Even in a part-time role off the bench, though, Clowney came close enough to the projections as a pass rusher to pick up a Freshman of the Year nod from SEC coaches, who were left contemplating at least two more years of sleepless nights to come. Now, courtesy of Carolina head coach Steve Spurrier, another potential scenario for their nightmares: A 6-foot-6, 256-pound Grendel prowling the line of scrimmage as a middle linebacker.
"We're going to move him all over the place," Spurrier told local reporters following Monday's practice. "We have to put him where hopefully he's most of the time one-on-one with somebody – inside, outside, middle linebacker. There are all kinds of things you can do. It's a pass rush game out there now, as everybody knows."
If disrupting his rivals' sleep patterns was all Spurrier was trying to do, that's not a bad way to go about it. (And let's face it, if anyone in the SEC is going to float a strategy in public just to mess with the other guys' heads, it's the Ball Coach.) If the Gamecocks are actually considering moving Clowney from his natural position at defensive end, it's an intriguing gambit, to say the least. As Spurrier suggests, a full-time move is out of the question. Even stuck behind All-American Melvin Ingram last year, Clowney was a legitimate force off the edge, racking up 12 tackles for loss, eight sacks and five forced fumbles – two of which resulted directly in Ingram touchdowns. It's hardly conceivable that coaches would want to take his hand off the ground on passing downs.
Then again, as long as seniors Devin Taylor and Aldrick Fordham are around to hold down the fort up front, Carolina can afford a little experimentation. Taylor has 32 career starts under his belt, along with an All-SEC nod of his own in 2010, when he led the team in sacks (9) and tackles for loss (13); Fordham started six games last year in the base defense, suggesting coaches already preferred him to Clowney (who started just one game) against the run. Aside from blitzing opportunities, moving Clowney to linebacker on short-yardage and other running downs would allow the 'Cocks to get all three ends on the field at the same time while also swapping a 220-pounder in the middle (Shaq Wilson) for a 250-plus-pounder who runs at least as well. That would be the most conventional scenario, anyway.
What they actually have in store for one of the truly elite talents in college football, we really have no idea. Which may be kind of the point.