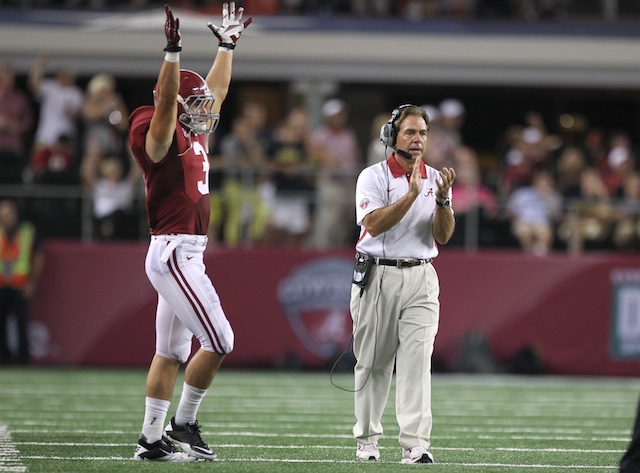 ARLINGTON, Texas -- Replace and reload, nobody does it better than Nick Saban. The master manipulator is not just a mere molder of men, he's a professional developer who's seen more NFL talent pass through Tuscaloosa than are likely on the Cleveland Browns' roster at the moment.
The question coming into the Crimson Tide's opener was supposed to be if this was another 2010, a rebuilding year following a title with multiple starters to replace. Clearly everybody overlooked Alabama's media guide, which has a dedicated page explaining "The Process" by which Saban turns water into wine. We should have known, he's just that good.
"The expectation that we have and the standard we want to play to in business or in sports is about who you are," Saban said. "You know, it's good to look good. It's good to wear the jersey. But it's the guy in it and the character that you have and who you are that probably makes the biggest difference."
Just ask Michigan, which got throttled at Cowboys Stadium 41-14 on Saturday night. There was a fleeting hope that the Big Ten favorite and highly ranked team would be competitive but instead it was the conference's 10th straight non-conference loss against a top five team.
Forcing a three-and-out was the flicker, three straight touchdowns in the 1st quarter was the door slamming shut in what would be another SEC rout in Dallas to open the season.
At every turn the boys from down South were bigger, faster and simply dominant. Alabama at one point had scored 70 straight unanswered points dating back to the Auburn game last year. Prior to a Denard Robinson 71-yard pass before halftime, Alabama had more yardage off interceptions than Michigan had total offense.
Wave after wave, the Tide come at opponents and only in rare occasion have they failed to overrun for a win -- Saban's merely 56-12 during his time in Tuscaloosa. Running backs Eddie Lacy and Jalston Fowler were nice but true freshman T.J. Yeldon looked special in rushing for over 100 yards in his first ever collegiate game, the first time a freshman has ever topped the mark in the storied program's history.
"We like to reward players for doing a good job. So if we have four guys that are quality players at that position, we would like to give them all an opportunity to play," said Saban. "We want to have as many play as deserve to play because the can contribute to the success of the team and hopefully we'll create roles for those guys and they'll get those opportunity in the future."
In other words, he's got an embarrassment of riches.
Several other underclassmen took reps, filling the spots of veterans during key snaps against Michigan. A year ago there were several doing the same behind NFL draft picks. So it will likely continue given the program's success on the recruiting trail.
Replace and reload.
Saban showed he can do it again to open the season and in doing so made the Tide as much as a title favorite as last year. Is there an it factor with this team? It may be too early to tell but throttling the No. 8 team in the country seems like an impressive way to start the season.
What was made abundantly clear Saturday night in the heart of Texas is that there will not be another 2010, when the Tide slipped back to the pack ever so slightly after winning the BCS national championship. Consider it lessons learned as the game's best coach moves on to the next opponent.
"I think we had a really, really good offseason and that was maybe something we didn't do in 2010. We learned a lot from that year," center Barrett Jones said. "He really prepared us both mentally and game plan-wise for this game. He's the best coach in the country and that's why."
The penalties will be corrected, the offensive line should get sharper and the secondary will age. That Alabama could be -- well, is -- the best team in the country at the start of the season despite a few flaws bodes well for a trip to Miami to defend their crystal ball. The team has another stiff test in a few weeks when they travel to Arkansas. Despite looking competitive on paper, it's hard to doubt Saban won't have his troops ready for whatever crosses their face
"Everybody's bought in and understands our purpose," linebacker Nico Johnson said. "Everybody is hungry and I think we're more hungry than we were last year coming into the season. We want to go out and create an identity for this team."
Meanwhile, Michigan will head back to Ann Arbor in search of one.
"Obviously we didn't play Michigan football and that is something that bothers our team and bothers our coaches," a dejected Brady Hoke said. "We've got a lot of things to correct."
There's plenty of time for the program to evolve and grow after suffering significant losses along both lines. National title probably wasn't realistic but the Rose Bowl, and a much longed-for Big Ten title, remain in reach. The Wolverines can still be a good team, it just can't be the best.
That's Alabama under the calculating, demanding eye of Saban. There's no need to worry about the Tide slipping back to the pack this season, it's time to ponder how good they can be.