For the second straight year, the Eye on College Football counts down to the SEC's Game of the Century Year between the Tigers and Tide -- 8 p.m. ET Saturday on CBS, and live online right here -- with a daily look at news, stats, matchups and more.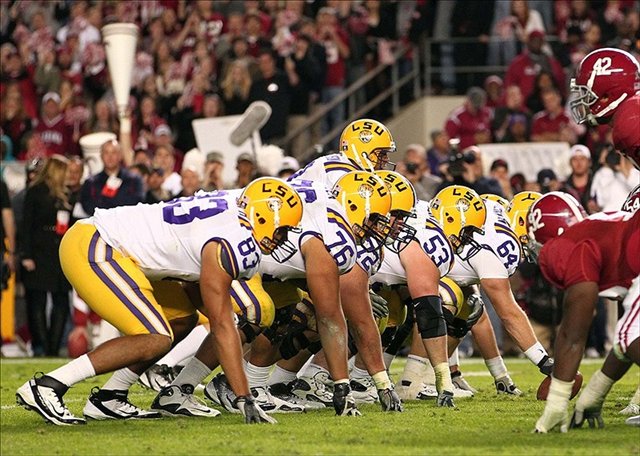 LSU's offensive line will have its hands full with the Tide's front seven. (US Presswire)
DAYS REMAINING TO KICKOFF: Three, or the number you get if you combine the Tide's and Tigers' rankings in pass efficiency defense: Alabama's No. 1, LSU No. 2. No, you should not expect a ton of aerial fireworks in this game. (Though we're guessing that after the two 2011 matchups, you weren't already.)

THE LATEST FROM TUSCALOOSA: In the ongoing Amari Cooper Watch, the needle has pointed back toward "perfectly healthy" after Nick Saban said on Wednesday's SEC conference call that he expected Cooper to be "full speed" at Wednesday's practice. He'd better be -- with the game Saturday, practice time is running awfully short, and Cooper shapes up as a critical piece to the Tide's offensive efforts.
But via al.com, the most interesting nugget from Saban's teleconference was this reponse to a question of his "curmudgeonly" reputation:
"I don't know what that word means. I don't think it's accurate and I'm not sure I care and I didn't really even know that. I appreciate the insight. I don't think that people that know me would say that. I don't think the players here would say that. I don't know if that's something that gets created somewhere outside of here. It's not especially complimentary I wouldn't think. I understand the words that I understand. I didn't really understand that one. I've learned a lot today."
That's somehow an even more Nick Saban response than we were expecting from Nick Saban. Also: Can you really label anyone a curmudgeon whose on-campus statue (via Friends of the Program) is so festive?
Funny, but after what happened to Mississippi State in the wake of its attempt at playing Saban statue dress-up, maybe Tiger fans should have left well enough alone. Incidentally, Wednesday is also Saban's birthday. Here's the pithiest of many pithy Twitter observations about the confluence of his birthday and Oct. 31:
Nick Saban wasn't born on Halloween. Nick Saban was born, and then we invented Halloween to try and deal with it.

— sir broosk (@celebrityhottub) October 31, 2012

THE LATEST FROM BATON ROUGE: As a fellow South Carolina native, Tiger end Sam Montgomery felt the impact of Marcus Lattimore's devastating injury more deeply than most. Which is why Montgomery will be showing his respect for the star tailback by writing his number -- 21 -- on his arm tape through the remainder of the season, Les Miles confirmed Monday. 
"I haven't talked to Sam about that specifically, but I recognize Sam has a care for people," Miles said on the SEC teleconference, per the New Orleans Times-Picayune. "He's a guy that has a perspective that's widespread. Sam had a very serious injury in a game early in his career and battled back ... He knows to some extent what Marcus is going through."
Take a quick poll of college football fans asking for the most iconic midfield logo in the sport, and it's a good bet the famous "Tiger Eye" in Death Valley would draw a fair number of votes. Here's a revealing Baton Rouge Advocate story on the genesis and revival of the logo, and as for the coach who brought it back, would you believe ... 
LSU stopped using the eye logo during Joe Dean's tenure as athletic director in the late 1980s. During the years that the Eye of the Tiger logo wasn't used, block LSU letters were used at midfield, and before that, a state of Louisiana with the school letters over it.

"Junk," (LSU professor Don) Bruce (who designed the original logo) said. "I did it, but we were just fishing around trying to find something."

When Nick Saban took over as LSU's head coach going into the 2000 season, he was shown the eye logo and insisted that it return to midfield.
As always, irony rules the world with an iron(ic) fist.
VIDEO BREAK: If you remember the (highly enjoyable) trailer for the game produced by LSU football, it won't surprise you to learn that Alabama fans have decided to make one of their own. Better? Worse? You be the judge:
From Wednesday's College Football 360 (every weekday at 10 a.m., right here), Tony Barnhart previews the matchup:
You can also see Barnhart talk Alabama's national title chances and much more here.
MAKE-OR-BREAK MATCHUP OF THE DAY: J.C. Copeland, Josh Williford, La'el Collins and Trai Turner vs. C.J. Mosley and Trey Depriest. First, an undeniable truth if you're LSU: your passing game is going to have some issues on Saturday. As mentioned at the top of this post, Alabama has a compelling argument as the nation's best pass defense, and to date Zach Mettenberger and Co. -- the FBS's 90th-ranked offense in pass efficiency -- haven't been able to do much even against mortal competition. In four games against SEC competition, Mettenberger has a QB rating solidly under 100, has averaged just 5.4 yards an attempt and has thrown just one touchdown pass -- and that's with games against the decidely not Alabama defenses of Auburn and Texas A&M. For a team whose most lasting memory of the BCS championship debacle was Jordan Jefferson flailing his way to a 53-yard, zero TD, one-pick disaster, the possibility of Mettenberger being sucked into that same crimson vortex of quarterbacking horror has to seem terrifyingly tangible.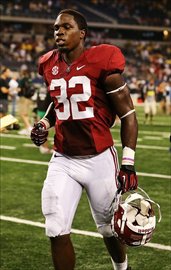 C.J. Mosley is key to stopping LSU's running game.(US Presswire)
So how does LSU give its quarterback the help that he's going to inarguably need? Holding the game at Tiger Stadium as scheduled will help -- Mettenberger's best game of the year was unquestionably his Week 2 performance at home vs. a perfectly decent Washington defense. But giving him a running game to keep him out of third-and-long? To set up play-action? To give the Tide defense something to legitimately worry about? That'll be even more helpful.
For that to happen, the Tiger blockers will have to find a way of dealing with -- or at least somewhat containing -- Mosley and Depriest, the starting inside linebackers (at "Will" and "Mike," respectively) in the Tide's 3-4 defense. Keeping Alabama's defensive linemen blocked will help, too, of course. But for the most part, Saban asks his line to simply occupy blockers and let his linebackers and safeties flow to the ball; only one of Alabama's top 11 tacklers is a lineman. But they do that occupying expertly, which is why Mosley leads the team with 65 stops (and is garnering All-American consideration) while Depriest comes in third with 34. (The third member of the ILB rotation, Nico Johnson, is a slot behind with 32 tackles.)
If LSU is going to run the ball with any consistency, Jeremy Hill and the other LSU tailbacks will need Mosley and Depriest to have something other than a free run into the hole.
That blocking job will fall primarily to Copeland, the fullback, and some combination of guard candidates Collins, Turner, and Williford (the latter freshly back from injury). Though not yet back at their dominating 2011 standard, the LSU line has begun to flex some of its old drive-blocking muscle in recent weeks -- particularly in the second halves vs. South Carolina and Texas A&M, and particularly from Collins and Williford. And especially in Death Valley, it's a mistake to assume Mosley and Depriest are going to have things nearly as easy vs. the Tigers as they have against other opponents.
And if Hill can break one or two medium-distance runs, maybe Mettenberger won't be a greasemark in the Tide defense's path of destruction, and maybe the fourth quarter will feature some of that ol' Miles magic.
But if Mosley and Depriest can regularly go around or through Copeland and the guards, get to Hill (or Spencer Ware or Michael Ford), and keep the LSU running game at anything like 3.5 yards a carry or less? Mettenberger will be a sitting duck -- and Jefferson can tell him how much fun that will be against Alabama.