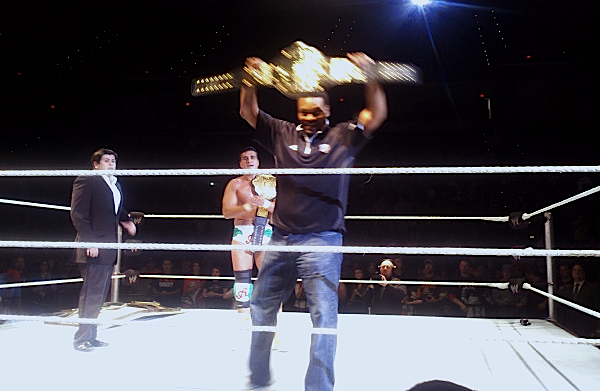 Kevin Sumlin, honorary world heavyweight champion. (@billyliucci)
Alberto Del Rio is a veteran professional wrestler and reigning WWE world heavyweight champion. Paul "Big Show" Wight is a 7-foot, 440-pound, seven-time world champ, including two stints as the owner of the title currently claimed by Del Rio. Kevin Sumlin is a 48-year-old football coach. On Sunday night, though, it was the Texas A&M boss who turned out to be the star of the main event and emerged from the ring with the belt to show for it.
As announced earlier in the week, Sumlin was named an "honorary" world heavyweight champion by Del Rio -- complete with a ludicrously oversized gold belt -- before the highly anticipated, "no disqualification" match between the champ and the challenger, Big Show, the last of eight matches on the agenda during WWE's swing through College Station. What the crowd didn't expect was that the head coach would be dragged into the show itself when Wight, a career heel, made an early entrance in the middle of Sumlin's acceptance speech:
From there, the main event proceeded accordingly, until Sumlin decided it was time for an intervention of his own. According to an event recap from ProWrestling.net:
Big Show's music hit to loud boos for interrupting. Show got heat by talking bad about A&M being second rate just like Del Rio. Sumlin headed out of the ring. Great back and forth no DQ match. A couple of good near falls, both hit their big spots. Del Rio got the win when Sumlin slid the belt in to hit Show. Sumlin, Del Rio and Ricardo celebrated, and the crowd went home very happy.
Unfortunately, the match wasn't televised, and no video has emerged of Sumlin's turn in the victory. But if you don't think that belt is going to find its way around the waist of a recruit by the end of the day, well … let's just say Nick Saban is making arrangements to put Dolph Ziggler in a figure-four leg lock as we speak.