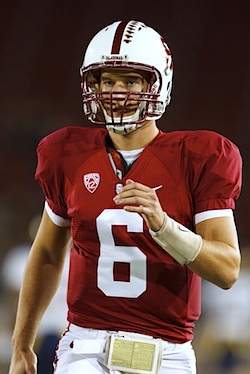 It's official: Junior Josh Nunes is the new starting quarterback at Stanford, per head coach David Shaw, who picked Nunes over sophomore Brett Nottingham Tuesday after an eight-month tug-of-war. Now, he just needs to keep reminding people what he told reporters after the announcement: "I am not Andrew Luck and by no means am I going to try to be him."
The Nunes file, briefly: He hails from Upland, Calif., he was pegged by the top recruiting sites as a four-star prospect in the incoming class of 2009, and at 6-foot-4, 225 pounds, he has all the makings of a prototypical West Coast, "pro style" slinger. In three years on campus, Nunes has seen the field in just four games, all in mop-up duty as a redshirt freshman in 2010. Last year, slowed by a turf toe, he was relegated to third-string duties behind the top backup, Nottingham, who only made it on the field for eight garbage-time pass attempts himself.
The question now, on the heels of back-to-back BCS bowl games, is not whether Luck's absence will matter, but by how much. Besides his own inexperience, and the inherent pressure that comes with replacing the most decorated quarterback in school history, Nunes will be working without three other departed All-Americans – tight end Coby Fleener and offensive linemen David DeCastro and Jonathan Martin – who started nearly every game over the past three years and were also selected among the top 42 picks of the draft. He'll also be working without last year's top three receivers.
What he will have is a familiar, quarterback-friendly system that's established itself as much on the basis of an old-school, power running game as on Luck's $22-million arm. Honestly, who needs to throw? All-Pac-12 tailback Stepfan Taylor has churned out back-to-back 1,000-yards seasons, the last one capped by a career-high 177 yards and two touchdowns in the Fiesta Bowl. Behind him, there's junior Anthony Wilkerson, who's due for an expanded role after rushing for 690 yards and six touchdowns in two years as a third-stringer; there's also incoming freshman Barry Sanders, highly touted spawn of the former Heisman Trophy winner/ankle-breaking NFL legend.
Senior tight ends Zach Ertz and Levine Tolilo are back to block and serve as huge, proven targets in the play-action game. Frankly, if the next generation of Stanford linemen picks up where the last one left off, they could keep the chains moving most of the time with Condoleeza Rice taking handoffs.
The rest of the time? That's where Luck made his living, lifting the Cardinal from obscure Pac-10 doormats to viable national contenders, and where everyone watching Nunes this fall will be minding the gap.