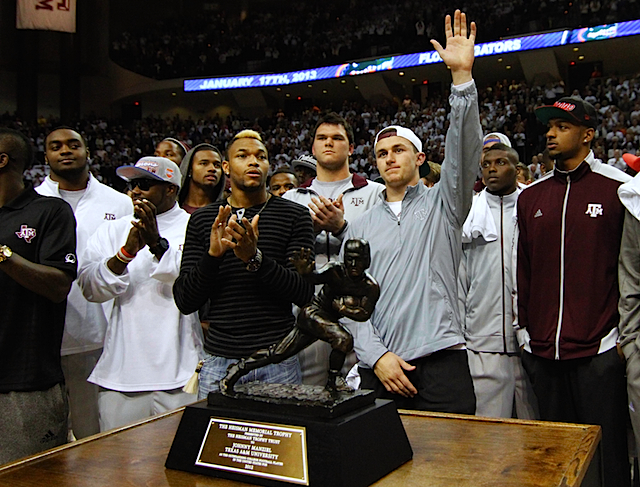 Johnny Manziel's presence in a classroom threatens to turn a lecture into pandemonium. (US Presswire)
There are many, many perks to winning the Heisman Trophy, and like any self-respecting 20-year-old, Texas A&M quarterback Johnny Manziel seems determined to enjoy each and every one of them. The thing about being the Big Man On Campus, though, is that it requires one to actually be on campus. And for one semester, at least, the most famous face in college football is steering clear of the rest of the student body.
While Manziel remains a full-time student, per NCAA rules, he said Monday that he won't be setting foot inside a classroom this spring because all four of his classes are online only. Aside from workouts at the football complex, he only expects to be on A&M's campus about once a month.
"It just happened to work out where it was good after the football season with all of the stuff going on," Manziel told reporters at the Fort Worth Club, where he was scheduled to receive the Davey O'Brien Award as the nation's best quarterback on Monday night.
 He added he was forced to switch out of an on-campus English course earlier in the semester because his presence was too much of a distraction. "I went one day -- it was a small class of 20 or 25 -- and it kind of turned into more of a big deal than I thought."
Not that the Heisman Trophy winner has ever been able to pass as a regular student -- at least not recently, anyway. In his last semester at USC, reigning Heismanaut Matt Leinart filled his academic requirement with a single, infamous class, ballroom dancing; four years later, Tim Tebow wrapped up his career at Florida with a "senior seminar" that he admitted was probably easier than ballroom dancing. Unlike Leinart and Tebow, though –- both of whom had already earned bachelor's degrees before their final season, and were technically graduate students –- Manziel is only about halfway to his undergraduate degree. Whether he'll finish before making the leap to the NFL is an open question.
Still, coeds and would-be hangers-on hoping to get a glimpse of the biggest names on campus strolling through the quad might as well get used to their heroes retreating into the web. According to the web's resident NCAA guru, John Infante, a proposed rule in 2008 would have outlawed Manziel's online-only schedule by mandating that "nontraditional courses" -- specifically defined as "distance-learning, correspondence, extension, Internet/virtual courses, independent study or any other course or credit that is not earned in a face-to-face classroom environment with regular interaction between the instructor and the student" -- take up no more than 50 percent of an athlete's schedule; any more, and said athlete would be academically ineligible to compete. But that legislation was voted down, and the subsequent requirements for athletes enrolling in "nontraditional" courses, passed in 2011, were far less stringent:
1. The course must be available to all students;
2. The student-athlete must enroll in the course in the same manner as other students;
3. Enrollment must occur during regular drop/add periods, in accordance with institutional policy; and
4. To use the course for full-time enrollment, it must be conducted during the institution's regular terms.
In the meantime, Manziel also said he and his parents have recently met with Texas A&M compliance for a refresher on NCAA rules as the spotlight intensifies, online and off. "I feel like by now if I was doing something wrong," he said, "compliance would have definitely figured something out."