Assessing 2012's most intriguing players, in no particular order. Today: Junior LSU defensive end Barkevious Mingo.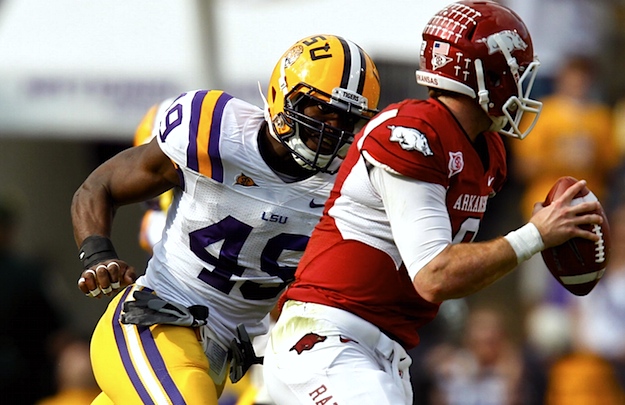 • Typecasting. Colossal though they may be in any other context, most college linemen still require a year or two on campus to transform themselves into human dreadnoughts capable of surviving the college game. That goes double for the SEC, where future pros proliferate like immovable granite pillars ton both sides of the line, and triple for factories like LSU, where it takes a certain raw tonnage just to survive practice. But even before the grueling weight-lifting sessions and 5,000-calorie-per-day diets, there is virtually no mistaking any of them as linemen.
Not so with the scintillatingly named Barkevious Mingo, who showed up in Baton Rouge in 2009 projected as a linebacker but – with barely 200 pounds aboard a 6-foot-5 frame – looking more like a sinewy wide receiver, or a small forward, than a coveted pass rusher. (In fact, he was: He didn't play football until his junior year at West Monroe High, focusing instead on basketball and track, where he ran anchor on a state championship relay team.) Three years and at least 30 pounds later, Mingo is still decidedly on the lean side for a guy who spends virtually all of his time across from 300-pounders. But there is no doubt about the "coveted" part: By this time in 2013, according to pretty much everyone paid to forecast this sort of thing, he'll be luxuriating as a first-round draft pick. Possibly a high one. In the meantime, he'll have to battle just to stay on the field for his own team.
• At His Best. Now that he's filled out a bit, it's easy to see that Mingo's explosiveness and wingspan make him a born terror off the edge, and it's a testament to LSU's incredible depth on the defensive line that he hasn't been asked to do much else: As a sophomore, he started just three games and was largely limited to putting his hand down and getting after the quarterback on likely passing downs. But he played that role so well – racking up seven sacks and a team-high 15 tackles for loss for a defense that led the SEC in both categories and finished among the top two or three nationally by every other measure – that he still picked up a second-team all-conference nod and the aforementioned attention from pro scouts.
Hype and production both stem primarily from his borderline physics-defying speed. Published 40-yard dash times are in the 4.5 range and lower; even if you don't believe that – and you definitely shouldn't – the implication remains: Dude is fast. He also has a high motor in pursuit. When he's able to pin his ears back, opposing linemen cannot block him one-on-one, and offenses that think they can get away with simply not blocking him on misdirection runs have discovered they are sadly mistaken:
Very, very few defensive ends can do those things in the open field. LSU compounds the problem by a) Keeping the assault fresh, legitimately boasting a two-deep rotation at every position on the defensive line, and b) Bringing a dizzying array of blitzes from all over the field to keep offensive linemen on their heels. Any hesitation against Mingo will end with your quarterback face-down in the turf.
• Curb Your Enthusiasm. Starting assignments last year went to a pair of bigger bodies, Sam Montgomery and Lavar Edwards, who earned plenty of acclaim in their own right. (Montgomery was a first-team All-SEC pick as a redshirt sophomore, also emerging as a virtual lock for first round.) But that also hints at Mingo's issues when linemen are able to get their hands on him on straight-ahead runs: He can be caved down, sealed off, driven off the ball and occasionally just run right over:
By LSU's (admittedly high) standards, he's not yet proven himself as an every-down player.
• You should probably know… If he'd never played a down, Mingo would still live on in Internet legend due to his triumph over Iris Macadangdang in the championship round of the 2009 Name of the Year tournament, enshrining his mellifluous moniker alongside the likes of Assumptrion Bulltron, Tanqueray Beavers and the immortal Vanilla Dong in the hallowed Hall of Name. As it turns out, though, the miracle that is "Barkevious" only came about as a result of a bit of inspired postpartum vanity:
Mingo's father, Hugh, named both of Mingo's older brothers -- Hugh III and Hughtavious -- using his name as inspiration.

When Mingo was born, his mother seized her opportunity to name him. Mingo's first name is a combination of the first three letters of his mother's name and the name Kevious.

"My mom got fed up with that," Mingo said of the Hugh names. "Her name is Barbara, so she kind of pulled something out of a hat."
Personally, I'd rather believe the name has no etymology, but has always been and always will be. As for Barkevious, he prefers to go by the nickname "KeKe," for some reason, which is a little like inheriting a multimillion-dollar estate and choosing to live in a two-bedroom starter house on the wrong side of town. Embrace your destiny, Lord Mingo.
• What to expect in the fall.If Mingo has improved against the run, his chances to prove it will probably be limited: Both Montgomery and Edwards are back, as are Bennie Logan, Ego Ferguson, Josh Downs and Chancey Aghayere, all weighing in upwards of 265 pounds. When LSU wants to stop the run, it can stop the run. When it wants to bring the heat, it calls on Mingo.
Last year, that formula was gold – LSU finished second nationally (behind only Alabama) in total and scoring defense, fifth nationally against the run and led the SEC in both sacks and tackles for loss. Not one team on the schedule came within two touchdowns of its season average on the scoreboard. Essentially the entire front line returns, with the notable exception of first-rounder Michael Brockers in the middle; locals will tell you future first-rounder Anthony Johnson is going to render the point moot. As far as the Tigers are concerned, Mingo can afford to specialize on second and third-and-long, of which there figure to be plenty, again. If the draftniks absolutely have to see more, maybe they should look at a defense that needs it.
- - -
Previously on Coming Attractions: Ray-Ray Armstrong, Miami. … Arthur Brown, Kansas State. … Christine Michael, Texas A&M. … Danny O'Brien, Wisconsin.