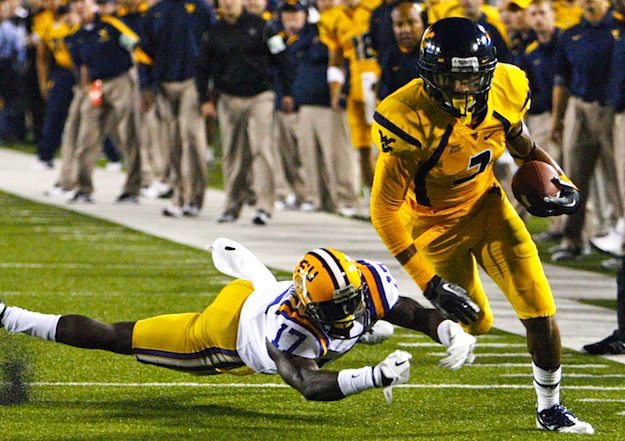 OFFENSE
QUARTERBACK
Geno Smith, Sr., West Virginia. He didn't know it at the time, but Smith was being groomed for the quarterback-friendly spaces of the Big 12 long before West Virginia considered putting down stakes there. Coach Dana Holgorsen was hired after the 2010 season specifically to remake the Mountaineers' sagging, nondescript offense in the image of up-tempo, high-flying attacks he helped mold at Texas Tech and Oklahoma State, and the results were both immediate and obvious: WVU won the Big East with the most prolific offense in the conference and was last seen reducing Clemson's defense to ashes in the most lopsided routin BCS history.
For his part, Smith racked up 407 yards and six touchdown passes in that game, pushing him past the 4,000-yard/30-touchdown mark for the season and inevitably into the Heisman derby this fall. That may be slightly pie-in-the-sky. But if nothing else, given the deepest set of receivers in the conference and another offseason for the bombs-away philosophy to sink in, there's not going to be any culture shock. In either direction.
- - -
Also considered: When he's on, the most dangerous arm in the conference still belongs to Oklahoma's Landry Jones. … The most productive legs are property of Kansas State's Collin Klein. … And TCU's Casey Pachall boasts the best combination of both.
RUNNING BACK
Joseph Randle, Jr., Oklahoma State. They've been easy to miss amid the wreckage wrought by the Cowboys' passing game, but Oklahoma State has now produced a 1,200-yard rusher in five consecutive seasons. None of them had a more leisurely path to that mark than Randle, who got there last year despite failing to crack 20 carries in any of OSU's last nine games. And why would he? When the best quarterback in the conference achieves a psychic mind-meld with the best receiver in the nation, there's not much demand for handoffs.
This year, the transition from 28-year-old senior Brandon Weeden to 18-year-old freshman Wes Lunt at quarterback should create a considerable spike in the market for Randle's services, and the early exit of ace deep threat Justin Blackmon for the NFL should give defenses new opportunities to focus on the run. But it's a safe bet that no non-quarterback in the league is going to touch the ball more often.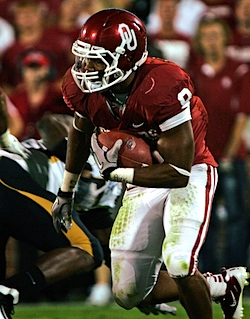 Dominique Whaley, Sr., Oklahoma. The Sooner offense turned south for good when top receiver Ryan Broyles went down with a torn ACL in early November. But the late fade also owed much to the absence of Whaley, a former walk-on who beat out four blue-chip contenders for the starting job and was well on his way to a breakout season before a season-ending ankle injury at Kansas State; the running game never fully recovered, and after Broyles' injury, neither did the offense as a whole. Now that he's been "cleared to do everything" – and finally has a scholarship, to boot – he's clearly the man to beat.
- - -
Also considered: Some unexpected attrition from TCU should yield more opportunities for the Horned Frogs' leading rusher, Waymon James. … Kansas State is looking for another leap from last year's surprise, John Hubert, preferably with a few more touchdowns. … And Texas is looking forward to exploiting a healthy Malcolm Brown after a freshman campaign plagued by injuries, almost as much as it's looking forward to the arrival of the next product of the five-star pipeline, Jonathan Gray.
WIDE RECEIVER
Stedman Bailey, Jr., West Virginia. Bailey showed up on highlight shows on a near-weekly basis last year making all kinds of notable grabs, from acrobatic catches to juggling catches, clutch catches, physical catches, catches at the expense of the best cornerback in the country, at least one catch that may have been technically impossible according to the laws of physics. He finished with the best yards-per-catch average in the Big East by a wide margin. (The same number, 17.8, would have also been the best average in his new conference.) On top of his obvious big-play prowess, though, Bailey was unusually consistent for a sophomore, bringing in at least four receptions, at least 80 yards receiving and at least one touchdown in 10 of the Mountaineers' 13 games. After eight years, this fall will be the last that he gets to catch passes from his old Miramar (Fla.) High teammate, Geno Smith.
Josh Boyce, Jr., TCU. Boyce saved his best game for his team's biggest, personally accounting for three touchdowns and the decisive two-point conversion in last November's poll-shaking upset at Boise State. But that was only giving a national audience what TCU fans and the rest of the Mountain West already knew. As a freshman in 2010, he'd averaged 19 yards per catch with six touchdowns as the resident deep threat on the Frogs' undefeated run to the Rose Bowl; as a sophomore, he kept that average well above 16 yards per catch despite a dramatic expansion of his role into an every-down target. If the offense is going to keep pace in its new surroundings, it will only be with its most dangerous player at full speed.
Kenny Stills, Jr., Oklahoma. Stills is another young deep threat on the cusp of the "steady veteran" phase, a transition that takes on added urgency for OU in the wake of a) Ryan Broyles' graduation, and b) A wave of suspensions in the spring that decimated the rest of the receiving corps. One key returnee, Kameel Jackson, has already transferred; two others, Jaz Reynolds and Trey Franks, are stuck in indefinite limbo. (Neither is listed on the current roster.) Sooner fans can drool all they like over incoming freshman Trey Metoyer: Until further notice, the passing game lives or dies with Stills.
- - -
Also considered: Baylor's Terrance Williams makes his case with a new quarterback. … Texas' Jaxon Shipley and Mike Davis can only wish for a new quarterback. … And before West Virginia fans start lighting things on fire over the omission of scintillating senior Tavon Austin, just keep reading.
TIGHT END
Jordan Najvar, Jr., Baylor. Not content to be stuck behind a small army of NFL-bound tight ends, Najvar decided after one year at Stanford to trade catching passes from Andrew Luck in practice for catching passes from Robert Griffin III in actual games. Not that he caught many: Just 15 last year, and just two in the final five games. But that was still more than any other returning tight end in the conference, and with both Griffin and top target Kendall Wright on their way out, 'tis the season in Waco for a whole bunch of check-downs.
OFFENSIVE LINE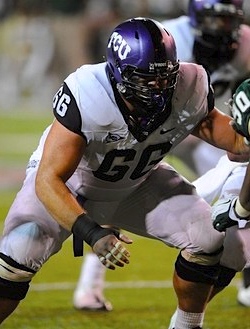 Blaize Foltz, Sr., TCU. Foltz was one of two TCU linemen tapped as first-team All-Mountain West picks last year, his first as a full-time starter, and will be one of only two returning starters up front for the Frogs' Big 12 debut. As a fifth-year senior, he also has a communications degree in the bank, and if you think there isn't a local sportscasting job waiting for a former lineman named "Blaize" somewhere in the DFW sprawl, you are mistaken.
Ben Habern, Sr., Oklahoma. Habern has been around Norman so long that he actually snapped the ball to Sam Bradford during OU's record-breaking run to the BCS Championship Game in 2008, making him the only current Sooner who saw the field that season. In the meantime, he's suffered two season-ending ankle injuries, missed almost half of last season with an arm injury and may at some point this fall be forced to replace several ligaments with an acre or two of athletic tape. But if he has to, he will, because at no point in that span has anyone emerged to supplant him from the center of a line that consistently ranks as the league's best.
Gabe Ikard, Jr., Oklahoma. Ikard was recruited as a 240-pound tight end, but has proven to be a natural on the interior line: After taking a redshirt year to bulk up in 2009, he was a freshman All-American at guard in 2010 and a first-team All-Big 12 pick in 2011. The next logical step in that progression is an All-America nod, widely projected for the upcoming season, followed by a productive career at the next level.
Lane Taylor, Sr., Oklahoma State. He's no Brandon Weeden, age-wise, but with 36 starts over the last three years, Taylor is the Cowboys' eldest statesman by far in terms of playing time. Opposing pass rushers failed to breach that combination of size and experience last year (Taylor allowed zero sacks on Weeden from his usual spot at right guard), which Wes Lunt can only hope had as much to do with Taylor as immovable object than Weeden's quick read and release.
LaAdrian Waddle, Sr., Texas Tech. Not many guys with "prototype" potential wind up at Texas Tech, but at 6-foot-6, 318 pounds, Waddle fits the mold of a coveted left tackle like a glove. Last year, he did just enough with it to convince a handful of coaches he was worth an all-conference vote; this year, the target audience is pro scouts.
- - -
Also considered: It's a strong year for centers with Baylor's Ivory Wade, Kansas State's B.J. Finney and West Virginia's Joe Madsen. … Cyril Richardson is next in Baylor's unlikely O-line pipeline to the NFL. … And between Josh Cochran, Dominic Espinosa, and Trey Hopkins, Texas is probably going to have a first-team pick by the end of the year.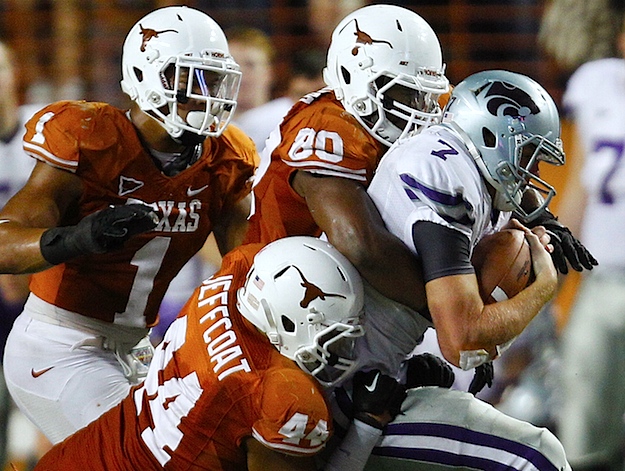 DEFENSE
DEFENSIVE LINE
Jackson Jeffcoat, Jr., Texas. Jeffcoat arrived in Austin with a daunting pedigree, marked for greatness as the highly touted spawn of longtime Dallas Cowboy Jim Jeffcoat. Last year, he assumed another, emerging from an injury-shortened freshman campaign in 2010 as the standard bearer for a position that's produced 13 draft picks in Mack Brown's 14 seasons as head coach. Still feeling his way as a first-year starter, Jeffcoat delivered at least one tackle for loss in each of the Longhorns' last ten games, including a pair of sacks in a Holiday Bowl mugging of Cal, thereby cementing his heir-apparent status on preseason All-America teams and mock drafts everywhere.
Alex Okafor, Sr., Texas. For the record, the only reason Brown isn't 14-for-14 when it comes to producing NFL defensive ends is that Okafor decided to return for his senior season. It certainly wasn't because he has anything left to prove: After an awkward stint at defensive tackle in 2010, Okafor finally justified his blue-chip recruiting hype as a junior with 12.5 tackles for loss, eight sacks, a pair of forced fumbles and a first-team All-Big 12 nod at his natural position. (He picked up a stray All-America nod, too.) Opposite Jeffcoat, 2012 could easily turn into another extended game of Meet You at the Quarterback.
Stansly Maponga, Jr., TCU. The Horned Frog defense was well below its usual standard in 2011, and would have been a pressing issue in the transition to the Big 12 even if it hadn't lost three would-be starters in a campus drug bust in February. That leaves Maponga, a two-time All-MWC pick whose presence in opposing backfields as a sophomore (9 sacks, 13.5 tackles for loss, 5 forced fumbles) may be the bare minimum necessary to protect a rebuilt secondary.
Nigel Nicholas, Sr., Oklahoma State. How shallow is the crop of quality defensive tackles? Based on spring practice, the best returning tackle in the league isn't even going to be playing tackle anymore: After two productive years on the interior, Cowboy coaches are moving Nicholas outside, where they hope the disruptive talent that produced 10 tackles for loss in 2011 can flourish at end. Maybe. Even if it doesn't pay off for Nicholas individually, though, the move is still a sign of optimism about the depth behind him at tackle, a persistent concern.
- - -
Also considered: Depth is not the issue for Oklahoma, which will rotate senior tackles Stacy McGee, Jamarkus McFarland and Casey Walker for the third year in a row. … And as usual, Kansas State found productive bookends last year in juco transfers Meshak Williams and Adam Davis.
LINEBACKER
Arthur Brown, Sr., Kansas State. Before he was "Bryce Brown's older brother" in recruiting circles, Arthur Brown preceded Bryce as the first five-star prospect ever from the state of Kansas, and very nearly joined his brother in the pantheon of infamous busts. After two seasons in Miami, Arthur had plummeted from prized recruit to special teams afterthought. Back in his home state, though, the elder Brown lived up to the hype last year by leading K-State in total tackles and picking up a first-team All-Big 12 nod from conference coaches, who also voted him as the league's Defensive Newcomer of the Year.
With Arthur in the middle, K-State improved against the run by a full 100 yards per game compared to 2010, when it allowed more yards on the ground than any other defense in the country, and more yards per carry than all but one; the 2011 D finished 37th against the run and held the Big 12's most prolific offenses, Baylor and Oklahoma State, to less than half their season averages.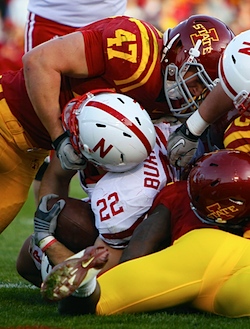 A.J. Klein, Sr., Iowa State, and Jake Knott, Sr., Iowa State. No tandem in America has devoured more ball carriers over the past two seasons than the Cyclones' tag-team tackle machine, a sturdy, corn-fed vortex from which little light escapes: Between them, Klein and Knott have combined for 512 career stops, the vast majority of them in 2010 and 2011, and politely alternated seats on the All-Big 12 team. (In 2010, it was Knott's turn; last year, the first-team nod went to Klein.) This year, there's no reason they can't both make the cut.
Shaun Lewis, Jr., Oklahoma State. Lewis followed rave freshman reviews in 2010 with an equally promising encore, confirming his penchant for turnovers (2 interceptions, 2 fumble recoveries, 1 forced fumble) on top of his routine duties as one of the Cowboys' top tacklers. So he's probably not going to crack six feet before pro scouts start breaking out the tape measures in a couple years; in the meantime, opposing offenses can rest assured he's not going anywhere.
- - -
Also considered: Kenny Cain looks like the next big thing at TCU. … Juniors Tom Wort and Corey Nelson are steady veterans for Oklahoma. … And Jordan Hicks is yet another blue-chip Longhorn at the crossroads of potential and reality.
CORNERBACK
Brodrick Brown, Sr., Oklahoma State. The Cowboys were significantly better against the pass in 2011 than the raw numbers suggested (just ask Robert Griffin III), none of them more so than Brown, a 5-foot-8 spark plug who converted his outsized athleticism into five interceptions and a league-best 20 pass broken up, one shy of the national lead. That was good enough for a first-team All-Big 12 nod, but how about for keeping OSU at the top of the conference standings now that its offensive headliners have moved on?
Nigel Malone, Sr., Kansas State. Malone is the quintessential K-State success story: Undersized, completely ignored by recruiters out of high school, very nearly ignored after two years of junior college in San Francisco, and an instant hit in his first year in Manhattan. By season's end, he'd recorded a Big 12-best seven interceptions – two of them off Oklahoma's Landry Jones, one returned for a touchdown against Texas Tech – and made enough of an impression among opposing coaches to earn their all-conference votes in a crowded field. If only a few of them had heard of him a year earlier.
- - -
Also considered: Corner is the deepest position in the league: Up-and-coming Longhorns Quandre Diggs and Carrington Byndom would be obvious all-conference choices under most circumstances, and may very well achieve no-brainer status under actual circumstances by the end of the year. But they still have to pass the coaches' second-team picks in 2011, Oklahoma's Demontre Hurst and Oklahoma State's Justin Gilbert.
SAFETIES
Tony Jefferson, Jr., Oklahoma. It's as good a conventional label as any – he plays defense, and he looks like a safety, and he did happen to lead Oklahoma in interceptions last year – but somehow, limiting Jefferson's role to "safety" still reeks of a lack of imagination. He's at least as comfortable among the Sooner linebackers, whom he's joined the last two seasons as one of the team leaders in both total tackles and tackles for loss, and as an occasional blitzer, which allowed him to notch 4.5 sacks as a sophomore. As a junior, Jefferson goes into the season more starts under his belt (21) than all but one other member of the OU defense, and may come out with a very enticing ticket to the next level.
Kenny Vaccaro, Sr., Texas. For most of his career, Vaccaro has been the guy with the outrageous tattoos on a seek-and-destroy mission against everyone and everything with the misfortune to enter the Longhorn secondary, the guy his own coach compared to "a pack of rattlesnakes." As a junior, though, he set out last year to improve in pass coverage, and made a credible enough go of it to pick up a first-team all-conference nod from league coaches and the pole position among NFL scouts as arguably the best senior safety in next year's draft. And if he still has to occasionally hurdle a blocker en route to the quarterback, well, a bro's gotta do what a bro's gotta do.
- - -
Also considered: Kansas State's Ty Zimmerman is a former Freshman All-American. … Surprise starter Daytawion Lowe finished as Oklahoma State's leading tackler. … And the only good thing about Texas Tech's defense is that it still features Terrance Bullitt.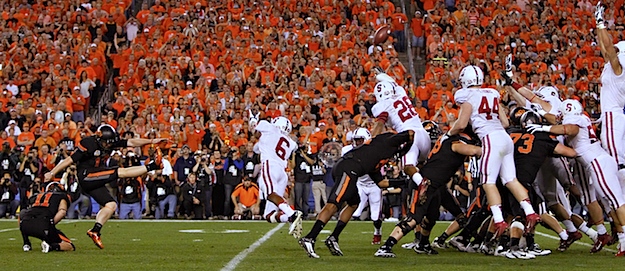 SPECIAL TEAMS
KICKER
Michael Hunnicutt, Soph., Oklahoma. Hunnicutt tied a school record and broke the Big 12 freshman record last year with 21 successful field goals in 24 tries, and we're not talking chip shots: He was perfect on four attempts from 40 yards and longer, knocking through a 47-yarder against Baylor, a 48-yarder against Oklahoma State and a 53-yard bomb against Kansas State that stands as the longest Sooner field goal in the Bob Stoops era.
PUNTER
Quinn Sharp, Sr., Oklahoma State. Sharp already owns pretty much every honor within range of his right leg, including back-to-back All-America nods – first as a punter, then as a placekicker – back-to-back all-conference nods in both roles and a cameo as the closer in January's Fiesta Bowl win over Stanford. (Like most kickers, of course, he's been on the other end of the stick, too.) Although OSU fans get to see a lot more of him on field goals and extra points, Sharp turned in the best punting average in the league in 2011 for the second year in a row, his third consecutive year averaging more than 45 yards per punt. Even if he never makes another field goal again, that can make him a pretty decent living.
KICK RETURNER
Tyler Lockett, Soph., Kansas State. Lockett's initial instinct was to take a redshirt year to ensure his own survival — he was generously listed at 160 pounds out of high school — and for a while that looked pretty smart: He touched the ball just 10 times in the Wildcats' first five games, for a grand total of 82 yards. Once they let him start returning kicks in mid-October, though, the light went on. Lockett took a kickoff back for a touchdown against Texas Tech, took another one back against Kansas a week later, racked up 315 all-purpose yards in a near-upset at Oklahoma State and finished with one of the best kickoff-return averages in the country.
That skimpy resumé might have been better if he hadn't suffered a lacerated kidney in the process that kept him out of the last four games. But it didn't stop him from landing on a couple of All-America teams in an "all-purpose" capacity, or from taking a giant step out of the family shadow.
ALL-PURPOSE
Tavon Austin, Sr., West Virginia. Austin obliterated school records with 101 catches last year, four of which went for touchdowns in his MVP turn in the Orange Bowl. But that's still only scratching the surface: With his additional work as a punt returner, kick returner and occasional rusher, Austin accounted for more all-purpose yards than any other player in the country and carried the ball into the end zone by nearly all available means. To put it in terms Big 12 fans can immediately understand, Austin is to Dana Holgorsen what Wes Welker was to Mike Leach at Texas Tech, which is a recurring nightmare to anyone whose job depends on stopping him.