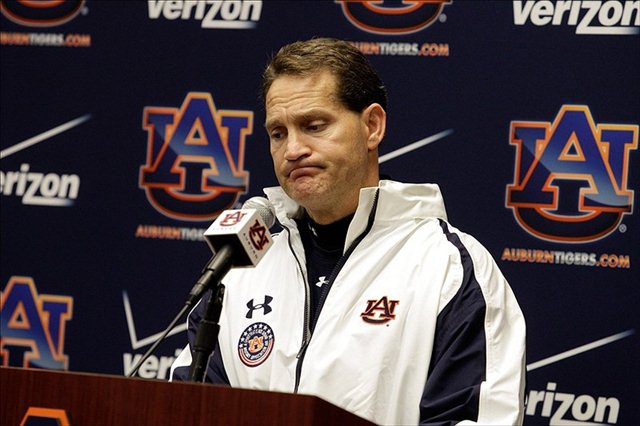 Gene Chizik confirmed "curfew checks" are being performed on Tigers players by a private security firm. (US Presswire)
Nearly every college football team has a curfew the night before games. A select few have curfews throughout the week. But according to a report in The Montgomery Advertiser, Auburn might be the only major college football team using a private security firm to enforce those midweek curfews.
In a decision the Advertiser says "may be unprecedented," Auburn has contracted Event Operations Group, Inc., a security firm used by several SEC teams for game-day operations, to perform what coach Gene Chizik referred to as a "curfew check" on the Tiger players.
In the Advertiser's words, an Event Operations Group official confirmed "members of his staff [are] going to the homes of football players who live off-campus and confirming they are home by the team's 11 p.m. curfew."
"We always do what's in the best interest of our team," Chizik said. "We have a curfew check, and we have to employ people to help us with some of the kids off campus. Other than that, I'm not going into any details of any of that."
The security firm was hired in the wake of center Reese Dismukes' arrest on public intoxication charges just before the Tigers' season opener against Clemson. 
Though the decision seems draconian -- and is, unsurprisingly, reportedly not popular with every member of the Auburn roster -- the Auburn administration might be one of the few that would arguably have reason to make it. Chizik's team has endured multiple high-profile off-field incidents since winning the 2010 national championship, including the arrest of four players for armed robbery in 2011 and the tragic fatal shooting of two former Tigers at an off-campus housing complex.
If Chizik was willing to speak on the topic, he might argue the policy has worked -- the Tigers have been incident-free since the start of the season. But it also must be asked if a disciplinary hand this heavy helps his standing with a roster already reeling from a 2-7 record this season.