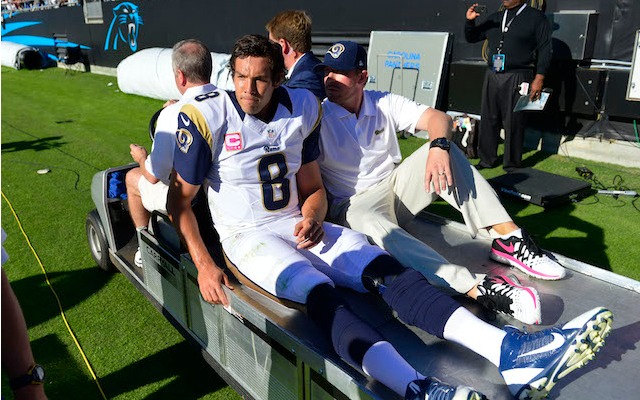 With the 2013 season officially in the books the Eye on Football staff is looking ahead to the offseason for all 32 NFL teams. From now until March 6, we'll put each team under a microscope as the NFL heads into free agency. Up now: the St. Louis Rams. 
The Rams 2013 season wasn't a success, but you definitely can't call it a failure. After quarterback Sam Bradford went down in Week 7, St. Louis could have mailed it in and finished 3-13 on the season and earned a high draft pick. Instead, the Rams won four games without Bradford, played respectable and still got a high draft pick thanks to the ineptitude of the Redskins. 
With two of the top-13 picks in May's NFL Draft and a young nucleus, the Rams are set up well for 2014, something Bradford seems to sense.
"I think we're close," Bradford said in January. "I think it's a matter of us being more consistent and playing to our fullest potential each week, and not having those drops where we don't perform that way some weeks. But you look at some of our wins this year, some of the teams that we beat. Beat New Orleans who was a playoff team. Beat Indy who was a playoff team. So it's not far off. I think everyone saw that we have the talent to compete and to play with anyone. It's just a matter of us just finishing a few more games."
What went right
Bradford didn't last the entire season -- or even half the season -- but in the seven games he did play, he actually looked good. Bradford has six three-touchdown passing games in his four-year career and three of those came in 2013. 
Another highlight for the Rams was the emergence of running back Zac Stacy, who almost ran for 1,000 yards despite the fact that he only had a total of one carry in the first four weeks of the season. With only 12 starts under his belt, Stacy still managed to finish the year with 973 rushing yards. 
The Rams also have to be happy with the play of their defensive ends. Robert Quinn and Chris Long spent the 2013 season beating up opposing offensive lines, then beating them up some more, than sacking the opposing quarterback after they were done beating up the offensive line. If the rest of the Rams defense can catch up to the defensive line in 2014, St. Louis should be in good shape. 
What went wrong
It was an ugly season for ACL's in St. Louis. Bradford suffered a torn ACL in Week 7 and missed the rest of the season. Bradford was on pace to possibly have the best season of his career. Before going down, the fourth-year quarterback had thrown 14 touchdown passes and only four interceptions. Bradford has never thrown more than 21 touchdown passes in a season. The Rams also lost Jake Long to an ACL and MCL tear in December. Long's injury could affect his status going into the 2014 season. 
The Rams have to be unhappy about not reaching .500. St. Louis lost three games in 2013 by one score or less, including a 14-9 Monday night loss to the Seahawks in Week 8 that the Rams probably should have won. If St. Louis had won any of its three one-score games, the Rams would have had their first non-losing season since 2006. Going 8-8 isn't a goal that any team sets, but it would have been a nice consolation prize for the Rams in 2013.
Rampage the Ram was able to sum up St. Louis' season with the seven second range of emotions below.
MVP 
Robert Quinn. Quinn wasn't just the best player on the Rams, he was arguably the best defensive player in the NFL in 2013. No, Quinn didn't win the defensive player of the year award, but that might be because he was penalized for playing on a team that finished 7-9. Quinn's 19 sacks were the second most in football behind Robert Mathis. If sacks don't impress you, how about forced fumbles? Quinn had seven of those, which was also the second most in the NFL. 
LVP
Cortland Finnegan. It's one thing to get injured, it's one thing to struggle, but Finnegan managed to do both in 2013 and not only that, he managed to do it while costing the Rams some serious money against the salary cap. If the Rams keep Finnegan -- and there's no guarantee they will -- it's highly unlikely they'll be keeping him at the $10 million salary-cap number he's expected to cost in 2014. 
What's happened since the season ended
There hasn't been much going on in St. Louis since the season ended, but that's only because everything's happening in Los Angeles. Rams owner Stan Kroenke has the city of St. Louis on edge after purchasing 60-acres of land in LA in mid-January. What's Kroenke going to do with the land? No one knows and he's not telling anyone. He could build a football stadium. He could build a soccer stadium. He could build a Baby Gap -- no one has any clue and Kroenke isn't offering any hints. The only thing we know for sure is that the Rams lease with the Edward Jones Dome runs out after the 2014 season. 
Oh and one other thing did happen: The Rams finally hired Gregg Williams as their defensive coordinator. Williams was originally hired in January 2012, but before he could actually start his job, he was suspended for his role in bounty gate. Williams was officially hired on Feb. 12 to replace the fired Tim Walton. 
Impending free agents 
The Rams biggest free agents are an offensive lineman who hasn't made it through an entire in three years (Rodger Saffold), a backup quarterback who happened to start nine games in 2013 (Kellen Clemens) and a linebacker who was suspended for the first four games of the season (Jo-Lonn Dunbar). 
Jake Long will be spending the offseason rehabbing a torn ACL, which probably means the Rams need to make re-signing Saffold a priority. 
Here's the complete list of St. Louis' impending free agents: QB Kellen Clemens, LB Jo-Lonn Dunbar, S Matt Giordano, TE Mike McNeill (restricted), QB Brady Quinn, OT Rodger Saffold, G Shelley Smith, S Darian Stewart, G Chris Williams, LB Will Witherspoon.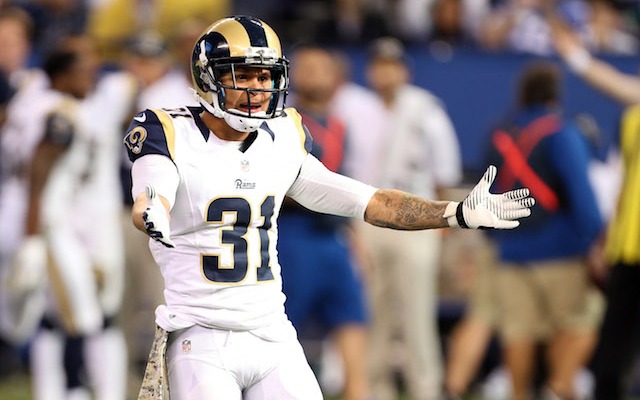 Free-agency game plan
The Rams free-agency game plan will most likely involve setting up their draft game plan. St. Louis is snuggled up right up near the projected salary cap and will probably have to drop a few veterans to give themselves some breathing room. That could be bad news for offensive linemen Harvey Dahl and Scott Wells. Cortland Finnegan and his $10 million 2014 cap hit could also be out. If the Rams decide to dump those three, don't be surprised to see the team make a small splash and go after one or two players who could possibly start in the secondary or at linebacker. 
Draft game plan
The No. 2 overall pick that the Rams received from the Redskins could end up being the gift that keeps on giving. St. Louis has some major needs going into the draft and those needs are more likely to be met if the Rams trade the pick. Whether they trade the pick or not, the Rams need to add a tackle, a safety, a linebacker and/or a No. 1 receiver. 
If St. Louis decides to hold onto the No. 2 pick, then it probably makes sense for the Rams to grab an offensive lineman like Auburn's Greg Robinson or Texas A&M's Jake Matthews. That might not make much sense to Jeff Fisher though. Including his time with the Titans/Oilers, Fisher has never used a first-round pick on an offensive lineman. That's 18 drafts of not picking an offensive lineman in the first round. It defies all logic, but it's true. Fisher could pressure general manager Les Snead to trade down so the team could fill a few other holes. If the Rams trade down, but stay in the top-5 or -6, Clemson wide receiver Sammy Watkins wouldn't be out of the question.
There's also the Jadeveon Clowney factor. The Rams don't need Clowney, but if he's still available when the Rams pick, as crazy as it sounds, the team would have to at least consider taking him.   
In his first mock draft, CBSSports.com senior NFL columnist Pete Prisco has the Rams going with Matthews at No. 2 and then taking Aggie wide receiver Mike Evans at No. 13. 
Ridiculously premature prediction for 2014
The Rams have finished with seven wins in three of the past four seasons and that seems like where the team is headed in 2014. If St. Louis wants to get over the seven-win hump, then it needs a big -- injury free -- season from Bradford. The Rams have the defense to compete in the NFC West, but if St. Louis wants to compete in the division, the team needs Bradford to have a breakout season and assert himself as the team's quarterback of the future. One thing that could work against the Rams in 2014 is their schedule. St. Louis plays both Super Bowl teams and a total of eight games against teams who made the playoffs in 2013. 
Predicted record: 8-8