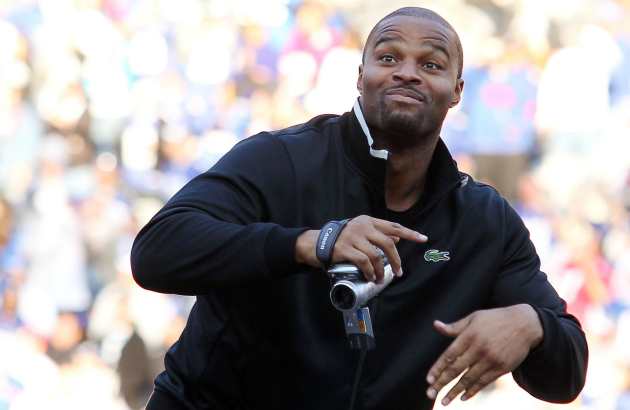 Michael Strahan wasn't impressed with Umenyiora's restructured contract. (US Presswire)
After two long years of waiting (and pouting and feuding and wanting to be traded) the Giants and defensive end Osi Umenyiora agreed to a restructured contract earlier this month.
Though the result for Umenyiora wasn't that spectacular -- he signed a one-year deal worth $6 million with a $2 million signing bonus and he'll have to be active for all 16 games to receive the entire sum of the contract -- it, at least, had to give him some closure before he enters free agency after the season.
The final result, though, hasn't impressed TV analyst and former Giants star Michael Strahan.
"To be honest with you, it's flat-out robbery,'' Strahan said Monday, via the NY Post.
Wow, slow down, cowboy. Why are you ratcheting up the hyperbole so much?
"If it were me, I would have sat at home and I wouldn't have played," Strahan said. "That's just me. I've threatened to do that in my time and I ended up getting what I wanted. Osi's a different mindset than me. I'm probably a little more, 'I don't care what people think.'
"For him it works out, he's going to be fine, he's going to play well. If he played well under the previous situations of being unhappy to being somewhat happy now, I'm sure he'll do great."
Although Umenyiora watched teammate Mathias Kiwanuka sign a three-year contract worth $21.75 million, he said he was happy for Kiwanuka, and by the time the Giants offered to restructure, he said: "I'm just happy, I'm happy all that's over with. It's time to get back to work."
Work, I'm sure, he hopes will land him a major deal next offseason, where he won't be a victim of robbery.

For more NFL news, rumors and analysis, follow @EyeOnNFL on Twitter, and subscribe to our Pick-6 Podcast and NFL newsletter. You can follow Josh Katzowitz on Twitter here: @joshkatzowitz.