The Dallas Cowboys aren't just America's team, they're also Denzel Washington's team. 
The Academy Award-winning actor was in Oxnard, California on Saturday to take in a Cowboys practice. 
During a brief interview with reporters, the 60-year-old revealed that he's been a Cowboys fan for a long time. 
"First of all, I've been a Cowboy fan my whole life," Washington said. "I'm talking about Duane Thomas. I'm talking about Walt Garrison, Calvin Hill, Tony Dorsett. So I've been a fan for a long time. Just to be out here is just fun for me."
Like any fan, the best part about visiting Cowboys training camp for Washington was meeting the team's star quarterback.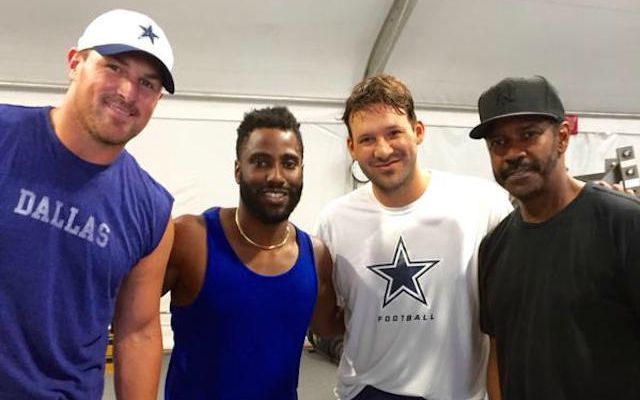 "I'm just happy I get to meet Tony Romo and them guys," Washington said. "This is a dream for me. I got to live out my dream through my son. Days like today are just fun days for me."
If the Cowboys are half as inspired by Washington as the team in Remember the Titans was, then there's a 107 percent chance they're winning the Super Bowl this year.
Washington's visit came together thanks in large part to Cowboys fullback Tyler Clutts. Clutts was teammates with Washington's son J.D. during for a short time in the UFL.
The two remained friends after the league folded and with J.D. now starring in HBO's Ballers, it seemed like the right time for a visit.  
"I think it's extreme but there's a lot of truth," Clutts said of Ballers, via ESPN.com. "It's a good show. I'm really happy that he got it."
As for Denzel, he took some time to take pictures with other fans and team employees, before leaving halfway through the practice session. 
A photo posted by Kelsey Charles (@kels_chaz22) onAug 8, 2015 at 6:10pm PDT