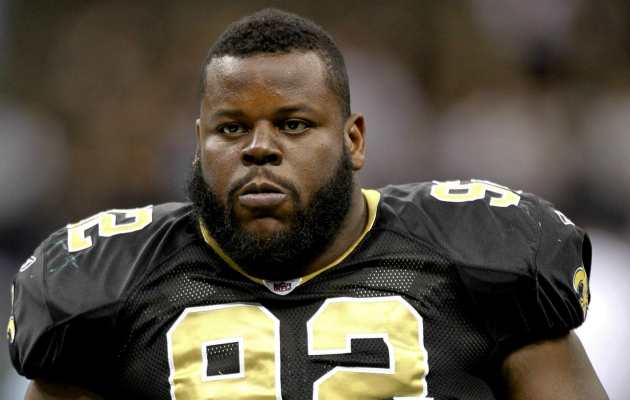 Rogers should be happy that his career will resume. (US Presswire)
Though Shaun Rogers hasn't really been relevant on the football field since 2009, that hasn't stopped him from landing a job each season for large sums of money. Once again, Rogers has a job.
Despite failing with the
Saints
last season -- the $4 million New Orleans paid him bought the team 22 tackles, one pass defended and zero sacks -- the
Giants
are willing to take their chances on a man who's still 6-foot-4 and 350 pounds. This, even though Rogers made only 17 tackles (two were sacks) in 15 games for the
Browns
in 2009.
But it sounds like Rogers probably won't be asked to start and carry a huge load (aside from himself, obviously). Instead, as
Rapid Reporter
Alex Raskin writes, Rogers likely will back up defensive tackles
Chris Canty
and
Linval Joseph
.
"I'm kind of honored and I appreciated them holding me in a regard enough to put me in along those guys," Rogers said, referring to Canty and Joseph (via the
NY Daily News
). "Those guys are most definitely top-notch pass rushers, defensive linemen right now, especially in their prime. I'm just happy to be a part of that group, those guys are going to help me out and hopefully I can help them out."
This will be Rogers' 11th season in the league, and during his prime in
Detroit
, he was a guy who could start 16 games a year and give his team 65-70 tackles and 3-4 sacks per season. But he's only approached those numbers once since 2004 (during his first year with the Browns in 2008).
In reality, Rogers thought his career might be finished.
"When you're sitting out there you always have that in the back of your head being an 11-year vet," he said. "'Maybe this is the time. Is it not the time? How am I feeling? How am I transitioning this offseason?' There are a lot of variables that play into that whole card.
"But there was still some interest, so I figured as long as they're still interested I have something to offer. I still most definitely feel that I can bring something to the table. I might not be exactly like I was in '06, but I still have some tricks and I still have some good push in me."
For more NFL news, rumors and analysis, follow @EyeOnNFL on Twitter, and subscribe to our Pick-6 Podcast and NFL newsletter. You can follow Josh Katzowitz on Twitter here: @joshkatzowitz.