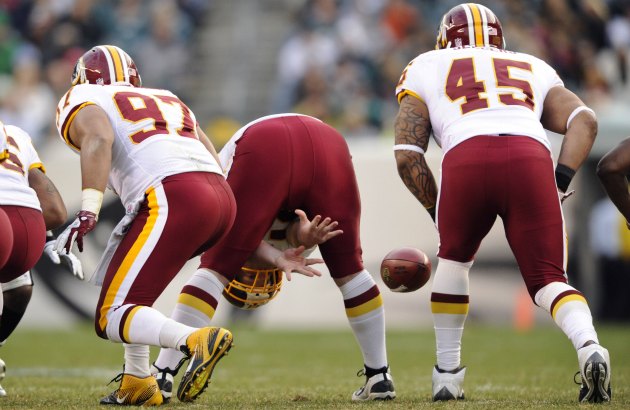 Yes, Sundberg is tough. (US Presswire)
On Sunday, we brought you the story of Patriots guard Logan Mankins, who played all of last season with a torn ACL. Obviously, Redskins long snapper Nick Sundberg was inspired enough by that tale that he decided to play the rest of the game vs. the Saints after breaking his arm in the second quarter.
According to Real Redskins, Sundberg snapped eight more punts, field goals, and extra-point attempts after fracturing his ulna.
"I think at the end of the day you just have to look at yourself and see what you're made of," he said Monday. "It really was a test of myself. It was pretty terrible, but I felt like I really didn't have another option."
Sundberg was spotted in the locker room Monday wearing a cast that went from his hand toward just below his shoulder. He's not sure what the future holds for him or for his employment, but he likely will have to remain in the hard cast for the next few weeks.
The injury occurred on the play when New Orleans' Martez Wilson blocked a Redskins punt, and Sundberg's arm was squeezed between a helmet and a facemask. He broke the same bone in high school, so immediately, he knew his diagnosis. The team doctors implored him to get an X-ray, but Sundberg wasn't interested.
"It's one of those things," he said, "you've kind of got to keep telling yourself, 'It doesn't hurt, it doesn't hurt, it doesn't hurt.' At some point, you convince yourself: 'There's only a few more minutes left, only a couple more snaps, I can get through it, I can get through it.' "
Sundberg also made sure to tell Robert Griffin III that he needed to keep the offense on the field.
"He was like, 'What do you mean?' " Sundberg said. "Dude, my arm hurts so bad, and it hurts so much worse to throw punt snaps. I was like, 'Don't make us punt again.' Then we kind of laughed about it, and I was like: 'I'm serious.' He's like, 'Oh.' No pressure rookie, but I don't want to punt again."

For more NFL news, rumors and analysis, follow @EyeOnNFL on Twitter, and subscribe to our Pick-6 Podcast and NFL newsletter. You can follow Josh Katzowitz on Twitter here: @joshkatzowitz.