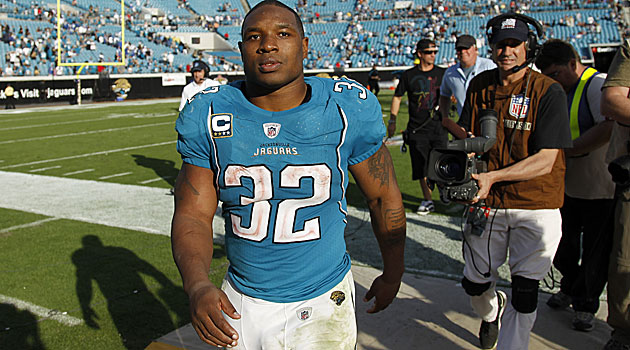 The NFL's rushing leader from last season would like some more long green. (Getty Images)
Back in April, my
CBSSports.com colleague (and life coach) Pete Prisco reported
that
Jaguars
running back
Maurice Jones-Drew
was absent from offseason training activities because MJD was seeking a new contract.
And Pete's report was confirmed by new Jags coach Mike Mularkey on Tuesday.
"It's all voluntary. I wish he was here. He knows we wish he was here," Mularkey said, per
Tania Ganguli of the Florida Times-Union
. "He's talked about trying to get an extension for his contract."
Jones-Drew isn't scheduled to become a free agent until 2014 after signing a five-year, $30 million deal in 2009. He pulled in $17.5 million guaranteed then and is currently scheduled to make a base salary of $4.45 million this season, which, as Pete noted, makes him the eighth highest paid running back in the NFL.
That ranking doesn't jive with where MoJo finished the regular season in rushing yards last year, when he won the rushing title by piling up 1,606 rushing yards.
The problem here, though, is that MJD did sign a big deal already, he's 27, and running backs simply aren't as important as they used to be in the NFL. (See: Jacksonville going 5-11 last season.)
There's probably a way to make both sides happy, and it would involve extending MJD's contract one or two years and bumping up his guaranteed money. But the problem with
that
is Jacksonville increasing the amount of risk they have with Jones-Drew's future.
In other words, it's a delicate balance for the team and player. But not one that Mularkey's going to worry too much about.
"I let little things I had no control over suck the energy out of me," Mularkey said. "I'm not going to let that happen this time around."
The good news for Mularkey is that Jones-Drew's likely to be fine even if he misses the OTAs. He's a professional and he's never averaged less than 4.2 yards per carry. Plus, things should get easier for him with the Jaguars adding weapons like
Laurent Robinson
and Justin Blackmon this offseason.