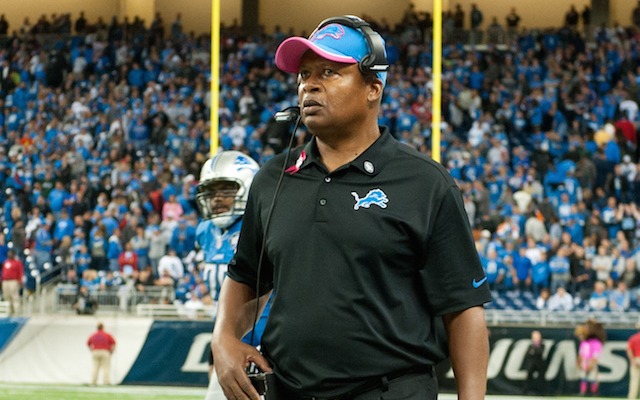 The only thing worse than getting cut by an NFL team is getting cut while you're in London with that NFL team -- and then being sent home. That's what happened to Lions practice squad running back William Powell this week. 
Powell and the Lions landed in London on Tuesday, then Powell found out on Wednesday that he was going to be released. The worst part? He doesn't get to stay in London, according to Lions coach Jim Caldwell. 
"It's a difficult thing to do, and you certainly would not want to do it -- a guy just gets here and, within 48 hours, he's heading back home," Caldwell said, via the Detroit Free Press. "But that's kind of the nature of our business. The guys understand it, and I think, if you're up front and you tell them exactly why and what the reasons are and those kinds of things, it's a bitter pill to swallow, but they understand."
So what has to happen for a guy to get cut in London? In the Lions case, it involves tight end depth. 
The Lions cut Powell so they could add safety Jerome Couplin to the practice squad. Couplin, who had been on the 53-man roster, was released on Monday so that the Lions could sign tight end Kellen Davis to the active roster. 
"The reason why (we made a move while in London) is because the fact that just, in terms of practice, we need to be really at our best, in terms of making certain that we get a look on both sides," Caldwell said. "And in case anything happens, we need to be positioned to be able to adjust properly according to what our injury status is at different positions."
Depth was needed at the tight end spot because Eric Ebron, Brandon Pettigrew and Joseph Fauria have all been dealing with various injuries this season. 
As for Powell, it's not all bad news. Because the move was made on Wednesday, he will get paid for the week. 
Anyway, if Powell's looking for a flight home, he shouldn't ask the Falcons because they'll probably send him to Spain.