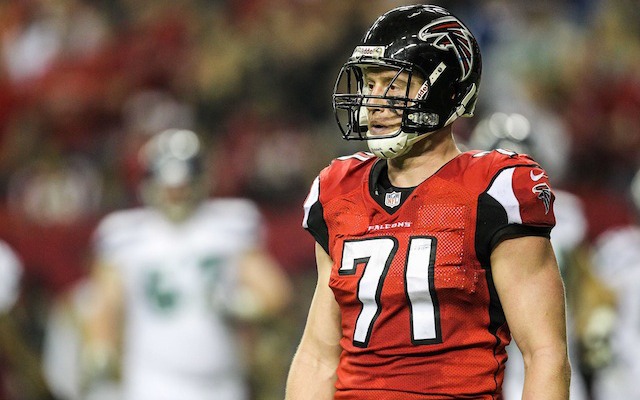 The Atlanta Falcons got a double dose of bad news on Monday: starting defensive end Kroy Biermann and fullback Bradie Ewing will both miss the rest of the season after suffering injuries in Atlanta's 31-24 win over St. Louis.
"Kroy Biermann will be going on reserve injured," Falcons coach Mike Smith said, via the Atlanta Journal-Constitution. "He has a torn Achilles tendon. As well, we will also be putting Bradie Ewing on injured reserve. He had a separated shoulder. So, those two guys today will be going on reserved injured."
Biermann's been in Atlanta since 2008 when the Falcons selected him in the fifth-round of the 2008 NFL Draft. The 28-year-old defensive end started both of the Falcons' games this season and had played in all 16 games in every season before from 2008 to 2012. 
The absence of Biermann will mean more playing time for Jonathan Massaquoi and Malliciah Goodman on the defensive line.  
"Those guys are going to get an opportunity to step in and help us win some football games. I believe that they will," Smith said. "As I say many times, one man's misfortune is another man's opportunity. We've got some guys that we expect are going to step up and make some plays for us."
Biermann also had the ability to line up at linebacker. 
As for Ewing, the second-year player can't catch a break. In his rookie year of 2012, Ewing also suffered a season-ending injury, that injury was to his knee. Ewing's 2013 season will end with two catches for 29 yards.