On a night where Peyton Manning looked past his prime, Andrew Luck looked like a guy about to enter his.
Thanks to a brilliant performance from Luck, the Colts are headed back to the AFC Championship Game for the first time since 2009 after beating the Broncos 24-13 on Sunday.
Luck threw for 265 yards and two touchdowns in the win, which anyone can plainly see if they look at the box score. What the box score doesn't show though is how Luck got those 265 yards. 
The Colts quarterback did it by making throws that Manning couldn't make.
One of the biggest plays of the game for Indianapolis -- and one of Luck's best throws -- came on a third-and-16 play in the third quarter. With the Colts sitting on Denver's 40-yard line, Luck could have played it safe and it went for a 7- or 8-yard gain to put Indy in field goal range. 
Instead of playing it safe though, Luck did this. 
That's a 32-yard completion to tight end Coby Fleener that was thrown to a spot where three Broncos defenders were beginning to converge. After you watch Fleener make the catch, go back and watch the pass again -- and notice: Luck doesn't hesitate, he throws a perfect spiral and he puts the ball right in Fleener's hands. 
Two plays after the amazing throw to Fleener, Luck did it again, this time on a 15-yard touchdown pass to Hakeem Nicks. 
The Nicks score turned the game from a 14-10 nailbiter into a 21-10 rout. 
Those two throws epitomized Luck's game: He wasn't afraid to make any throw and the game never got away from him. 
Even when Luck made mistakes, he wasn't hurting his team. Both of Luck's interceptions in the game came on third down plays and both picks were thrown at least 35 yards downfield -- so they were basically as good as punts. 
Thirty-four months ago, Colts owner Jim Irsay made the decision to dump Manning and draft Luck, a decision that now looks brilliant. Luck looks like a quarterback who could one day lead Indianapolis to several Lombardi Trophies while Manning looks like a 38-year-old who will be lucky if he ever gets the chance to play for a Lombardi Trophy ever again. 
Even if Manning wasn't ready to pass the torch on Sunday, Luck just went ahead and took it. With the in mind, let's look at nine more takeaways.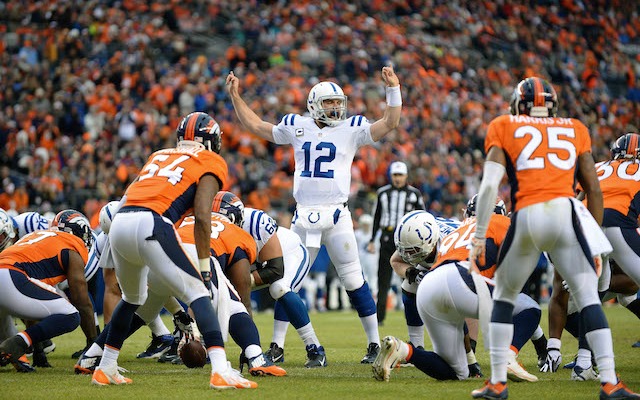 Peyton Manning was so bad he got booed
The most perplexing thing about Peyton Manning's bad day is that it actually started off as a good day. On the Broncos' first offensive series, Manning went 3 for 3 for 36 yards and a touchdown.
That total includes the perfect throw to Julius Thomas that you see below. 
On the pass to Thomas, the ball traveled 29 yards in the air and it looked like Manning was going to be able to spend the day picking apart the Colts' secondary.
Unfortunately for Denver though, Manning completely fell apart after that. 
After the opening drive, Manning went 23 of 43 for 175 yards -- and his play was actually a lot uglier than his stats indicate. 
Manning overthrew Emmanuel Sanders three times in the second quarter and Sanders isn't an easy player to overthrow. 
On at least two of the throws, Sanders had his guy beat and a good throw from Manning would have put the Broncos in Colts territory. 
It wasn't just throwing the ball either. Manning's decision-making was questionable all day. On a third-and-5 early in the third quarter, Manning had 20 yards of open field in front of him, but instead, he decided to throw an incompletion into double coverage. 
Peyton Manning needed 5 yards for a 1st down, decided he didn't have the wheels for it, throws into double-coverage. pic.twitter.com/QGxFK7lvgL

— John Breech (@johnbreech) January 11, 2015
It got to a point where Broncos fans just couldn't take it anymore and that's when the boos started. 
Maybe it's time for Manning to leave Denver. 
Could this be the last time we see Peyton in a Broncos uniform? pic.twitter.com/0HR8Tswkqc

— NFLonCBS (@NFLonCBS) January 12, 2015
Colts defense came to play
It's easy to bash Peyton Manning for playing a bad game, but part of the reason he was bad is because the Colts' defense was so good. 
Indy went into Sunday's game with the NFL's 18th ranked rushing defense, something that seemed like a weakness before the game. Instead, the Colts shut down Broncos running back C.J. Anderson.
Anderson had 18 carries for 80 yards, but 22 of those came on one run. If you take that out, Anderson only had 17 carries for 58 yards, which is only 3.8 yards per carry.
Over the past few weeks, the Broncos have used the run to set up the pass, but the Colts took the run out of the equation and Denver had no answer. Colts linebacker D'Qwell Jackson was a tackling machine against the Broncos and was everywhere for Indy's defense. 
Wild day for C.J. Anderson
The Broncos running back didn't have a huge day, but he probably had the craziest day of anyone on the field. 
Take this fourth-and-1 play in the fourth quarter for instance. Although his teammates appear to give up -- look at them, they're just standing around -- Anderson absolutely doesn't even though he should have been tackled in the backfield for a 5-yard loss. 
Anderson's conversion kept Denver in the game. The Broncos would get a field goal on the drive, which trimmed the Colts' lead to 21-13. 
That's not all Anderson did though. He also kept teammate Orlando Franklin from getting flagged late in the third quarter when he pulled him out of a fight.
Anderson is 5-feet-8. Franklin is 6-feet-7. 
O-town
During the 2014 regular season, Denver's defense tallied 41 sacks, which was tied for ninth most in the NFL. Against the Colts on Sunday, the Broncos sacked Andrew Luck zero times and that was because of an Indy offensive line that played possibly its best game of the season. 
The Colts didn't have much continuity on the offensive line during the regular season, but they have in the playoffs. Indy started the same line that started in the victory over Cincinnati last week. 
Can people stop calling the Colts offensive line "garbage" now?

— Marcus Lee Dugan (@MarcusDugan) January 12, 2015
Yes. I think we can. Khaled Holmes, Anthony Castonzo, Joe Reitz, Jack Mewhort and Lance Louis would probably agree. 
Surprise, Surprise
One player who didn't help the Colts win on Sunday was running back Trent Richardson. He didn't even suit up for the game because he surprisingly landed on the inactive list. The Colts running back had started 12 games for Indianapolis during the regular season.
With Richardson out, Dan Herron totaled 95 yards and a touchdown in the game. I'm 97 percent confident that Richardson wouldn't have done better. 
Mr. Automatic isn't so automatic
Colts kicker Adam Vinatieri only missed one field goal attempt during the regular season and he matched that total on Sunday. Vinatieri's 44-yard miss didn't hurt Indianapolis, but it was surprising to see 2014's most accurate kicker miss. 
The play that almost changed the game
On a Broncos punt in the third quarter, Colts returner Josh Cribbs fumbled the ball after getting rocked. Denver picked up the loose ball and was awarded possession at Indy's 30-yard line.
However, after reviewing the play, the officiating crew ruled that Cribbs was down before he fumbled.
With the Broncos offense struggling, a fumble recovery obviously would've been a big play. The Broncos didn't get the ball at Indy's 30 and they wouldn't end up reaching the Colts 30-yard line until the fourth quarter. 
Might be time to call the barber
The biggest loser from Sunday's game might be this guy, who now probably has to get a haircut. 
eight hours of hair prep later, this Broncos fan was ready for gameday pic.twitter.com/rDbiNeKCJV

— Eric Kay (@ekaycbs) January 11, 2015
Take note, Patriots
Patriots players, please keep in mind that petting Andrew Luck doesn't actually bring you good luck. 
and that's why you don't pet Andrew Luck pic.twitter.com/psWpLDMbSU

— Eric Kay (@ekaycbs) January 11, 2015